St. Lucie Mets Kids Club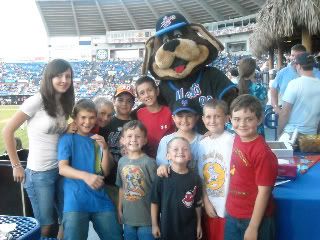 For only $20, kids 14 and under can join the coolest club in town! Each St. Lucie Mets Kids Club member will receive an authentic membership card, a club t-shirt, invitations to events exclusively for members, tickets to St. Lucie Mets games and much more!
Basic Information
Cost: $20
Who: Kids 14 and under
What: Each 2013 Kids Club member will enjoy the following benefits:

Official membership card

Official club member t-shirt

Tickets to ALL Friday and Sunday home games

Stadium discount card

Private team autograph session

Members-only Picnic with St. Lucie's mascot

Attendance reward prizes


Monthly e-newsletter

Fun Run around the bases after Friday and Sunday home games

Chance to be Member of the Month & featured on the website
•Wear your official 2013 Kids Club t-shirt to Friday and Sunday home games and get there early for a chance to be the honorary coach of the game! The Honarary Coach will get to hang out in the Mets dugout during pre-game, meet the Mets players and coaches, and take the line-up to the umpires.
How to Join: Sign up for the Kids Club by picking up an application form at the Mets' front offices or ticket office at 525 NW Peacock Blvd. in Port St. Lucie, FL, clicking the "Buy online now" link, or downloading the application form and mailing it to the following address:
St. Lucie Mets
c/o Slider's Knothole Gang
525 NW Peacock Blvd.
Port St. Lucie, FL 34986
Questions? Call Cassie at (772) 871-2100.