Front Office
Las Vegas Aviators Professional Baseball Team at Las Vegas Ballpark
Las Vegas Ballpark Sales Center, 1870 Festival Plaza Dr., Suite 190 | Las Vegas, NV 89135 |

Fax: (702) 943-7214

| Phone: (702) 943-7200
Front Office
| | | |
| --- | --- | --- |
| Don Logan | President / Chief Operations Officer | |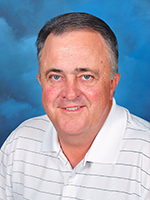 Don Logan, President/COO, recently completed his 35th season with the Las Vegas professional baseball franchise. He possesses a vast background and knowledge of both the game of baseball and the Las Vegas sports scene. He has been a part of Las Vegas' two championship teams, which captured the PCL title in 1986 and 1988.
He began his career with the franchise as an account executive in 1984. A native of Tonopah, Nevada, he quickly moved his way up the front office ladder and advanced to the position of ticket manager in 1985, and then was promoted to assistant general manager in 1986. He held that position for the next four seasons, before being named general manager in 1991. He then was named President of the 51s on Jan. 3, 2000, in addition to his responsibilities as general manager. During his tenure, he has earned the respect as not only one of the most influential sports executives in Las Vegas, but in all of professional baseball. The Summerlin Las Vegas Baseball Club LLC named him President/COO on June 3, 2013.
In recognition of his accomplishments during his career as a baseball executive, Logan has been presented with the Pacific Coast League's Executive of the Year award, both in 1992 and again in 1998. He has also received the Larry MacPhail Promotional Trophy in 1991 and 1997. He also serves as the Pacific Coast League's Vice-President and Joint Minor League Baseball Marketing Committee. Logan is chairman of the league's executive committee that oversees the operation of the PCL and that serves as the advisory board for Mr. Branch Rickey III, President of the PCL.
Logan and the 51s, in conjunction with the Las Vegas Convention and Visitors Authority (LVCVA), initiated an event, which brought Major League Baseball Spring Training games to the city of Las Vegas. Over the years, "Big League Weekend" games have been played as such stars as Sandy Alomar Jr., Barry Bonds, Ken Griffey Jr., the late Tony Gwynn, Matt Kemp, Greg Maddux, Alex Rodriguez and Ichiro Suzuki, to name a few, showcased their talents at Cashman Field. As a result of the success of the event, the Oakland A's elected to play their first six games of the 1996 season at Cashman Field, due to the renovation of the Oakland Alameda County Coliseum. He also was instrumental in bringing the Triple-A World Series to Cashman Field for three years (1998-2000) that featured the PCL champion vs. International League champion. Logan also worked with the MLBPA in hosting the February "Big League Home Run Challenge," held for four years at Cashman Field (2000-03), broadcast on ESPN and ESPN2.
His busy schedule has him involved in many community projects including Executive Committee of the Las Vegas Bowl and Southern Nevada Sports Hall of Fame. Logan's honors include: recipient of the 2007 Chin's Humanitarian of the Year for the Muscular Dystrophy Association of Southern Nevada; 2010 ESPN Sportsman of the Year, that benefit The Caring Place, a local nonprofit organization dedicated to easing the journey of those affected by cancer; inducted into the Southern Nevada Sports Hall of Fame (2011); 2018 Nevada Broadcasters Association and Foundation Community Achievement Award.
Logan, in conjunction with the Howard Hughes Corporation (Summerlin Las Vegas Baseball Club LLC), secured the naming rights deal to build a new state-of-the-art Triple-A baseball stadium in October, 2017, that will begin a new era for 51s professional baseball in Southern Nevada. Logan has worked on this stadium project for two decades. Las Vegas Ballpark, a 10,000-fan capacity baseball stadium that will be built on approximately eight acres of land in downtown Summerlin, is scheduled to be completed in March, 2019.
A 1981 graduate of Utah State, Logan has been married to his wife, Jennifer, for 19 years. He has one daughter, Adrienne.
---
| | | |
| --- | --- | --- |
| Chuck Johnson | General Manager / Vice President of Sales & Marketing | |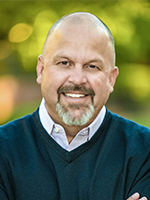 Chuck Johnson enters his eighth season as the General Manager of the Las Vegas 51s franchise. He was named GM on January 24, 2011 and he also serves as the Vice President of Sales & Marketing.
He became just the third General Manager in the 35-year franchise history joining Larry Koentopp (1983-90) and Don Logan (1991-2010).
Chuck, who was originally hired as an Account Executive with the Stars (51s) and Thunder (International Hockey League) in 1995, is responsible for all day-to-day operations as the GM. A majority of his time is occupied by his duties as VP of Sales & Marketing. He oversees all aspects of the 51s marketing effort, is instrumental in sponsorships sales for the club, and assists the ticketing department.
During his tenure with the team, Chuck has been a member of the ticket sales staff, public relations/communications, has appeared on radio broadcasts and has even climbed into more than one mascot outfit over his time with the club.
He continues to lead the Las Vegas franchise tradition of community involvement and corporate citizenship and has guided the organization that has the proud distinction of being the longest enduring franchise in the history of professional sports in the state of Nevada.
The Carson City High School (1987) and University of Nevada graduate (1992) was also the Director of Corporate Sponsorships and Director of Communications for the baseball team until 2001. He was also employed with R&R Partners working with their client, Professional Bull Riders, concentrating on sponsorship and athlete representation.
In 2003, he then assisted the Las Vegas Gladiators of the Arena Football League (AFL) with their sponsorship sales. He returned to the 51s organization in 2004 as the Director of Marketing and was promoted to Assistant General Manager/Vice President of Marketing in 2006.
He is a member of the Las Vegas Executive Association and former Board Member of American Marketing Association Las Vegas Chapter. Chuck has been married to his wife, Andrea, for 17 years.
---
| | | |
| --- | --- | --- |
| Melissa Harkavy | Vice President of Community Relations & Customer Experience | |
---
---
---
---
---
---
---
---
---
---
---
---
---
---
---
---
---
---
---