2020 Akron RubberDucks Season Cancelled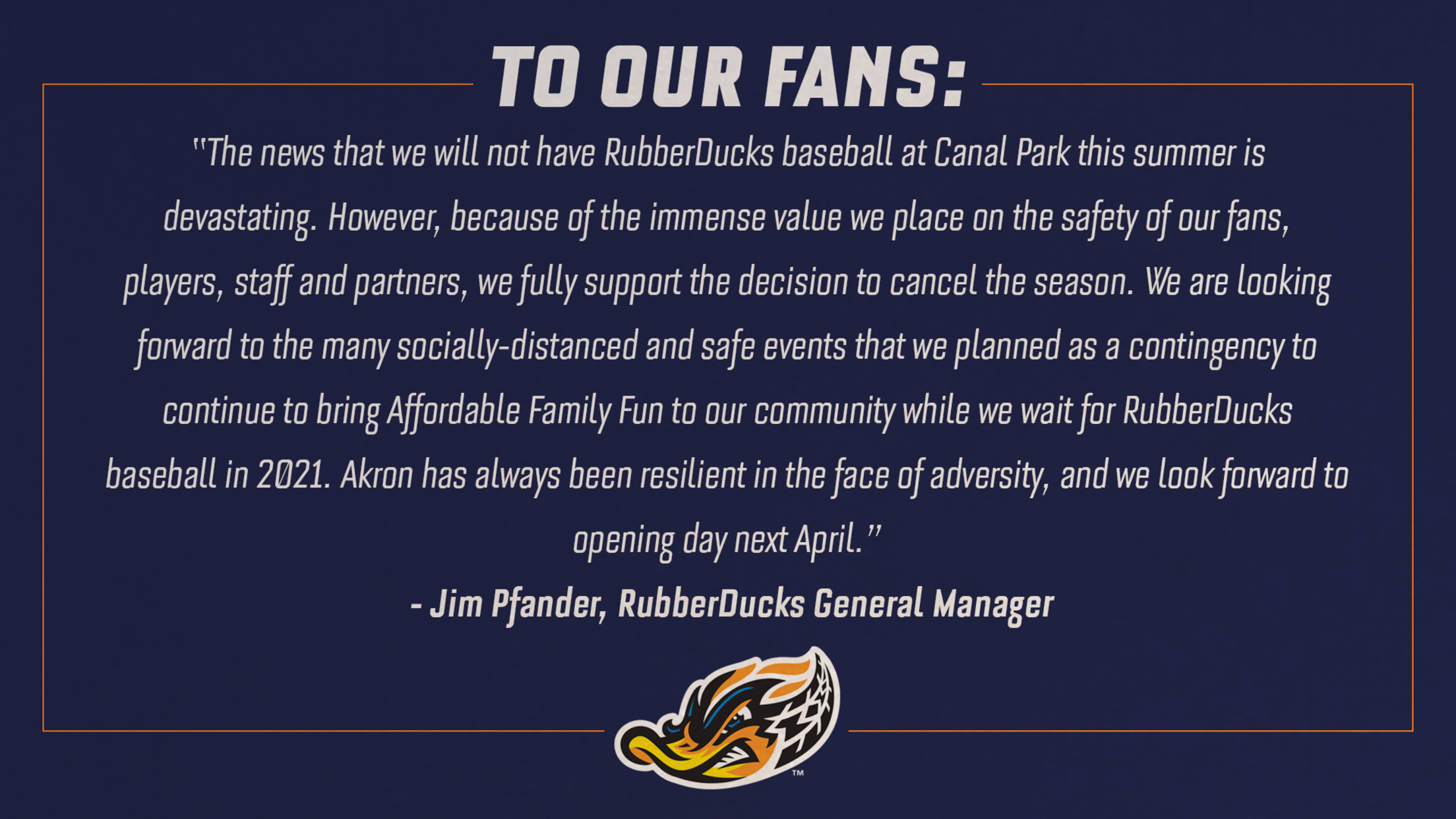 (AKRON, OHIO) June 30, 2020 – The Akron RubberDucks, in conjunction with a statement made by Minor League Baseball President Pat O'Conner this afternoon, announce the cancellation of the 2020 season due to the COVID-19 pandemic. All previously postponed and all previously scheduled RubberDucks home games at Canal Park for
(AKRON, OHIO) June 30, 2020 – The Akron RubberDucks, in conjunction with a statement made by Minor League Baseball President Pat O'Conner this afternoon, announce the cancellation of the 2020 season due to the COVID-19 pandemic. All previously postponed and all previously scheduled RubberDucks home games at Canal Park for the 2020 season have now been officially cancelled.
With this news becoming official, the Akron RubberDucks have developed a detailed plan in order to best serve each ticket holder's account, which is included in the link below and available at www.akronrubberducks.com.
AKRON RUBBERDUCKS TICKET-RELATED FREQUENTLY ASKED QUESTIONS
"The news that we will not have RubberDucks baseball at Canal Park this summer is devastating," RubberDucks General Manager, Jim Pfander said. "However, because of the immense value we place on the safety of our fans, players, staff and partners, we fully support the decision to cancel the season. We are looking forward to the many socially-distanced and safe events that we planned as a contingency to continue to bring Affordable Family Fun to our community while we wait for RubberDucks baseball in 2021. Akron has always been resilient in the face of adversity, and we look forward to opening day next April."
The Akron RubberDucks will continue to host safe and socially-distanced events throughout the summer at Canal Park while closely following all health and safety guidelines under the supervision and permission of Ohio Governor Mike DeWine and Akron Mayor Dan Horrigan. RubberDucks staff members are available by phone and email to answer any questions or concerns. The ticket office can be reached at [email protected].
The Akron RubberDucks are the Double-A affiliate of the Cleveland Indians. For more information about the team, please call 330-253-5151, visit the website at akronrubberducks.com, Facebook page facebook.com/AkronRubberDucks, or on Twitter at @AkronRubberDuck, and Instagram at @akronrubberducks.
Upcoming Safe, Socially-Distanced Events at Canal Park:
July 4: Fourth on the Field: 6 p.m. gates, 7:30 p.m. movie
July 11: Hoban-STVM Game: 5:30 p.m. gates, 7:05 first pitch
More to Come!