Fourth on the Field coming to Canal Park on July 4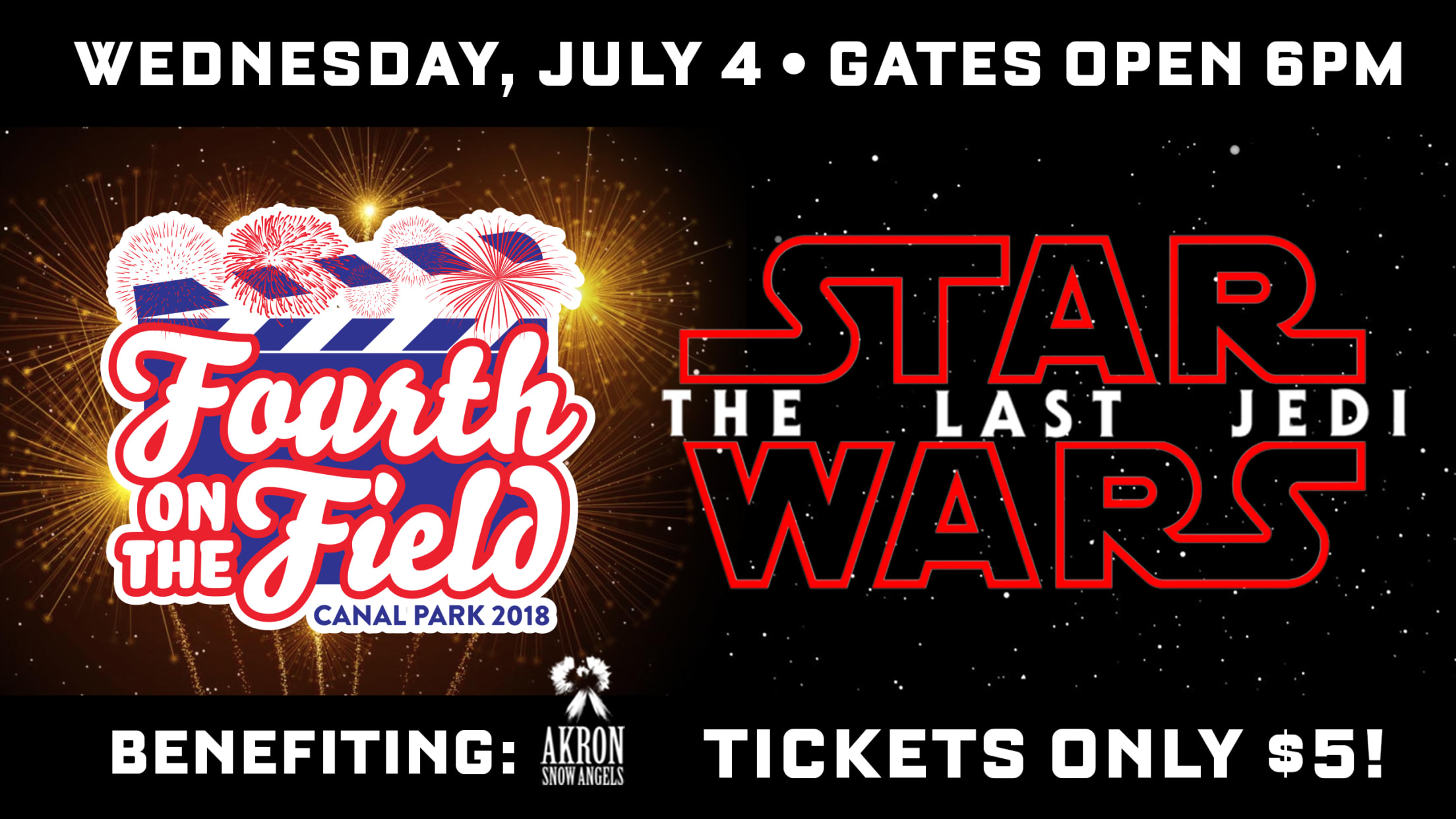 (AKRON, OHIO) June 25, 2018 - Canal Park will play host to a special "Fourth on the Field" event on Wednesday, July 4 at 6 p.m., to celebrate Independence Day. The night will include a showing of "STAR WARS: The Last Jedi" before the start of the City of Akron's
(AKRON, OHIO) June 25, 2018 - Canal Park will play host to a special "Fourth on the Field" event on Wednesday, July 4 at 6 p.m., to celebrate Independence Day. The night will include a showing of "STAR WARS: The Last Jedi" before the start of the City of Akron's annual fireworks show. Tickets are only $5 and benefit Akron Snow Angels.
Gates will open at 6 p.m. with "The Last Jedi" slated to start at 7 p.m. A brief intermission will follow the movie before the start of the fireworks. Canal Park will have concessions stands and restrooms open for the convenience of families, particularly those with children who want to come to Downtown Akron early to avoid the rush and crowds. Fans can bring blankets and sit on the field and enjoy popcorn and other snacks. However, no chairs are permitted on the playing field.
Fourth on the Field will be held rain or shine, since fans will be able to sit in the stands to enjoy the movie and fireworks.
The RubberDucks want fans in the community to make Canal Park their annual go-to place for the Fourth of July fireworks and celebration. Each year since Ken Babby became team owner in 2013, the RubberDucks have had a home game or hosted a Fourth on the Field event, as was the case in 2015 and 2017.
"Our 'Fourth on the Field' event has been one of our most successful special events that brings together family and friends at Canal Park," said RubberDucks General Manager Jim Pfander. "Each year we have hosted the event, the fan response has been terrific. It's quickly become an Akron Independence Day tradition!"
Tickets are $5 and available at akronrubberducks.com or at the Canal Park Box Office (M-F 9 a.m. to 5 p.m., Sat. 10 a.m. to 2 p.m.) and the event benefits the Akron Snow Angels whose overall mission is spreading warmth and connecting with the most vulnerable in our community by providing basic essentials and fostering compassionate friendships while inspiring others to do the same. They envision a community where every individual is warm and treated with compassion and respect. For more information about the Snow Angels, please visit www.AkronSnowAngels.com.

"FOURTH ON THE FIELD" Details
When & Where: Wednesday, July 4 at Canal Park (300 S. Main St., Akron, Ohio 44308)
Gates 6 p.m., "STAR WARS: The Last Jedi" at 7 p.m.
City of Akron Fireworks to follow the movie
Tickets: $5 at akronrubberducks.com or Canal Park Box Office
Benefits: Akron Snow Angels
**NOTE: Blankets are permitted for the field, however strollers, chairs, and bug spray are not permitted on the field.
The Akron RubberDucks are the Double-A Eastern League affiliate of the Cleveland Indians. The 2018 season, powered by FirstEnergy, is the franchise's 22nd since moving to Akron. For more information, call 330-253-5151 or visit www.akronrubberducks.com.