Mejia slaps game-winner in 11th, 6-4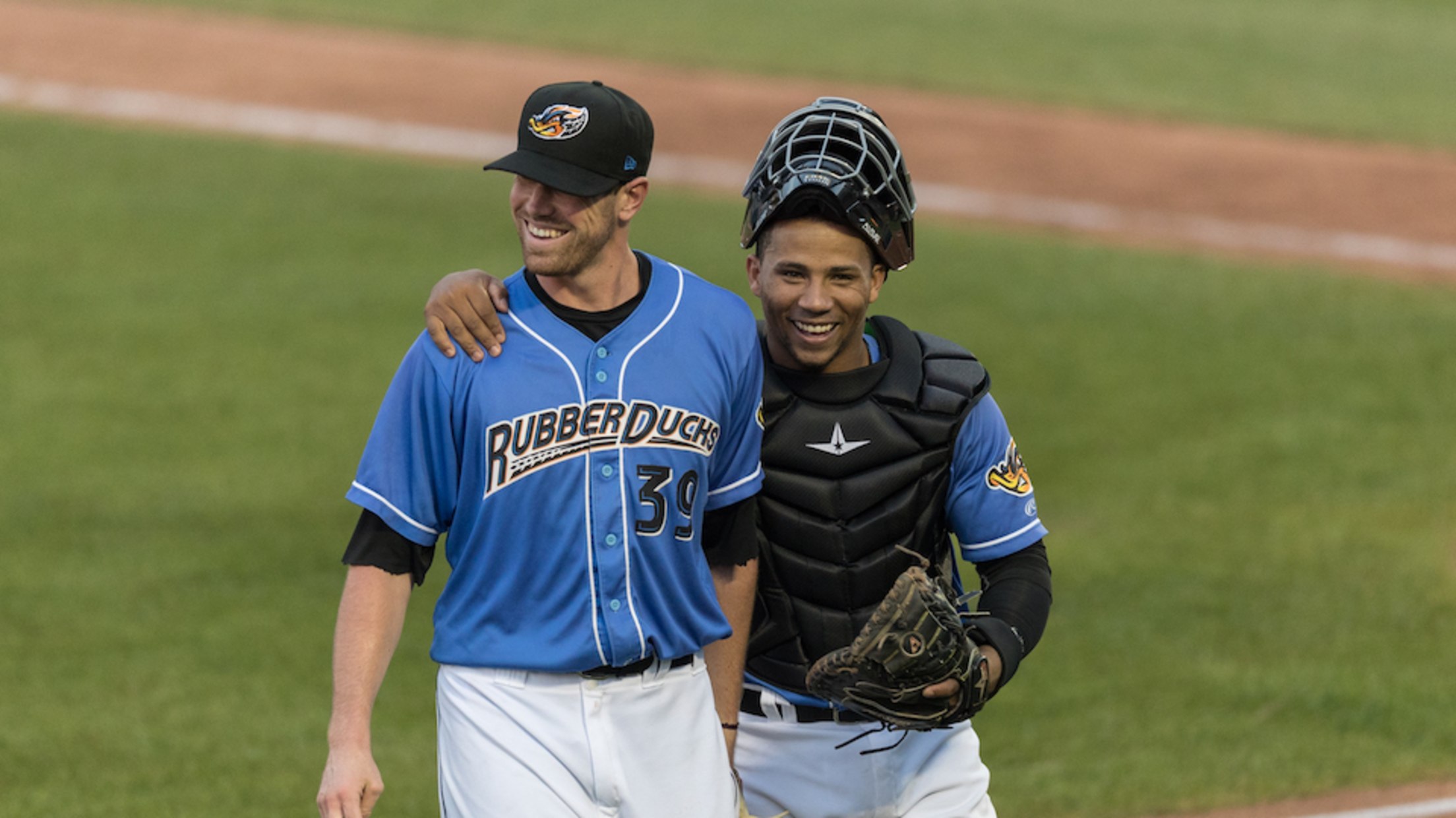 Shane Bieber went five innings, giving up seven hits and one earned run on three strikeouts while Francisco Mejia drove in the go-ahead run in the 11th as a part of his 2-6, two-RBI performance in the RubberDucks' 6-4 win over the Thunder at ARM & HAMMER Park. (David Monseur)
RubberDucks Game RecapRubberDucks 6 Thunder 4 (11)WP: Leandro Linares (2-2) LP: Cody Carroll (1-5) Save: Cameron Hill (11)SummaryAkron's Francisco Mejía slapped a clutch, two-out, RBI single to left in the top of the 11th inning, snapping a tie-score and paving the way to a 6-4 win over the Trenton Thunder Tuesday
RubberDucks Game RecapRubberDucks 6 Thunder 4 (11)WP: Leandro Linares (2-2) LP: Cody Carroll (1-5) Save: Cameron Hill (11)Summary
Akron's
Francisco Mejía
slapped a clutch, two-out, RBI single to left in the top of the 11
th
inning, snapping a tie-score and paving the way to a 6-4 win over the Trenton Thunder Tuesday night at ARM & HAMMER Park in Trenton, New Jersey.
Turning Point
The RubberDucks (62-58) snapped a 4-4 tie with a pair of runs in the 11th against Trenton right-hander Cody Carroll (1-5). With two out and no one on base, Greg Allen singled and stole second and Joe Sever walked. Mejia, who entered the game ranked fourth in the EL in hitting, ripped a sharp single into left, scoring Allen with the go-ahead run. It was Mejia's second RBI of the game. Todd Hankins followed with a soft single to right to drive in Sever with an insurance tally to make it 6-4.
Winging It
RubberDucks closer Cameron Hill allowed a walk and single in the 11th, but managed to work out of the jam to post his 11th save. He made a winner of Leandro Linares (2-2), who worked two innings. Linares suffered a blown save when he allowed a game-tying double to Nick Solak in the ninth. He walked three but stranded all three runners on base in the 10th. Shane Bieber started for the Ducks and pitched the first five innings. He allowed one run on seven hits.
Duck Tales
Mejia was 2-6. He slugged a run-scoring double in the first against Trenton starter Will Carter. Luigi Rodriguez chipped in a two-run single off Carter in the second to give the Ducks a 3-0 lead. Yu Chang cranked a solo home run in the fifth, his 22nd of the year. Chang left the game in the 10th after being hit by a pitch on his right middle finger. Allen was 2-5 from the leadoff spot and stole his team-high 18th base of the season in the 11th.
Notebook
Akron won its 4th straight game and improved to 6-1 in extra inning games…Solak was 4-6, with a pair of doubles and a triple for the Thunder (78-42)…Bowie lost in 15 innings at Reading, but Altoona defeated Portland, so the Ducks are tied with Bowie for second place in the EL West, one game behind the Curve…20 games remain in the regular season…Time of game: 4:11… Attendance: 5,284.
On Deck
The RubberDucks and Thunder will continue the series on Wednesday afternoon at 12:00 p.m. The game will be broadcast on Fox Sports 1350 AM, the WARF iHeart channel, and the TuneIn Radio App.