Phils big sixth tops Krieger's big game, 10-7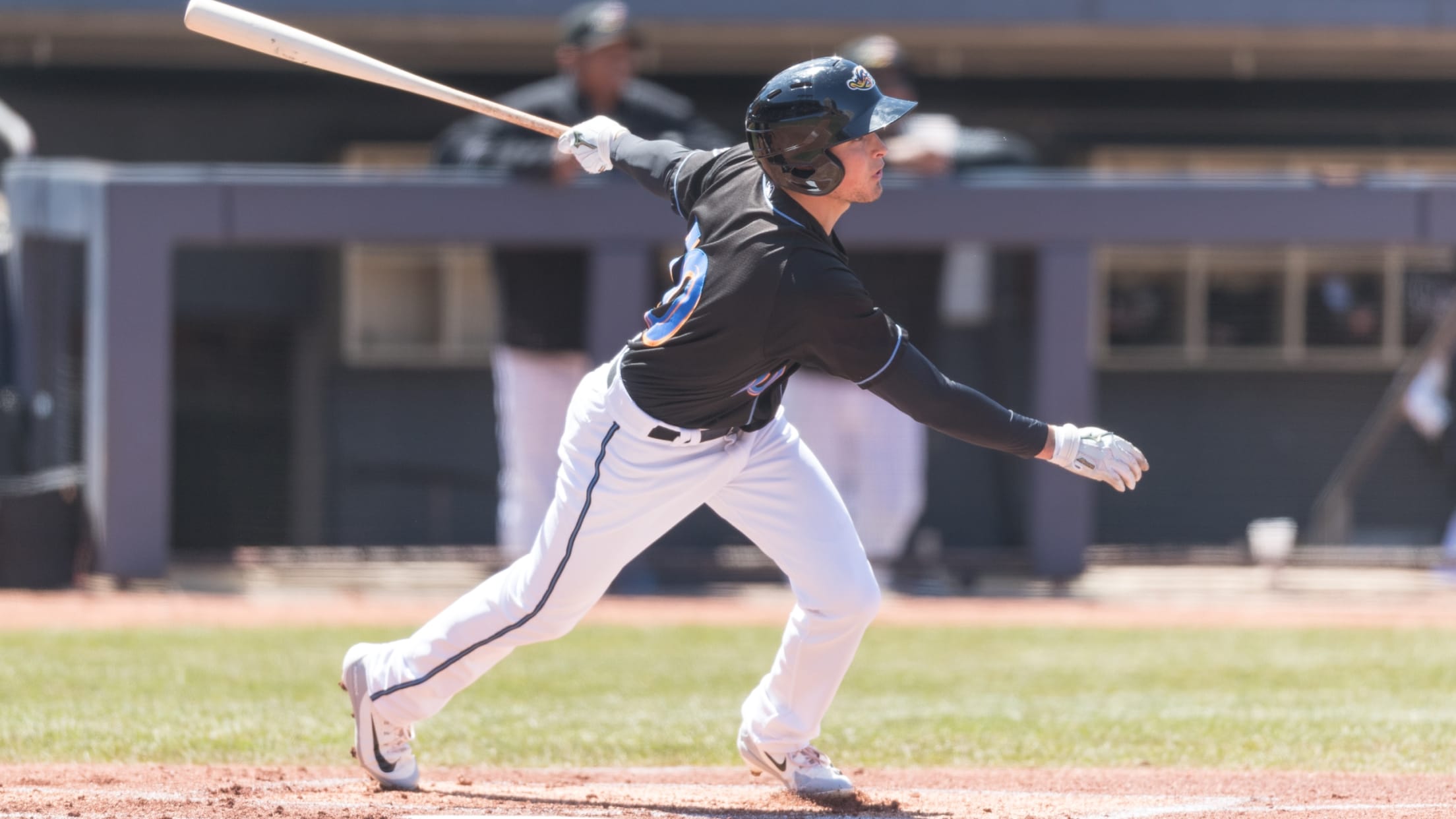 Krieger was unstoppable. He finished 5-5, with three singles, two home runs, four RBI and two stolen bases. He socked a two-run homer in the fifth inning to get Akron on the board after the Phils had taken a 3-0 lead. (David Monseur)
Fightin Phils 10 RubberDucks 7WP: Ranfi Casimiro (3-2) LP: Jordan Milbrath (0-3) Save: Jeff Singer (2)SummaryAkron's Tyler Krieger went 5-5, with a pair of homers and four RBI, but Reading's seven-run sixth inning lifted the Fightin Phils to a 10-7 win over the RubberDucks Sunday night at FirstEnergy Stadium in
Fightin Phils 10 RubberDucks 7
WP: Ranfi Casimiro (3-2) LP: Jordan Milbrath (0-3) Save: Jeff Singer (2)
Summary
Akron's Tyler Krieger went 5-5, with a pair of homers and four RBI, but Reading's seven-run sixth inning lifted the Fightin Phils to a 10-7 win over the RubberDucks Sunday night at FirstEnergy Stadium in Reading, Pa.
Turning Point
The Fightin Phils (27-40) snapped a six-game losing streak and avoided a series sweep by scoring seven times in the sixth inning against Akron reliever Jordan Milbrath (0-3). Kyle Martin stroked a two-run double, and Darick Hall belted a three-run homer to highlight the rally in which 10 batters came to the plate and Reading took a 10-4 lead.
Mound Presence
Triston McKenzie started for Akron and worked five innings, allowing three runs, two-earned, on five hits. In his third Double-A start, McKenzie walked only one and struck out five. He left with a 4-3 lead.
Duck Tales
Krieger was unstoppable. He finished 5-5, with three singles, two home runs, four RBI and two stolen bases. He socked a two-run homer in the fifth inning to get Akron on the board after the Phils had taken a 3-0 lead. He added a run-scoring single in the seventh and capped his career-day with a solo homer in the ninth to make it 10-7. Krieger now has five homers on the season. He joins Ka'ai Tom as the only RubberDucks players with a five-hit game this season.
Notebook
Mark Mathias slugged a two-run home run in the sixth to give Akron a brief, 4-3 lead….Ranfi Casimiro (3-2) earned the win in relief for Reading, despite giving up four earned runs…The Ducks (39-30) won two out of three in the series…Time of game: 2:53… Attendance: 6,512.
On the Pond
Following an off-day Monday, the RubberDucks will open a six-game homestand with the first of three games against Hartford on Tuesday night at 7:05. The game will be broadcast on Fox Sports 1350 AM, the WARF iHeart channel, and the TuneIn Radio App.