Albuquerque, Reno Split Twin-Bill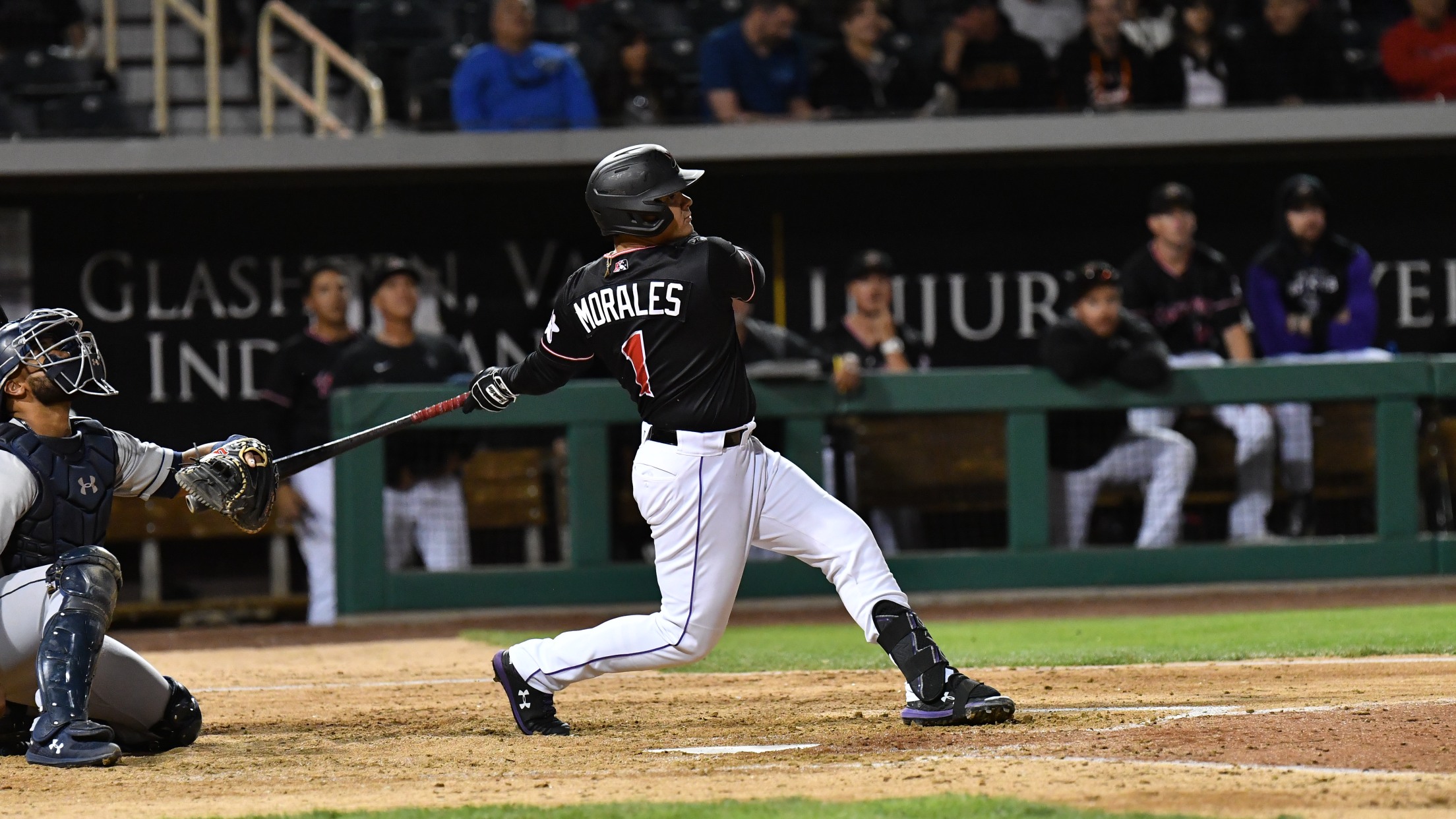 Albuquerque, NM – The Isotopes won Game 1, 4-2, and had a three-run lead in Game 2 but Reno came back to win, 7-4, Saturday night at Isotopes Park. Game 1 — After wet grounds suspended last night's game five outs into the contest, Albuquerque took a 4-0 lead and
Albuquerque, NM – The Isotopes won Game 1, 4-2, and had a three-run lead in Game 2 but Reno came back to win, 7-4, Saturday night at Isotopes Park.
Game 1 — After wet grounds suspended last night's game five outs into the contest, Albuquerque took a 4-0 lead and held off an Aces rally late in the contest to take Game 1, 4-2.
Offensively, Albuquerque tallied eight hits and one homer. Sean Bouchard blasted a homer and tallied a hit night. D.J. Peterson, Alan Trejo and Michael Toglia each drove in a run. Trejo also recorded a multi-hit effort.
The Isotopes got on the board, 1-0, in the bottom of the first prior to the rain delay on Bouchard's 16th homer of the year.
Albuquerque added to its lead, 4-0, with a three-spot in the sixth. Toglia and Trejo both grounded RBI singles while Peterson drove in a run on a sac fly.
Reno spoiled the shutout in the eighth inning on an RBI triple by Yonny Hernandez and a Buddy Kennedy RBI single, both with two outs.
Zach Neal started Game 1 Friday night and returned to the bump Saturday, tallying 3.0 innings and relenting just one hit with no walks or strikeouts. He did not factor into the decision. Matt Dennis earned the win while Zach Lee picked up the save.
Game 2 — Albuquerque held a three-run lead in the fifth but the Aces plated three runs in the fifth and eighth innings for a 7-4 come-from-behind victory.
In the box, the Isotopes recorded nine hits, a double, triple and homer. Jonathan Morales recorded a game-high three hits and one RBI. Trejo had two hits in both games. Taylor Snyder blasted a three-run homer.
The Aces took a 1-0 lead in the third. Yonny Hernandez reached on a walk, stole second and then scored on a two-base throwing error.
Albuquerque took a 4-1, in the fourth when Morales lined an RBI single to center field and Snyder blasted a three-run blast down that just stayed fair down the left field line.
But Reno knotted the game at 4-4 in the top of the fifth with a three-spot, including a two-run double by Stone Garrett.
In the eighth frame, extra-innings, the Aces scored three runs and held the Isotopes scoreless in the home half.
Karl Kauffmann did not factor into the decision after tossing 4.2 innings and relenting four runs, three earned, on three hits and four walks with five punchouts. Julian Fernandez took the loss. He allowed three runs, two earned, in the extra frame.
Topes Scope: - Albuquerque is now 1-0-2 in their three doubleheaders this year. They have been outscored, 30-26, during those six contests.
-The Isotopes fell to 2-6 in extra innings and 1-2 at home. They have lost four in-a-row in extras.
-Neal became just the second starting pitcher in Isotopes history to return to the hill after a suspended game the day before. Steve Woodard did so on June 23, 2008, after the contest on June 22 was suspended.
-Over their last 14 home games, the Isotopes are 10-4 against the Aces.
-In Game 1, the Isotopes held the Aces to just two runs, the seventh time this season Albuquerque has held the opposing team to exactly two runs.
-Toglia threw out Dominic Fletcher on a groundball with the infield in as he attempted to score from third base. He is the fourth Ace runner to be thrown out attempting to score this series.
-Trejo tallied two hits in both contests of the doubleheader. He has a hit in eight of his last nine games with five multi-hit efforts, including three in-a-row. During that stretch, he is hitting .371 (13x35) with eight RBI, three doubles and two homers.
-Bouchard registered his 20th multi-hit effort in Game 1. He also has a five-game extra-base hit streak.
-Lee tallied his seventh save of the season, which is tied for sixth in the PCL.
-Morales recorded his fifth three-hit game and 19th multi-hit effort of the year. It is his second three-hit contest this month (August 4 at El Paso).
-After relenting just one and two runs over his first two games at Triple-A, respectively, Kauffmann has allowed at least three runs in each of his last four starts.
-Snyder blasted his first Triple-A homer since April 28 vs. Sacramento.
-Vilade failed to get a hit in Game 1 and went hitless over four-straight games for the first time since July 16-19, 2021. However, he ended the hitless streak with a single in Game 2.
-Albuquerque's bullpen has allowed 13 hits and six runs over 17.1 innings of work over this series. Three of those runs came in Game 2 of the doubleheader off Fernandez.
-After not reaching base in back-to-back contests, Hatch reached base twice (single and hit-by-pitch) in Game 1.
On Deck**:** The Isotopes and Aces will play the series finale Sunday at 6:05 pm MT. Riley Smith is set to start for Albuquerque while Reno is expected to start Brandon Pfaadt.