Isotopes Drop Slamming Battle in Oklahoma City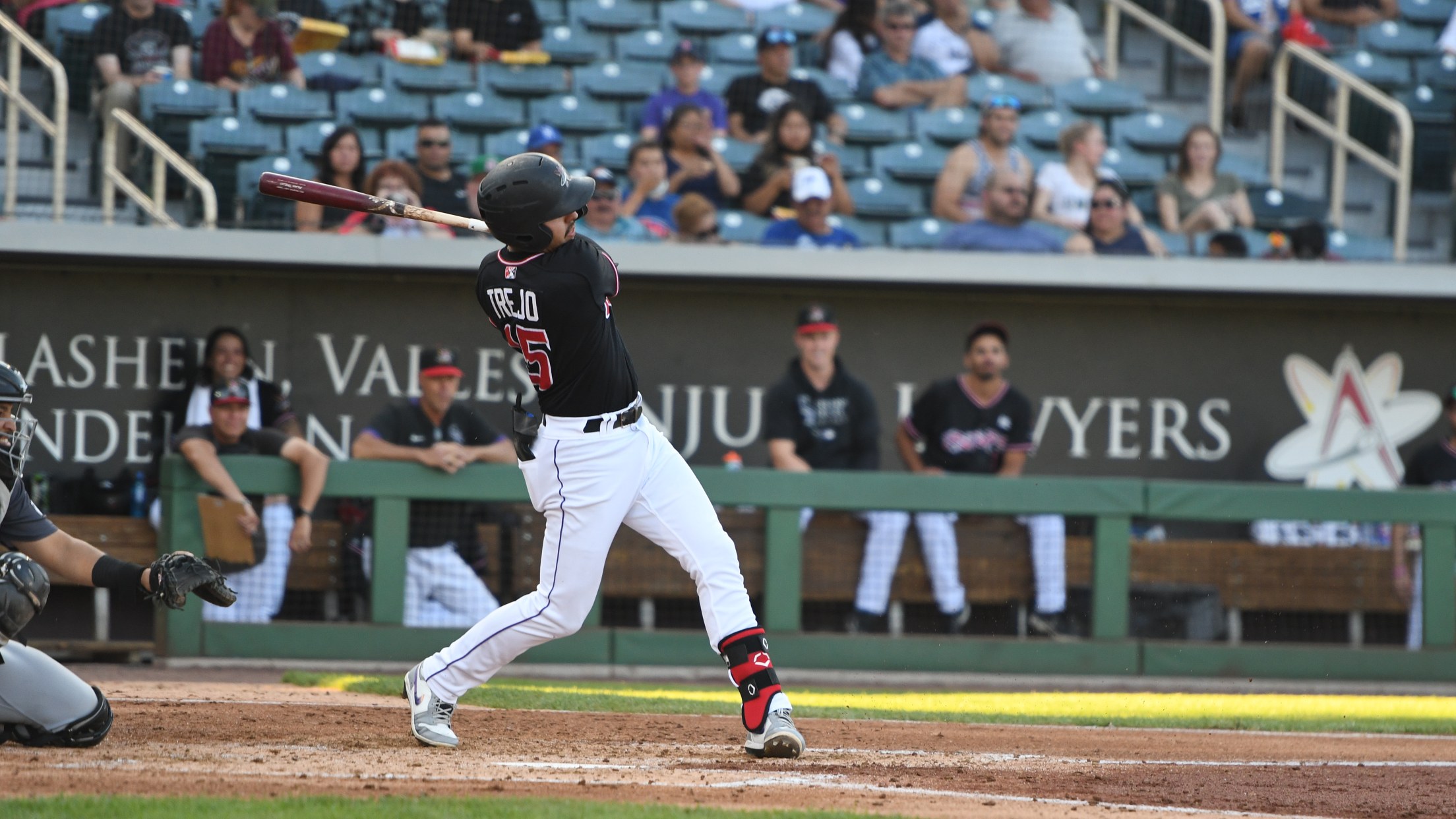 Oklahoma City, OK – Alan Trejo hit the first grand slam of the evening, but Jake Lamb and Oklahoma City had the last slam, and laugh. Lamb connected on a blast to cap a six-run sixth inning as the Dodgers (18-11) rallied past the Albuquerque Isotopes (12-17) by a final
Oklahoma City, OK – Alan Trejo hit the first grand slam of the evening, but Jake Lamb and Oklahoma City had the last slam, and laugh.
Lamb connected on a blast to cap a six-run sixth inning as the Dodgers (18-11) rallied past the Albuquerque Isotopes (12-17) by a final score of 8-5 on Saturday evening at Chickasaw Bricktown Ballpark. The Topes have dropped three straight contests after winning the initial two matchups of this series.
With Albuquerque trailing 2-1, Tim Lopes ignited the third-inning outburst with a base hit. Elehuris Montero reached on an error before Scott Schebler was hit by a pitch, setting the table for Trejo. The shortstop demolished the first pitch from Sam Gaviglio into the left-field bullpen to drive in four runs, giving his team a 5-2 advantage.
The score remained 5-2 into the sixth when Oklahoma City drew closer via an RBI groundout from Tony Wolters and a two-out RBI single by Zach McKinstry. After a walk, Lamb launched an offering from Nick Kennedy over the right-field wall for the second grand slam of the night, providing the ultimate 8-5 final margin.
Lopes had the only multi-hit (two) night for the Isotopes, who finished with just six total.
Topes Scope: - Trejo hit Albuquerque's fourth grand slam of the 2022 season and his second slam as an Isotope. He also had one on July 5, 2021 vs. El Paso. It was the first time the Isotopes hit a grand slam on the road since Colton Welker on Aug. 12, 2021 at Sugar Land.
- On the other hand, the Isotopes have allowed three grand slams in their last seven games (Alex Blandino, 4/30 vs. SAC; Ryan Noda, 5/5 at OKC).
- Albuquerque is hitting .222 with 69 runs scored in 17 road games this year, compared to an MiLB best .335 and 114 runs at home.
- The Topes have dropped 32 of their last 41 games at Chickasaw Bricktown Ballpark dating back to April 24, 2012.
- Albuquerque has scored all 20 of their runs in this series in the first four innings of games. From the fifth through the ninth, they are 10-for-71.
- Tonight was the first time in seven games the Isotopes did not commit an error (4/29 vs. SAC).
- Schebler was hit by a pitch for the fourth time this season and 123rd time in his professional career (93 in MiLB, 30 in MLB).
On Deck: The Isotopes will look to split the series with the Dodgers tomorrow afternoon when right-handed pitcher Ryan Feltner (3-0, 3.20) makes the start against Oklahoma City's Beau Burrows (1-1, 5.32). First pitch is set for 1:05 MT (2:05 CT).