Isotopes Settle For Split With Aces in 5-1 Loss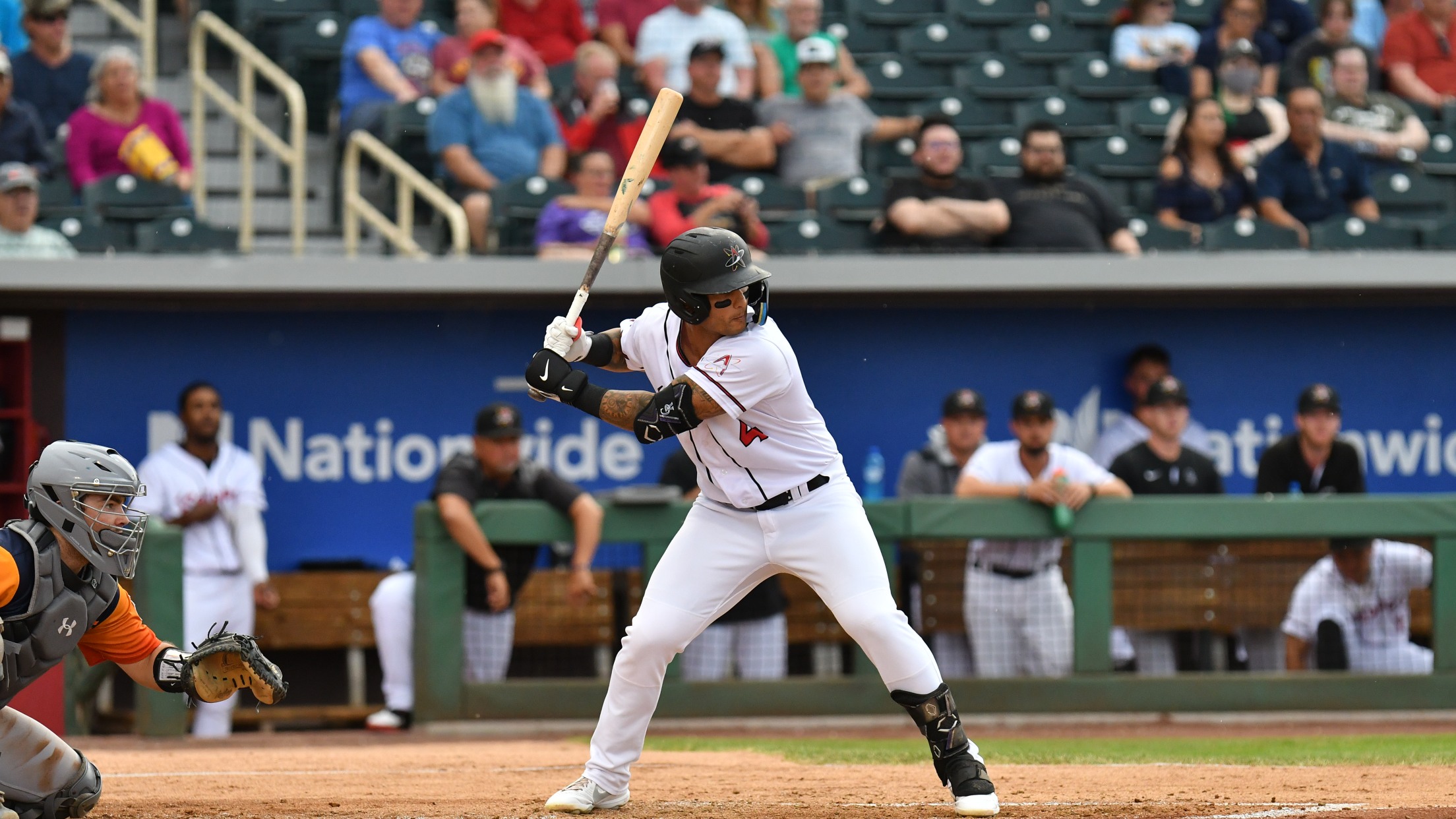 Albuquerque, NM – The Albuquerque Isotopes bats remained quiet on Sunday evening, picking up just one run on three hits in a 5-1 series-closing loss to the Reno Aces at home. Defeats in the final two games of this set ensured that Albuquerque and Reno split the six games in
Albuquerque, NM – The Albuquerque Isotopes bats remained quiet on Sunday evening, picking up just one run on three hits in a 5-1 series-closing loss to the Reno Aces at home. Defeats in the final two games of this set ensured that Albuquerque and Reno split the six games in the Duke City.
Reno scored first on Dominic Canzone's RBI single in the first inning, but the Isotopes answered back in the third when Tim Lopes launched his fifth home run of the season, a solo blast.
With the game still tied in the fifth, Jake Hager lined a two-run homer into Albuquerque's bullpen as the Aces went back in front 3-1.
Jose Herrera tacked on two more runs in the seventh inning with a single up the middle off Ty Blach.
Riley Smith pitched well for the Isotopes, allowing just five hits and three runs over five innings, but he was outmatched by Reno's Brandon Pfaadt. The Aces starter turned in a dominating performance with six frames of one-hit, one-run ball with 10 strikeouts.
Albuquerque mounted a threat in the ninth inning, loading the bases with two outs and forcing Reno manager Gil Velazquez to replace lefty Caleb Baragar with right-hander Mitchell Stumpo. Taylor Snyder then struck out on three pitches, ending the ballgame.
Topes Scope: - The Isotopes allowed their second fewest runs in a series this season (26). The low is 23 at Sacramento from July 12-17. They also scored their fewest total runs in a series of the campaign (22). The previous low was 24 in the opening six-game set at Oklahoma City from April 5-10.
- Reno hit just three home runs in the series, by far the fewest allowed by Albuquerque pitching in a set this season. The previous fewest was five long balls surrendered over the six games in Sacramento. The Isotopes gave up their fewest home runs over the course of a series since allowing just one at Sugar Land from Aug. 12-17, 2021 (six games).
- Tonight was the 12th time this season that Albuquerque used the same starting pitcher in the first and sixth game of a series. On those occasions, the starter's ERA in Game 1 is a cumulative 6.11 and it has risen to 8.13 in Game 6. On the other hand, the opponent has also used the same starter in the opener and finale 12 times. The difference in ERAs is more drastic for the opposing starters: 4.42 in Game 1 and 8.94 in Game 6, despite Pfaadt's terrific outing tonight.
- Pfaadt tied a season-high in strikeouts for an opposing starter, Sugar Land's JP France (June 29) and Sacramento's Tristan Beck (July 12) also fanned 10. He also tied for the most pitches by a starter against Albuquerque this year with 101 (Colin Wiles, July 30 vs. Las Vegas).
- Pfaddt allowed just one hit, tied for the fewest by an opposing starting pitcher when lasting five or more innings this season. Brandon Bielak did in six innings for Sugar Land on May 10, while Taylor Hearn (Round Rock) and Enmanuel De Jesus (Sacramento) did it over five frames on July 8 and July 14, respectively.
- The Isotopes split a series for the eighth time in 2022 and first since July 12-17 at Sacramento.
- Lopes crushed his first long ball at Triple-A since May 26 vs. Round Rock, a span of 15 games and 45 at-bats.
- Alan Trejo is 12-for-26 over his last seven games with six two-hit contests during the stretch. He has 19 multi-hit games for the season.
Carlos Pérez has cooled off over his last five contests, going just 1-for-17.
- Since coming off the IL on July 14, Snyder is 3-for-32 with 18 strikeouts in nine games. This was the third time in 2022 an Isotopes batter struck out four times in a game, joining Pérez on May 1 vs. Sacramento and Coco Montes on July 12 at Sacramento.
- The combined time of game in this series was 14:08, and the average was 2:21.
On Deck: The Isotopes will travel to Tacoma for their first series at Cheney Stadium since May 2019. In the series opener Tuesday, right-hander Ashton Goudeau is scheduled to start on the mound for Albuquerque against Rainiers right-hander Chris Mazza. First pitch is set for 1:05 p.m. MT (12:05 PT).