Fuentes' Blast Stuns Chihuahuas as Isotopes Walk Off Again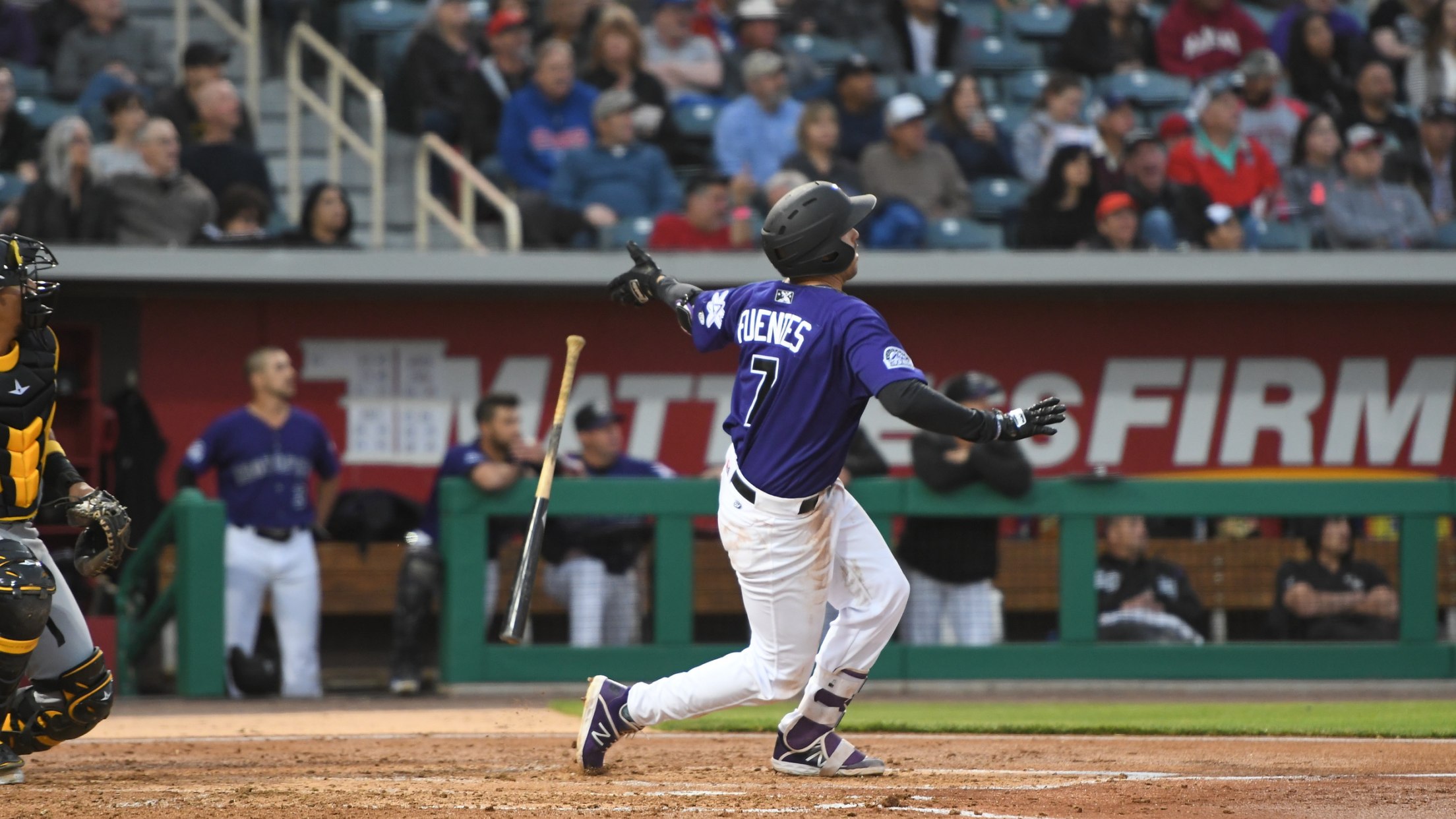 Isotopes 5 (50-63), Chihuahuas 4 (44-69) – RGCU Field at Isotopes Park | Albuquerque, NM AT THE DISH: With one on and one out in the bottom of the ninth, Joshua Fuentes belted a game ending two-run homer, the first walk-off blast of his professional career … Nick Longhi had
Isotopes 5 (50-63), Chihuahuas 4 (44-69) – RGCU Field at Isotopes Park | Albuquerque, NM
AT THE DISH: With one on and one out in the bottom of the ninth, Joshua Fuentes belted a game ending two-run homer, the first walk-off blast of his professional career … Nick Longhi had two doubles while Alan Trejo also hit a two-run home run … Wynton Bernard had two hits from the leadoff spot and stole his team-leading 23rd base of the season.
TOEING THE RUBBER: Starting pitcher Ryan Rolison allowed nine hits and four runs in six innings … Tate Scioneaux, Chad Smith and Justin Lawrence (W, 5-3) all tossed a scoreless frame to make the comeback possible.
TOPES TIDBITS: This marked Albuquerque's seventh walk-off win of 2021 and the third walk-off homer (Brian Serven, 5/23 vs. OKC, Elehuris Montero, 9/9 vs. EP) … The two teams combined to leave 18 on base including Scioneaux stranding the bases loaded in the seventh before El Paso starter Jesse Scholtens stranded two runners by striking out the side in the bottom half of that frame.
ON DECK: The Mariachis de Nuevo México battle the El Paso Margaritas in the series finale Tuesday evening. The Mariachis promotion is presented by Modelo Especial, while Musical Mariachi Bobbleheads will be given to the first 3,000 fans, presented by Pepsi. First pitch is set for 6:35 PM, with right-handers Ryan Castellani (3-10, 6.86) and Adrian Martinez (0-2, 7.43) opposing each other. Albuquerque will look to take four of six in the set.