Sod Poodles Split Series After 3-2 Loss In Finale
Three Unearned Runs Prove Costly In Fourth Of July Loss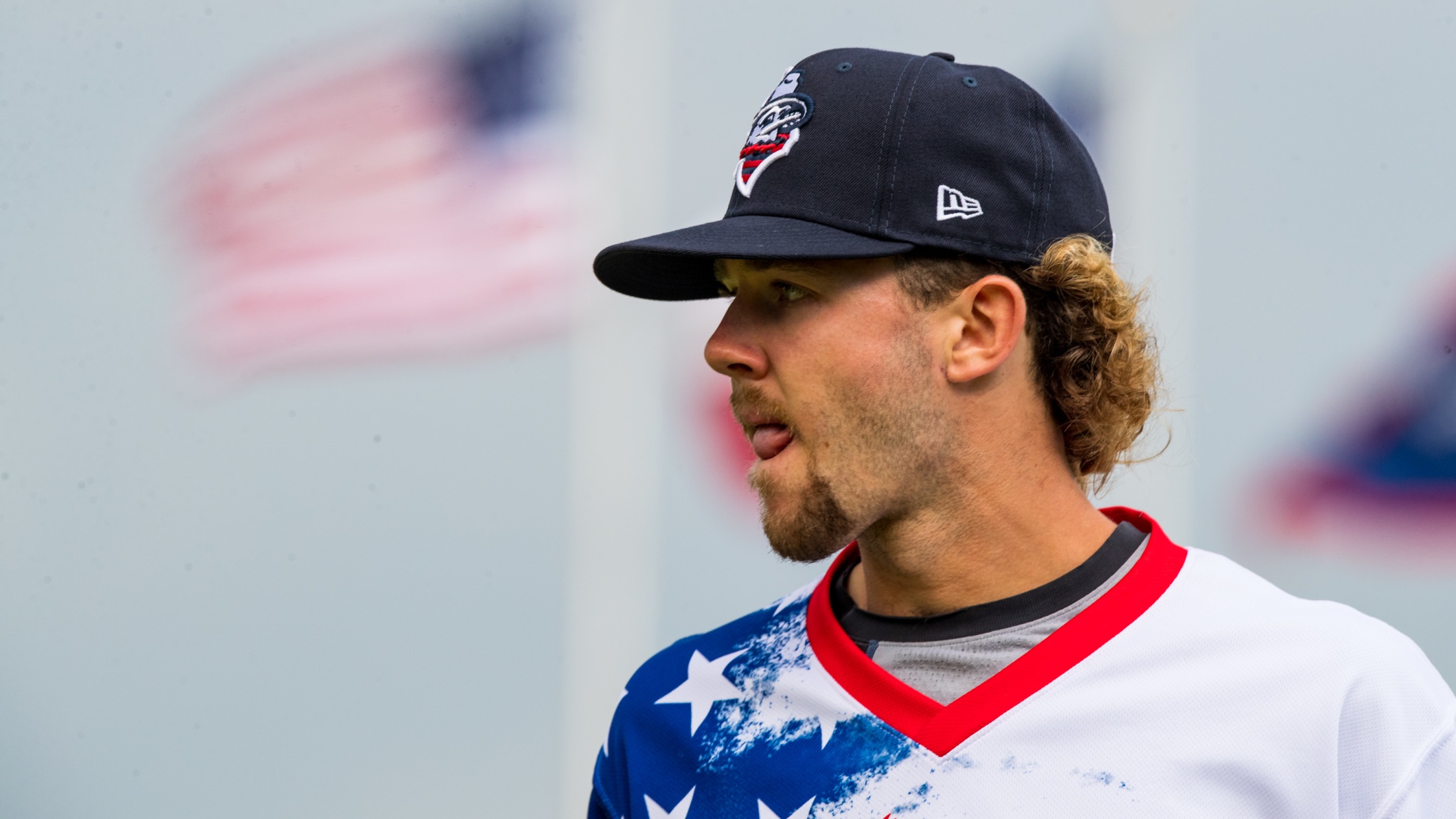 (John Moore)
Sunday, July 4, 2021 vs. Wichita Wind Surge [MIN] Amarillo Sod Poodles (24-30) | Wichita Wind Surge (30-24) Amarillo, Texas — The Sod Poodles struck first but we're unable to regain momentum lost after seeing three unearned runs come across the plate in the sixth inning. The Sod Poodles dropped
Sunday, July 4, 2021 vs. Wichita Wind Surge [MIN]
Amarillo Sod Poodles (24-30) | Wichita Wind Surge (30-24)
Amarillo, Texas — The Sod Poodles struck first but we're unable to regain momentum lost after seeing three unearned runs come across the plate in the sixth inning. The Sod Poodles dropped the finale against the Wind Surge and split the series. In the process Amarillo drops to 24-30 on the year.
Amarillo starter and D-backs No. 22 prospect Matt Tabor battled in his sixth Double-A start over five and two-thirds innings with just six hits and three runs (0 ER) allowed and six strikeouts.
After just seven hits exchanged overall through four-and-a-half scoreless frames, the Soddies broke through in the bottom of the fifth to make it a 1-0 lead. Luis Basabe knocked a high fly ball to left-center field into a stormy sky which dropped for a double. Following a hit by pitch by Mikey Reynolds, Tra Holmes came through with an RBI single up the middle.
In the top of the sixth, Wichita surged ahead with three runs to plate their first runs of the night and pull ahead. With two outs and two runners in scoring position after a single by Trey Cabbage, a walk to Roy Morales and groundout, a ground ball to third base off the bat of Leobaldo Cabrera resulted in a throwing error by Buddy Kennedy to plate two unearned runs for Wichita. Peter Mooney then knocked an RBI triple to quickly extend Wichita's lead to 3-1.
In the eighth, the Soddies found momentum following a big mistake by Wichita's defense. Right fielder Trey Cabbage dropped a fly ball near the warning track and placed Holmes on second base with one out. Holmes then appeared to steal third before being sent back to second after an umpire's interference call with the home plate ump and Wichita's catcher making contact on the throw down. So instead of having a runner 90 feet from home with one out, a hard hit line drive two pitches later doubled off Holmes and sent the game to the ninth.
Right-hander Ryan Weiss was given the ball to begin the final frame and struck out the side to send the game to the bottom of the ninth with Amarillo chasing two runs
After falling behind 0-2 to lead off the inning, D-backs' No. 15 rated prospect Dominic Fletcher hit his seventh home run of the season to draw the Soddies within one run. Wichita turned to their bullpen and RHP Ryan Mason who struck out two of the next three batters he faced to slam the door on any potential theatrics from Amarillo before the postgame fireworks began.
Amarillo and Wichita have now split their two series in 2021. The Sod Poodles will now hit the road for a 12-game road trip to San Antonio and Midland over the next two weeks before returning to HODGETOWN on July 20th versus Frisco.
Notes:
Tabor's Sixth Go: In his sixth Double-A start, Amarillo D-backs No. 22 prospect Matt Tabor battled over five and two-thirds innings with just six hits and three runs (0 ER) allowed and six strikeouts. It marked his second consecutive start without allowing an earned run. In his last two starts combined, he has totaled 12.2 IP with eight hits allowed, 10 strikeouts, and no earned runs given up.
Costly Mistakes: On Sunday night, the Soddies committed three errors, including two by Buddy Kennedy (fielding and throwing). It marked the most errors committed in a game by Amarillo since June 19 at HODGETOWN against Midland when they combined for a team franchise-high five errors.
HODGETOWN Attendance Record: The Sod Poodles set a new HODGETOWN record for attendance with 7,477 fans in attendance Sunday night on July 4 beating the previous high from 7/4/19 of 7,451. It marked the third sellout in a row and fourth overall in 2021. This was the 15th time Amarillo has welcomed over 7,000+ people into the ballpark for a baseball game. In HODGETOWN's brief history, it totals 44 sellouts.
The Time Has Come: After allowing a home run in 24 straight games entering tonight's contest as a staff, The Sod Poodles did not allow a home run this evening. Since June 6, the Sod Poodles have allowed a Double-A leading 48 home runs.
Pen Notes: The trio of Mitchell Stumpo, Levi Kelly, and Ryan Weiss combined for 3.1 no-hit innings out of the bullpen for Amarillo. Stumpo made his third appearance in Double-A and went 1.1 innings tonight with three strikeouts and one walk issued. Levi Kelly went an inning with one walk and a strikeout while Weiss struck out all three he faced in the ninth.