Royals' Martinez fans 12 in one-hit shutout
Left-hander faces minimum in rain-shortened six-inning game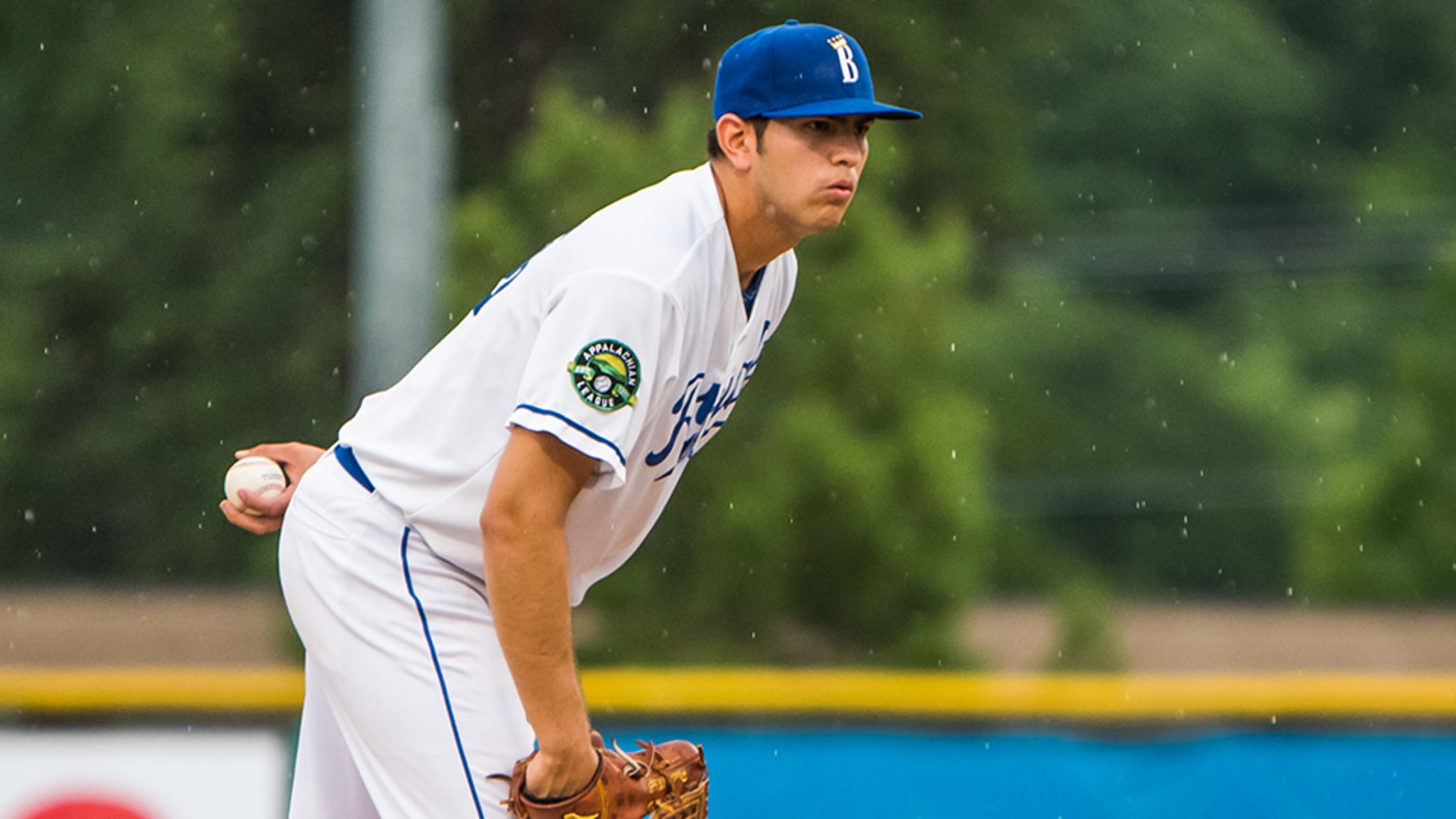 Marcelo Martinez appeared in four games for the Sultanes de Monterrey in the Mexican League in 2017. (Brian Collett/Burlington Royals)
Perfection evaded Marcelo Martinez by one batter through six innings. But in a rain-shortened contest, that was more than enough.The Royals prospect tossed a one-hitter and tied his career high with 12 strikeouts as Rookie-level Burlington defeated Pulaski, 3-0, on Wednesday at Calfee Park. It was his first career complete
Perfection evaded Marcelo Martinez by one batter through six innings. But in a rain-shortened contest, that was more than enough.
The Royals prospect tossed a one-hitter and tied his career high with 12 strikeouts as Rookie-level Burlington defeated Pulaski, 3-0, on Wednesday at Calfee Park. It was his first career complete game.
"Tonight was just outstanding," Royals manager Brooks Conrad said. "Pounding the zone, commanding all of his pitches, just real deceptive -- a lot of swings and misses. I mean, he struck out 12 in six innings. It was an impressive performance."
Gameday box score
The punchouts came early and often for the 21-year-old. Perfect his first time through the order, Martinez (2-2) racked up half of his strikeouts through three innings. Robert Javier reached on an infield single leading off the fourth, but Martinez picked him off two batters later to end the frame.
"He's mature beyond his years," Conrad said. "He can locate with the slide step. He can keep the running game in check and he's got a pretty good pickoff move."
The Mexico native retired the last eight batters he faced, fanning the final five, before the game was called. From his view in the dugout, Conrad said he saw a pitcher on the attack with each delivery.
"The biggest thing is he's locating his fastball inside and out," the former big league infielder said. "The changeup is what keeps everybody off-balance. It's just got such good movement and depth to it. It's his equalizer, for sure."
Martinez threw 53 of 75 pitches for strikes and lowered his ERA to 2.73 in a bounceback effort after he surrendered four earned runs on seven hits over five innings against Elizabethton a week ago.
"He has command of every single one of his pitches," Conrad said. "Fastball, really good changeup deception, good breaking ball as well. He just has a real confident poise and presence to him on the mound. He's just a really good competitor. He pounds the zone with strikes, holds the running game in check. He's just really mature beyond his years in all facets of his pitching. He's been outstanding."
The left-hander leads all Rookie-level hurlers with 56 strikeouts over 39 innings between Burlington and Idaho Falls of the Pioneer League. He's issued five walks and owns a 0.97 WHIP and .229 opponents' batting average.
"It just says that he prepares well," Conrad said. "He works on his mechanics. He's a hungry kid, obviously talented, but he works real hard at it. I think he's going to be a good one for a long time."
Martinez signed with Kansas City on March 7, joined Idaho Falls on June 20 and allowed one run on four hits with 10 strikeouts over 10 innings in two appearances with the Chukars. The Royals transferred him to Burlington on June 28, much to the liking of Conrad and his staff.
"I just enjoy the fact that he's on our club," the skipper said. "He's a great kid overall. Besides the fact that he's a talented pitcher, he's a really good human being. ... Like I said, he's got a good work ethic. He's just a guy that you're rooting for to do well. So we're just happy to have him on the squad just as a teammate, as well as on the top end of our staff."
Conrad said he doesn't need to see anything different from Martinez as the season winds down. His hope is that the Mexican League veteran keeps working with pitching coach Carlos Martinez, who also was a left-handed pitcher.
"Just continue to work on some things as far as his slidestep and varying his delivery," Conrad said. "He's already pretty good at that, but just a few things you can add to his repertoire to help him maintain what he's got. If he keeps doing what he's doing, he should be fine for a long time."
Juan Carlos Negret singled in a run and Matt Morales smacked an RBI triple for Burlington.
Chris Bumbaca is a contributor for MiLB.com based in New York. Follow him on Twitter @BOOMbaca.