Gonzalez leads Rookie-level Giants to Finals
Second-rounder doubles, tallies three RBIs to help sink Rangers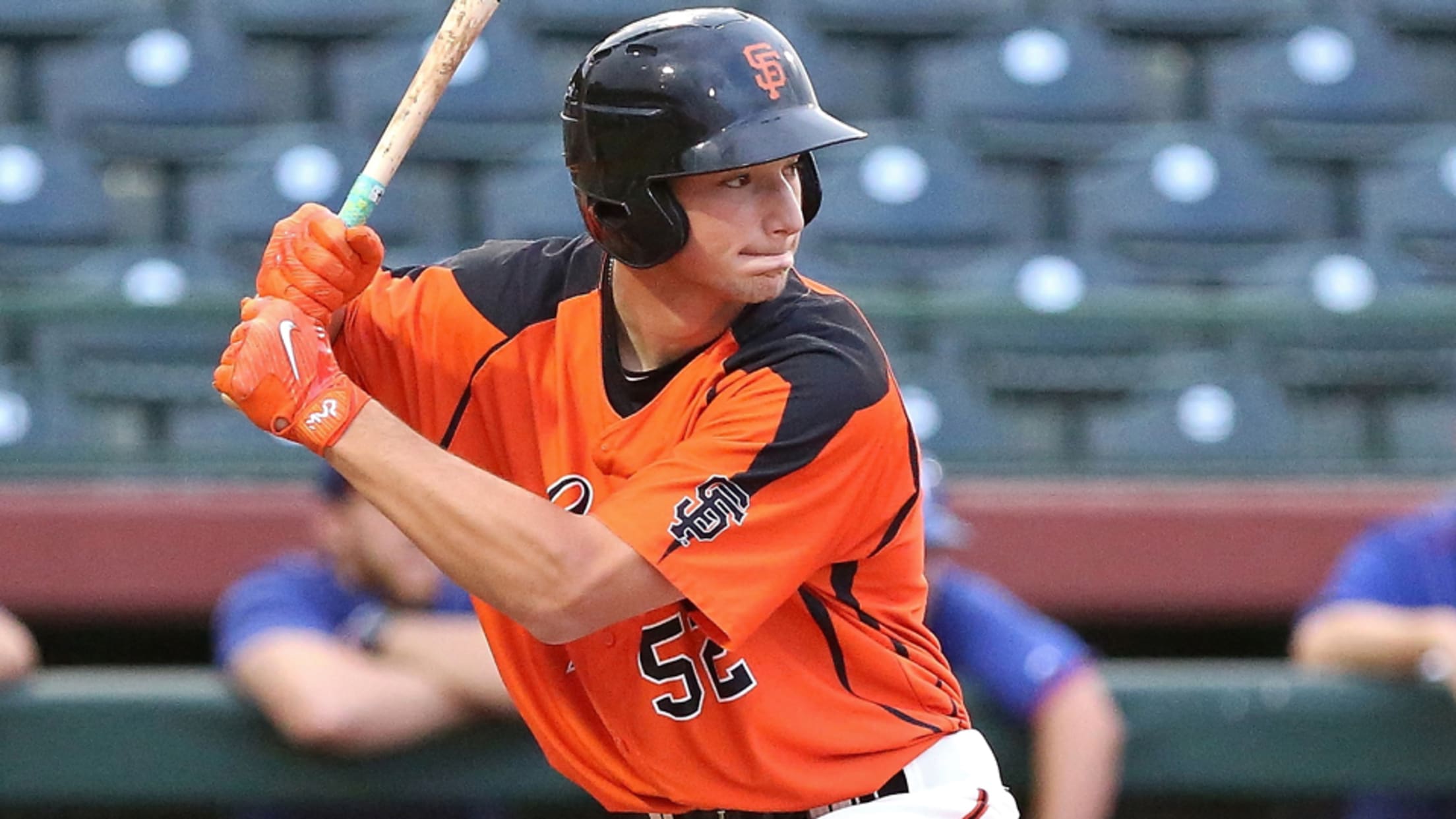 Jacob Gonzalez batted .339/.418/.458 with 17 extra-base hits and 21 RBIs over his first 46 professional games. (I.B. Lee/MiLB.com)
Just over two months after making his professional debut, Jacob Gonzalez has helped his team punch a ticket to the Arizona League Championship Series. Not only that, but he got to do it in front of his father, Luis Gonzalez, one day after the five-time Major League All-Star turned 50."He
Just over two months after making his professional debut, Jacob Gonzalez has helped his team punch a ticket to the Arizona League Championship Series. Not only that, but he got to do it in front of his father, Luis Gonzalez, one day after the five-time Major League All-Star turned 50.
"He was out there, and it was a pretty good birthday present -- the AZL Giants going to the championship," San Francisco's second-round pick said. "It's been an awesome experience. [The players and coaches] have all been committed to winning through the entire season."
Gonzalez went 2-for-5 with a double and three RBIs to pace the Rookie-level Giants to a 6-5 comeback victory over the Rangers in the circuit's one-game semifinal Monday.
Box score
The club's No. 15 prospect socked an opposite-field RBI ground-rule double off Texas second-rounder Hans Crouse in the first inning in response to the Rangers' run in the top half.
"We just tried to hang with them all game. We knew we'd have the confidence once we got to the end," Gonzalez said. "We were trying to peck away, because we knew Hans Crouse was throwing really well."
The 19-year-old third baseman plated two more with a single in the seventh, beginning to erase the 4-1 lead the Rangers held for two frames. With the game even, 6-6, and one out in the bottom of the ninth, he reached on a throwing error by shortstop Yonny Hernandez, which pushed Ismael Munguia to third. Diego Rincones walked it off with a knock through the left side.
Complete playoff coverage
"Diego's come up really clutch the entire season," Gonzalez said. "He's had a couple of walk-offs for us, so to be on base when he's up is fun. That was pretty exciting."
Munguia finished a homer shy of the cycle, going 3-for-5 with three runs scored.
Sam Huff went 4-for-4 with two homers, a double and four RBIs in the losing effort.
The Giants take on the Cubs in the best-of-3 Finals beginning Tuesday.
In other AZL playoff action:
Cubs 7, Dodgers 6
Cam Balego homered in his second straight postseason game for the Chicago affiliate and teammate Jonathan Sierra went yard and drove in two runs. Ivan Medina allowed one hit and one walk while fanning three over three scoreless innings of relief to pick up the win. Box score
Josh Jackson is a contributor to MiLB.com. Follow and interact with him on Twitter, @JoshJacksonMiLB.