9th Inning Rally Sends Travs to 4th Straight Win
Travs score twice in the 9th, Braden Bishop delivers the walk-off hit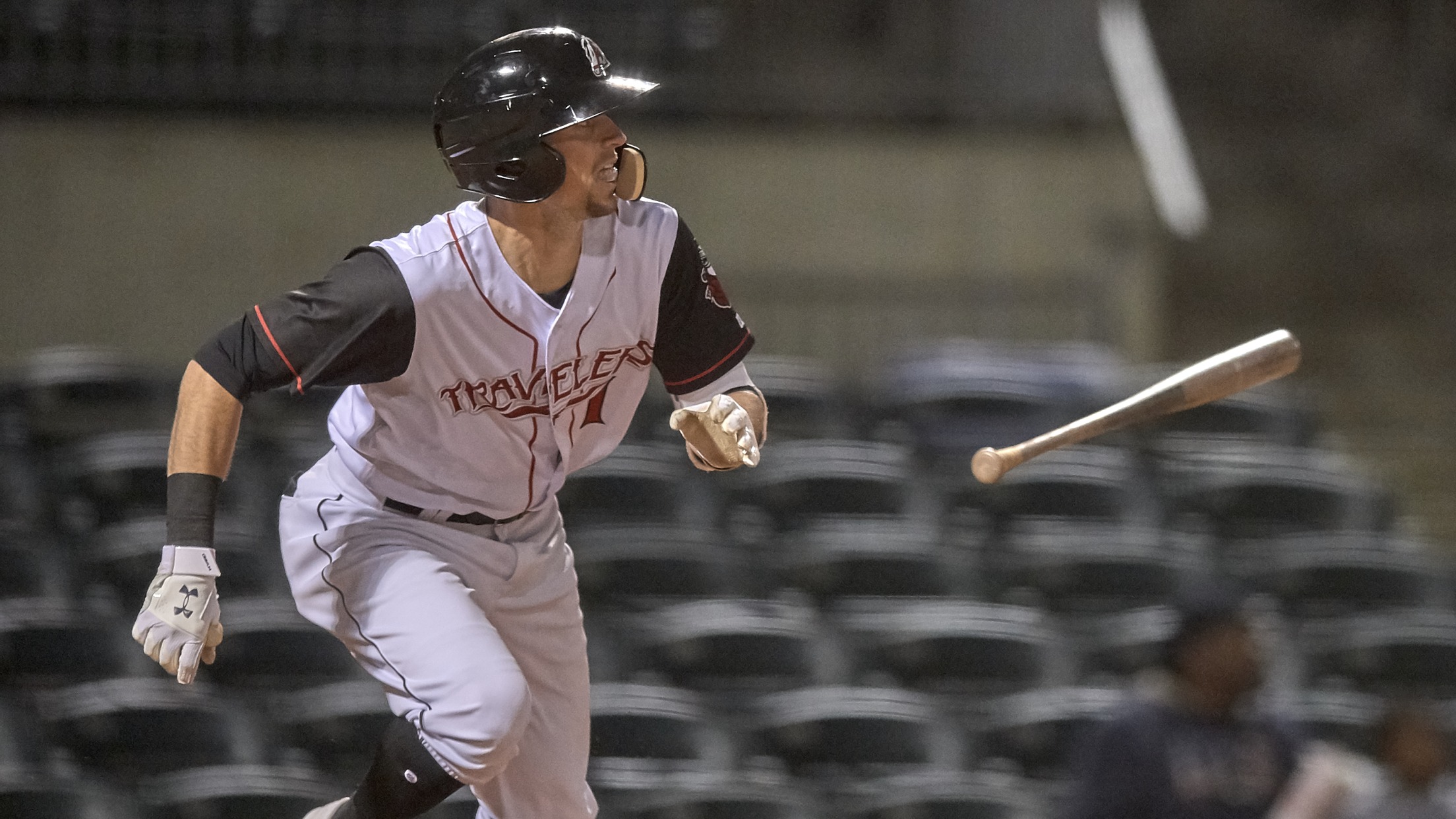 Braden Bishop had the walk-off base hit in the 9th inning Friday night. (Mark Wagner)
North Little Rock, AR-Shutout for eight innings, the Arkansas Travelers (6-1, 41-36) scored twice in the ninth inning and walked-off with their fourth consecutive victory as they defeated the Corpus Christi Hooks (5-3, 48-29), 2-1 on Friday night in front of 7,108 at Dickey-Stephens Park. The win was only the
North Little Rock, AR-Shutout for eight innings, the Arkansas Travelers (6-1, 41-36) scored twice in the ninth inning and walked-off with their fourth consecutive victory as they defeated the Corpus Christi Hooks (5-3, 48-29), 2-1 on Friday night in front of 7,108 at Dickey-Stephens Park. The win was only the second of the season for the Travs when trailing after eight innings, the other also coming against the Hooks back in April. Five out of six batters in the bottom of the ninth inning reached base with Braden Bishop ending the night with a single to right field. The win is the fourth in a row for the Travs, their sixth in the last seven and ninth in the last 12 games.
Moments That Mattered
* Corpus Christi got on the board in the top of the seventh. With two out and no one on, Yordan Alvarez hit a double along the left field line. Lorenzo Quintana then followed with a base hit to drive him in.
* Dario Pizzano lined a triple just past the glove of the racing right fielder to open the bottom of the ninth and put the tying run at third. He would score two batters later when Donnie Walton hit a groundball that scooted by the second baseman for an error.
* After Joe DeCarlo walked and Yonathan Mendoza singled to load the bases, Braden Bishop hit a line drive into right field and the sliding effort by Carmen Benedetti came up just short and Walton came home with the winning run.
Notable Travs Performances
* 1B Joey Curletta: 2-3, BB
* DH Dario Pizzano: 2-4, run, 3B
* Nathan Bannister: 7 IP, 4 H, R, BB, 7 K
Up Next
The Travs try to stretch the winning streak to five on Saturday night with RH Johendí Jiminian (4-3, 3.35) on the hill against RH Forrest Whitley (0-1, 3.86). First pitch is at 6:10 with gates opening at 5:10 for a Color Me Magnet giveaway. The game will also be broadcast on the Sports Animal 920, the First Pitch App, TuneIn radio and milb.tv.