Bannister Throws Complete Game Shutout in 1-0 Win Over Cards
Nathan Bannister throws the first complete game of his career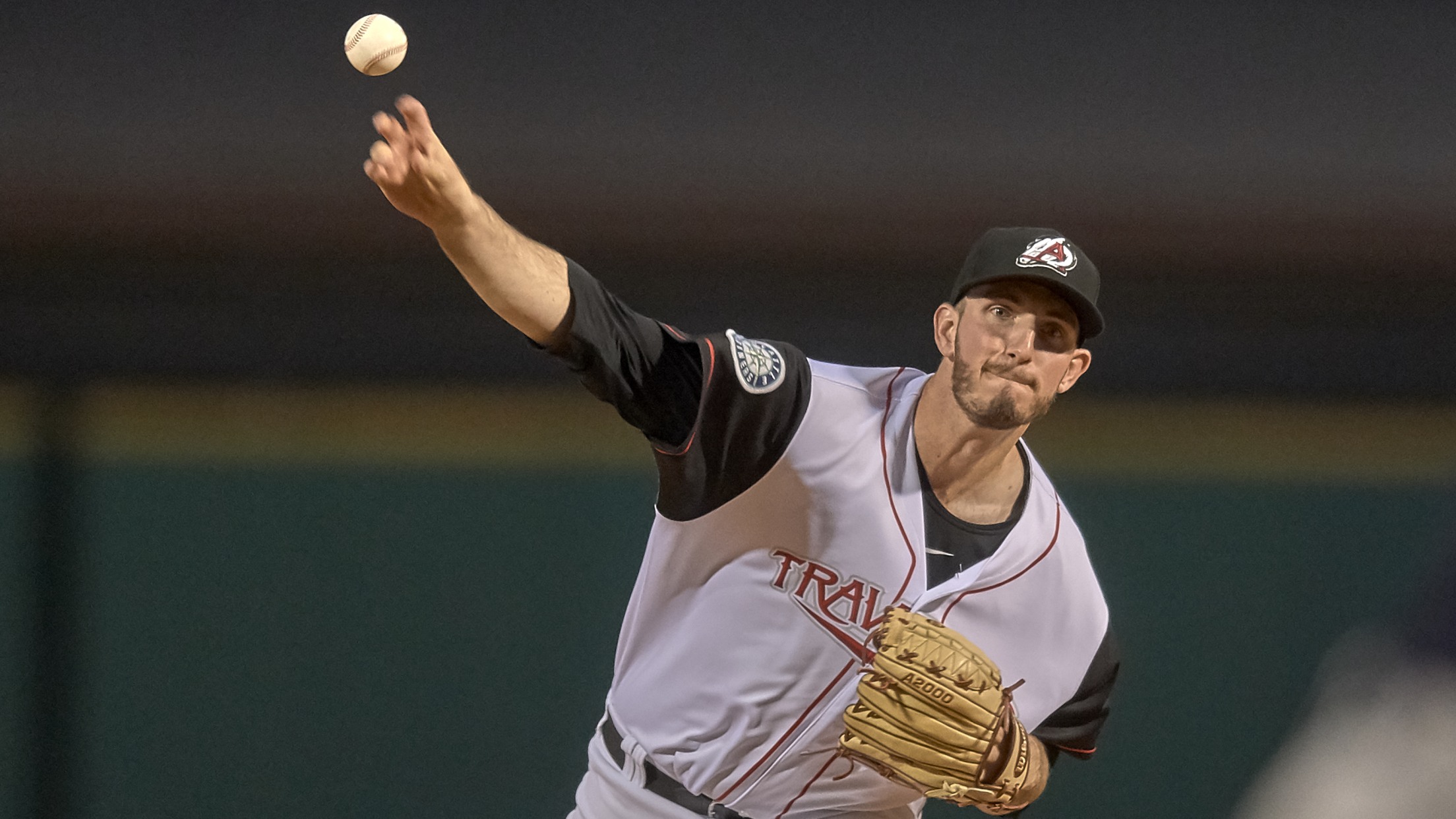 Nathan Bannister pitched a complete game, four-hit shutout on Mother's Day. (Mark Wagner)
North Little Rock, AR-Nathan Bannister pitched a four-hit complete game shutout in leading the Arkansas Travelers (18-17) to a 1-0 win over the Springfield Cardinals (19-16) on Mother's Day at Dickey-Stephens Park. Bannister threw 103 pitches in his first career complete game. He did not face more than for Cardinals
North Little Rock, AR-Nathan Bannister pitched a four-hit complete game shutout in leading the Arkansas Travelers (18-17) to a 1-0 win over the Springfield Cardinals (19-16) on Mother's Day at Dickey-Stephens Park. Bannister threw 103 pitches in his first career complete game. He did not face more than for Cardinals in any inning and retired 11 men in a row from one out in the fifth inning through the end of the eighth. Bannister walked just one hitter and struck out three. Arkansas missed out on several early scoring opportunities and finished the game 0-10 with runners in scoring position. The only run came in the bottom of the fifth inning when Braden Bishop scored from third on an error by the third baseman. Springfield starter Jake Woodford took the loss despite allowing only that unearned run over six innings.
Moments That Mattered
* Bishop led off the fifth with a single, moved to second on a wild pitch and then to third on a fly out. With the infield in and one out, he scored when Beau Amaral's groundball squirted through third baseman Tommy Edman.
* Bannister's streak of 11 consecutive hitters retired ended with a leadoff walk in the ninth. After the runner was bunted to second, Bannister struck out league homerun leader Victor Roache before getting Randy Arozarena to ground to third and end the game.
Notable Travs Performances
* CF Braden Bishop: 2-4, run
* LF Chuck Taylor: 2-4, 2B
* Nathan Bannister: Win, CG, SHO, 9 IP, 4 H, BB, 3 K
Up Next
The Travs hit the road to start a four game series at Northwest Arkansas on Monday night. LH Anthony Misiewicz (0-2, 4.05) will be on the mound against at yet to be announced starter for the Naturals. The game will be broadcast on the Sports Animal 920, the First Pitch App, TuneIn radio and milb.tv.