Wichita Walks Off On Travs
Arkansas comes back from four down to take the lead only to lose in the bottom of the ninth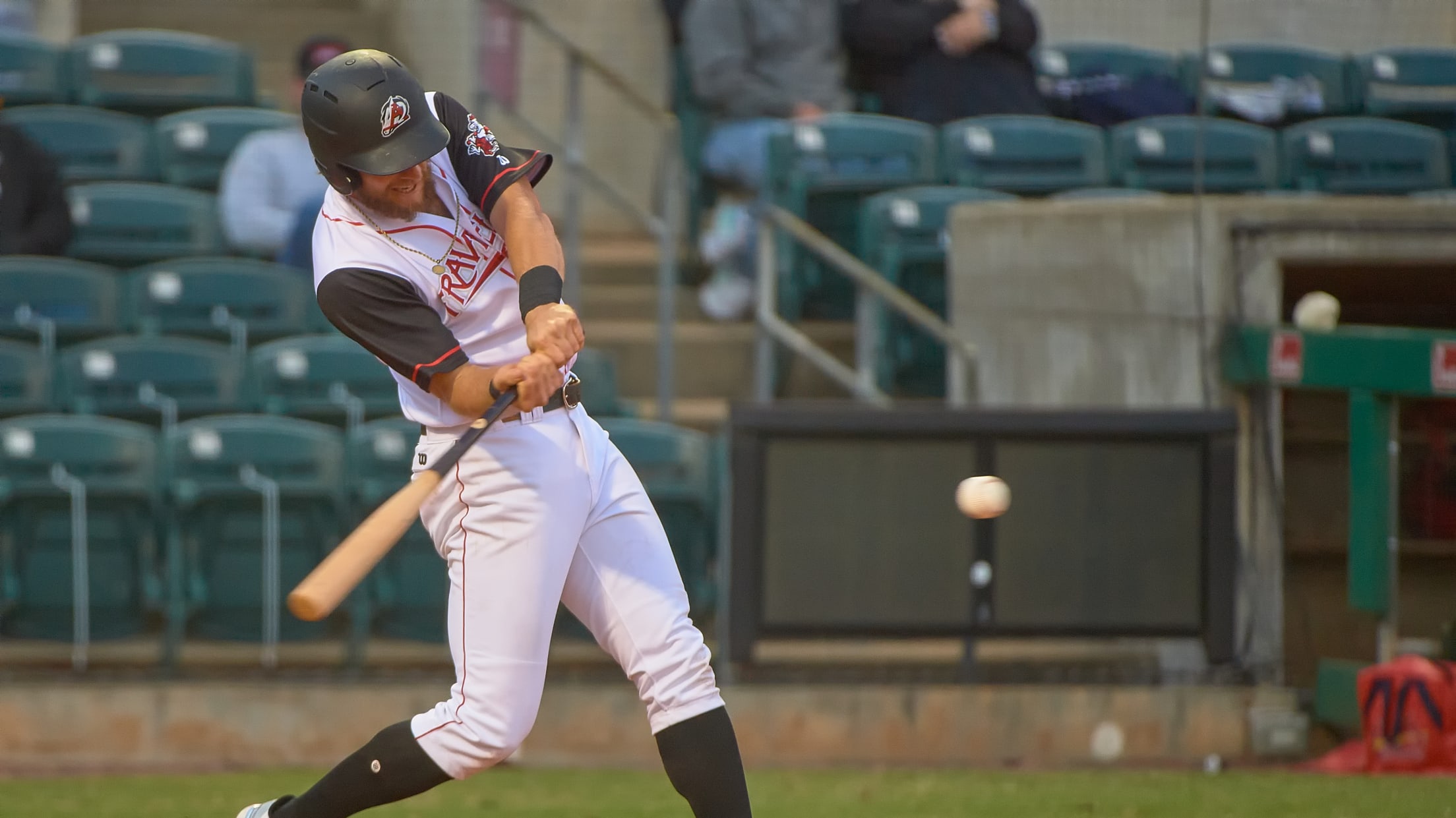 Connor Lien hit two home runs in the loss. (Mark Wagner)
Wichita, KS—A big comeback by the Arkansas Travelers was spoiled by a late rally from the home team as the Wichita Wind Surge scored twice in the bottom of the ninth to walk-off winners, 7-6. Jermaine Palacios ended the game with a walk-off hit sending the Wichita crowd into a
Wichita, KS—A big comeback by the Arkansas Travelers was spoiled by a late rally from the home team as the Wichita Wind Surge scored twice in the bottom of the ninth to walk-off winners, 7-6. Jermaine Palacios ended the game with a walk-off hit sending the Wichita crowd into a frenzy. The Travs were down by four runs going into the seventh inning but came back on the strength of the home run ball. Connor Lien's second blast of the night brought them within one in the seventh before a 2-run bomb by Brian O'Keefe an inning later put the Travs on top. Michael Stryffeler was unable to close it out in the bottom of the ninth, recording just one out and was tagged with the loss. Three relievers had combined for five scoreless innings prior to the bottom of the ninth. Arkansas starter Ian McKinney lasted just three-plus innings in his poorest start of the season getting knocked for five runs on six hits.
Moments That Mattered
* Lien's second homer capped a three-run top of the seventh and landed on top of the massive scoreboard in left field. His first homer of the night, in the third inning, had hit about midway up the scoreboard.
* Aaron Whitefield opened the final inning with a single to right field on a 1-2 pitch. He then stole second and moved to third when the throw hit off the runner's helmet and caromed into left field. After a walk and sacrifice fly, Palacios blasted a ball to deep left-center that Lien nearly ran down but had hit off the edge of his glove for the winning hit.
Notable Travs Performances
* DH Brian O'Keefe: 3-4, run, HR, 2 RBI
* CF Connor Lien: 2-4, 2 runs, 2 HR, 3 RBI
* LHP Steven Moyers: 3 IP, H, 3 K
News and Notes
* Moyers made his season debut pitching three scoreless innings after signing a minor league free agent deal with the Mariners.
* It was the third walk-off loss of the season for the Travs in just nine road games.
Up Next
The two teams meet again on Friday night with right-hander Penn Murfee (1-1, 6.75) making the start against righty Cole Sands (0-0, 2.45). First pitch is at 7:05 and the game will be broadcast on AM 920 the Sports Animal, the First Pitch App and milb.tv.