Doubledays Drop Series Against Spinners
Sponsored by Taste New York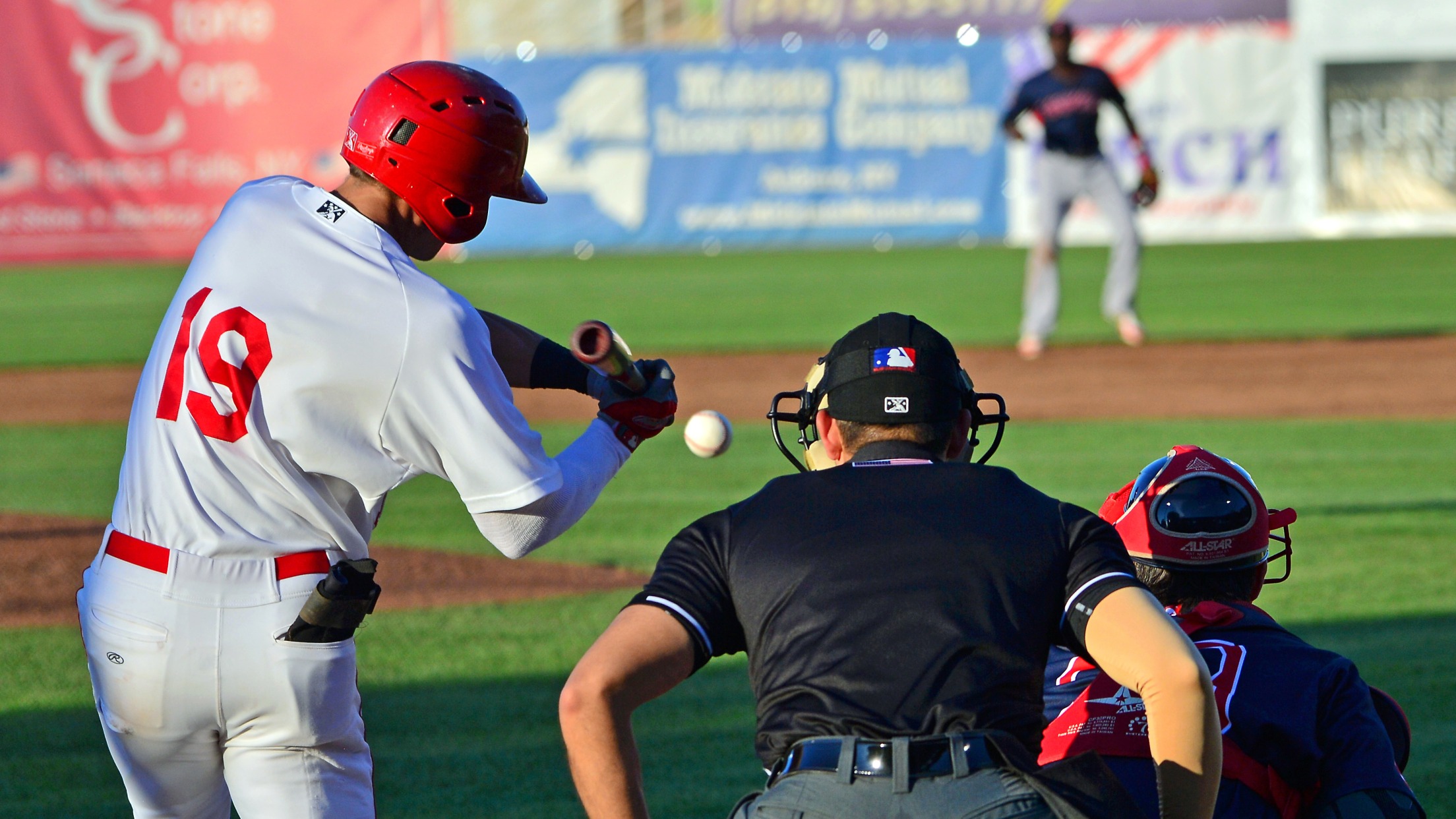 (Rick Nelson)
AUBURN, NY - Auburn's offense has fluctuated over the first month of the season, but one of their few consistencies has been the production of Doubledays pitcher Francys Peguero. Peguero entered Thursday night's contest with one of the best ERAs in the league at 1.43 had deserving established himself as
AUBURN, NY - Auburn's offense has fluctuated over the first month of the season, but one of their few consistencies has been the production of Doubledays pitcher Francys Peguero. Peguero entered Thursday night's contest with one of the best ERAs in the league at 1.43 had deserving established himself as Auburn's ace since Malvin Pena was promoted to Hagerstown.
But the Lowell Spinners managed to figure out what four other teams this season could not - how to hit the elusive "El Pegui". Peguero was knocked around in his four innings on the mound and allowed four earned runs on six hits in Auburn's (14-11) 6-1 loss to Lowell (12-14).
The game started on a sour note for Auburn as Jarren Duran led off the game with a triple to right field. After striking out Cole Brannen for the first out of the evening, Brandon Phillips - a three-time All-Star with the Cincinnati Reds - lifted a ball into the outfield to score Lowell's first run of the game.
The Spinners struck in bunches throughout the night and put up two crooked numbers on the night. A leadoff walk to Jarren Duran in the third inning inevitably came back to haunt Peguero as both he and Cole Brannen scored on a Trey Ganns double. A Kole Cottam double brought Brannen in to give the Spinners a 4-0 lead.
Lowell brought in another pair of runs two innings later off of new pitcher Jose De Los Santos. While momentum temporarily shifted in the Doubledays' favor when catcher Israel Pineda nailed a runner at third base for the first out of the inning, a single brought in the Spinners' fifth run of the night and a wild pitch brought in the sixth.
The Doubledays - who were at this point getting one-hit by Lowell starter Eduard Bazardo - finally got a rally going in the bottom of the sixth. Telmito Agustin doubled on a fly ball to left fielder Dylan Hardy and then scored on the next at-bat when Carson Shaddy hit his own two-bagger for the Doubledays' first run of the night.
Auburn had another chance in the seventh after a leadoff double by Pablo O'Connor and a walk by Israel Pineda. A force out put O'Connor at third, and, after after a walk to Nic Perkins, Jose Sanchez - celebrating his 18th birthday - came up to bat with the bases loaded and one out.
Sanchez, however, bounced into an inning ending double play to end the Doubledays' last chance of putting up any runs on the scoreboard.
The Doubledays will be back in action Friday as they attempt to salvage some glory in the series against the Spinners at 6:30.