Nick Franklin Promoted To Milwaukee
Shuckers' Utility Man Called Up, Logan and Vogt Removed from Biloxi Rehab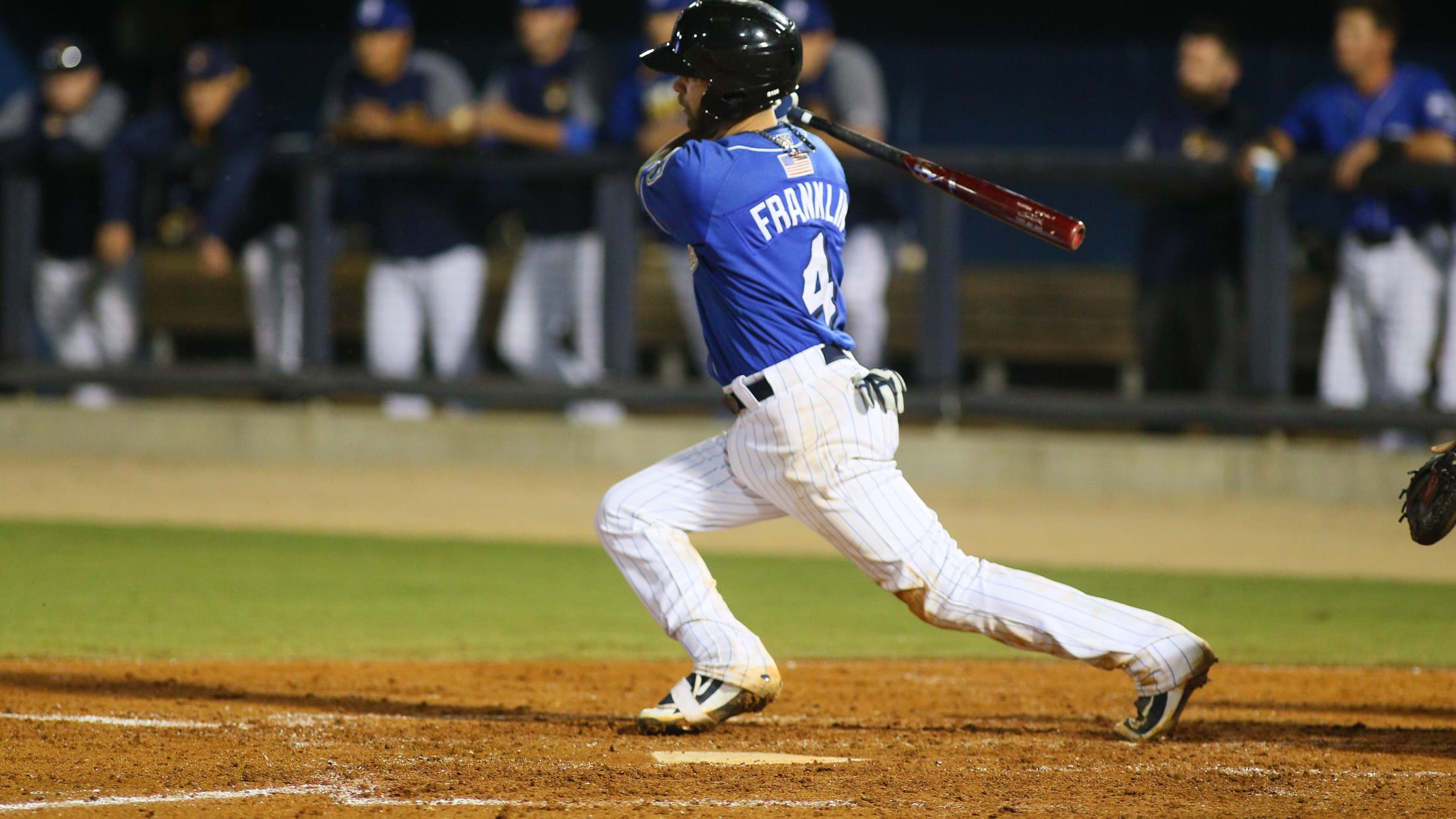 (Michael Krebs)
Biloxi Shuckers' utility man Nick Franklin has had his contract selected by the Milwaukee Brewers in a move announced on Tuesday. Franklin is in the lineup on Tuesday night against Cleveland after playing in 53 games with Milwaukee in 2017.Franklin has logged time at six different positions for the Shuckers
Biloxi Shuckers' utility man Nick Franklin has had his contract selected by the Milwaukee Brewers in a move announced on Tuesday. Franklin is in the lineup on Tuesday night against Cleveland after playing in 53 games with Milwaukee in 2017.
Franklin has logged time at six different positions for the Shuckers in 2018, including the first three games at catcher in his professional career. The former first-round pick of the Mariners slashed .288/.394/.441/.835 in 20 games with Biloxi, belting two home runs with ten runs scored and eight RBI. He also added four stolen bases and three doubles.
With 13 games played on the infield and six in the outfield, Franklin showcased his versatility for Shuckers' Manager Mike Guerrero. "Franklin's contribution was big because of the experience he brought to the table," said Guerrero. "Playing different positions and also at the plate, when it was clutch time, he was productive."
Franklin played in 66 Major League games in 2017 with the Brewers and Angels. He has totaled exactly 300 games at the Big league level with a career .214 average, 24 long balls and 39 doubles. His last extended stint at the Triple-A level came with the Durham Bulls in 2016. In 64 games, he hit .254 with five home runs, 26 runs scored and 28 RBI.
In a separate roster move, LHP Boone Logan's rehab assignment has been transferred to Colorado Springs. Logan made five appearances for the Shuckers, including four scoreless outings. Additionally, catcher Stephen Vogt was sent back to Milwaukee to after his rehab stint with the Shuckers and placed on the 60-day disabled list. Vogt logged three games with the Shuckers, going 2-for-7 with a home run and two walks. He exited his third game on Saturday with two outs in the sixth inning following attempts to throw out runner Cade Gotta at second and third base in the same at-bat. Vogt played in 45 games with Milwaukee last season.
Biloxi continues a five-game series in Montgomery against the Biscuits through Friday night.
Single game tickets for the Biloxi Shuckers 2018 season are on sale now and can be purchased at the MGM Park box office or over the phone through Ticketmaster at (800) 745-3000. Season tickets, flex plans and group outings are also available and can be reserved by calling 228-233-3465 or visiting www.biloxishuckers.com.
ABOUT THE BILOXI SHUCKERS:
The Biloxi Shuckers are the Double-A Affiliate of the Milwaukee Brewers. The Shuckers play at MGM Park in Biloxi, Mississippi. For more information please visit biloxishuckers.com and follow us on Twitter @biloxishuckers and at facebook.com/biloxishuckers.com.