Prospects1500: Ethan Small, Phil Bickford and Aaron Ashby
Three Prime Pitching Prospects Featured for 2020 Season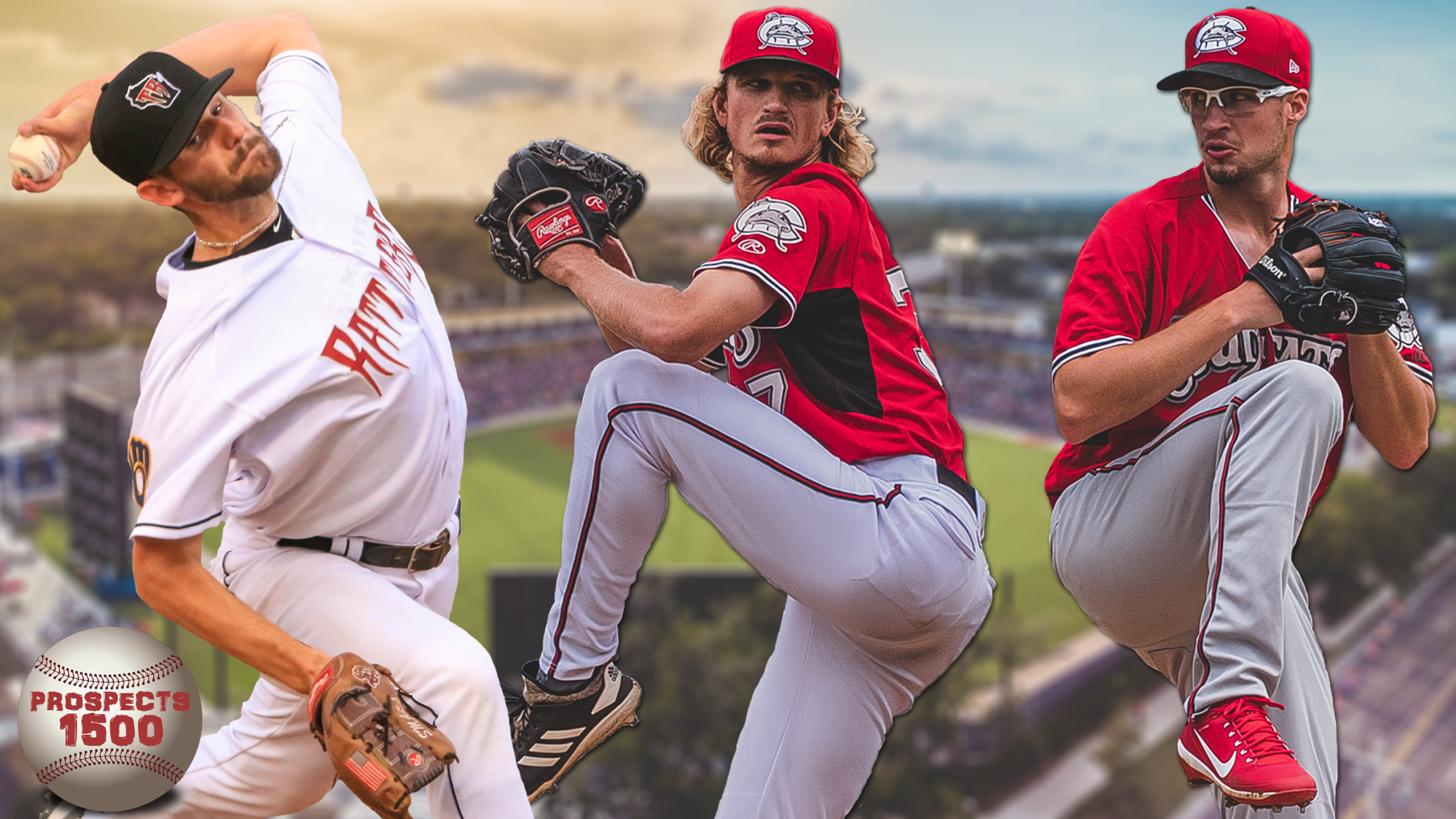 (Ethan Small - Wisconsin Timber Rattlers, Phil Bickford & Aaron Ashby - Peter Fortunato)
The Biloxi Shuckers have teamed up with Prospects1500 to preview some of the talent that is projected to be in Biloxi during the 2020 season. While we understand that the Minor League season does not have a start date yet, we still want to preview the exciting players that should
The Biloxi Shuckers have teamed up with Prospects1500 to preview some of the talent that is projected to be in Biloxi during the 2020 season. While we understand that the Minor League season does not have a start date yet, we still want to preview the exciting players that should help the Shuckers during the 2020 season when it gets rolling. In this edition, Phillip Case from Prospects1500 previews lefty Ethan Small, righty Phil Bickford and 2019 Brewers Minor League Pitcher of the Year Aaron Ashby. You can read the first installment about Mario Feliciano, Drew Rasmussen and Bowden Francis here, and our second installment on Brice Turnag, Peyton Henry and Tristen Lutz here.
LHP Ethan Small
Small was the Brewers 1st round pick in 2019 and the Brewers #1 pitching prospect in 2020. Small possesses the best overall skills and tools in the Brewer's farm system. He comes to the Brewers with proven success pitching in the toughest conference in college baseball, the SEC, the Southeastern Conference. Small has ability to mix his pitches to get through innings. His fastball is above average, as is his change-up. Combined with his solid control and average breaking ball, he has the skills and tools to reach the majors as a starting pitcher. The 2020 season will be his first full minor league season and if he starts the season in Class A, he could end up promoted to Double A Biloxi at any point during the 2020 season
RHP Phil Bickford
Phil Bickford joined the Brewers when Will Smith was traded to the San Francisco Giants in 2016. Bickford will be getting his first chance to compete at the Double A Biloxi in 2020. Staying healthy has been the number one issue slowing Bickford's rise towards the majors. He has pitched more than 35 innings only once since being drafted and signing in 2015. But as a first round pick, he will continue to get ever opportunity to reach his full potential. Bickford misses bats with his two-seamed fastball and also has a four-seamer that has plus velocity. His command has always been above average and is still one of his biggest strengths. Bickford has good size at 6'4 and has room to add more weight to his frame. Bickford took an unusual path to reach Biloxi. After being one of the top high school pitchers in the country, he was drafted 10th overall. Then he decided not to sign, and instead, attended Cal State Fullerton. He went 6-2 with a 2.13 ERA as an 18 year old in 2014. Then he transferred to the Junior College ranks and attended Southern Nevada Community College to be eligible again for the draft as a 19 year old. He was then re-drafted with the 18th overall pick in 2015. Add to that being traded in 2016, and you have a unique path to Double A for a 1st round pick.
LHP Aaron Ashby
Aaron Ashby is an exciting pitching prospect with three above average pitches. He has an above average fastball and a deceptive change-up. But his best pitch is a plus-plus curve ball that is one of the best curve balls in the minor leagues. At 6'2 and 180 pounds he has the size to gain the weight and strength needed to stay in the rotation. Ashby has the tools to succeed and will work on improving his command and throwing fewer pitches. In Class A he gave up 4.3 walks per 9 innings in 2019. On the plus side the numbers also show that he gave up just 7.2 hits per 9 innings and struck out 9.6 per 9 innings pitched. Because of the starting pitching depth in the Brewers farm system, Ashby could start the 2020 season back in the Carolina League. Fans in Biloxi should be able to watch Aaron Ashby take the mound at home games by mid-season 2020.
There are more prospects to preview moving forward, stay tuned in the coming weeks for our next edition!