Shuckers Make Host of Roster Moves
Frelick, Wiemer, Mitchell Promoted To Nashville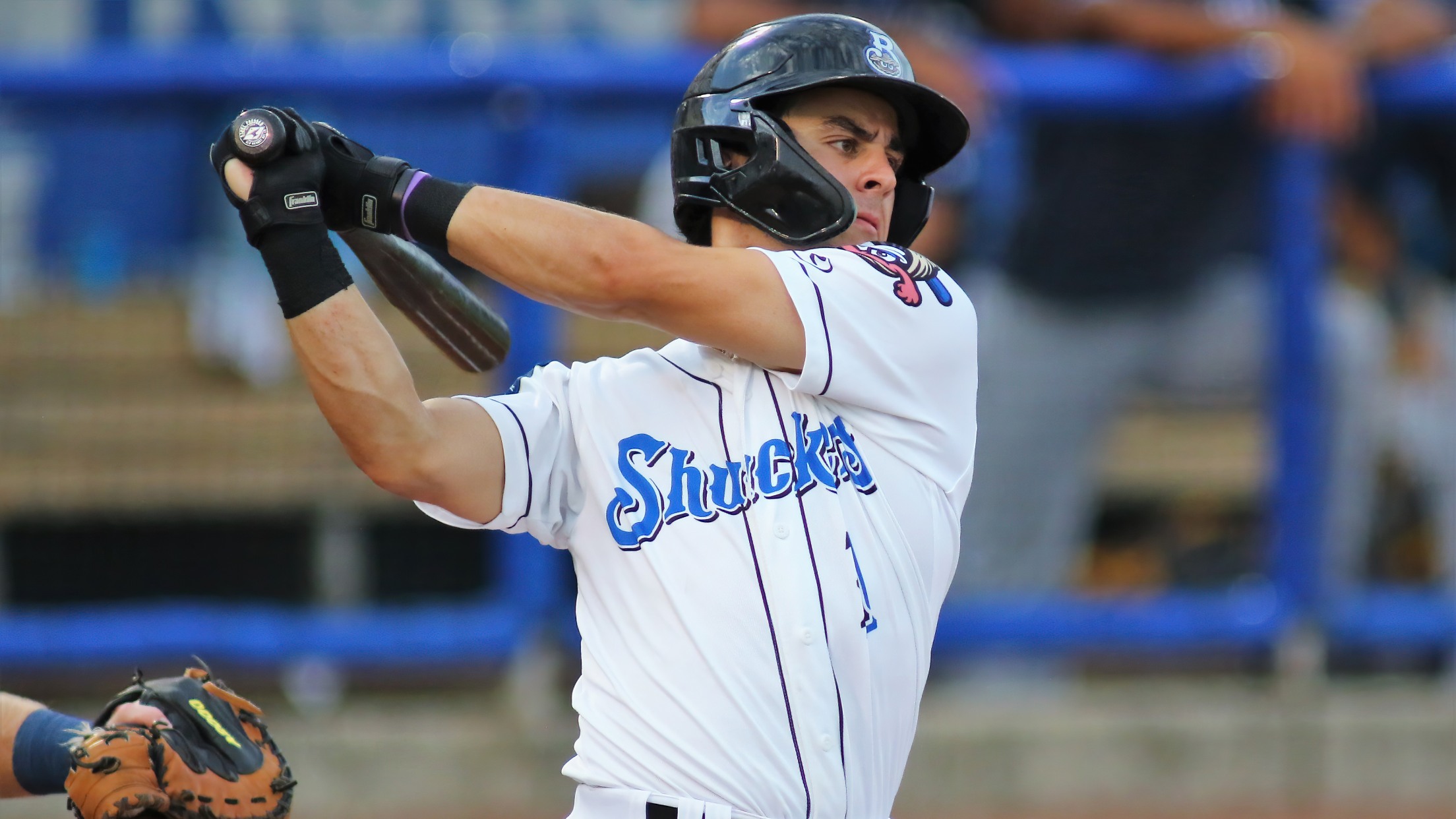 (Photo - Mike Krebs)
The Biloxi Shuckers have made a series of roster moves on Tuesday, including the promotion of Sal Frelick, Joey Wiemer and Garrett Mitchell to Triple-A Nashville. The trio of Frelick, Wiemer and Mitchell are currently rated as the Brewers' #2, #3 and #4 prospects respectively. Biloxi's roster moves also include
The Biloxi Shuckers have made a series of roster moves on Tuesday, including the promotion of Sal Frelick, Joey Wiemer and Garrett Mitchell to Triple-A Nashville. The trio of Frelick, Wiemer and Mitchell are currently rated as the Brewers' #2, #3 and #4 prospects respectively.
Biloxi's roster moves also include the addition of LHP Robert Gasser, who was acquired on Monday from San Diego as part of the trade for Josh Hader. Additionally, OF Terence Doston has been promoted from High-A Wisconsin to Biloxi, OF Garrett Whitley has been assigned to the Shuckers from Nashville, INF/OF Noah Campbell has been placed on the injured list and RHP J.C. Mejia has been assigned to the Shuckers on Major League rehab. Finally, OF Tristan Peters has been traded to the San Francisco Giants.
In 52 games with Biloxi this season, Frelick slashed .317/.380/.464 with 12 doubles, three triples, five home runs, 25 RBI and 40 runs scored. In the month of July, Frelick hit .361 (30-for-83) with five doubles, three home runs, 12 RBI and 16 runs scored. The former Boston College Eagle walked nine times and struck out just nine times in the month while also successfully stealing five bases in six attempts. He finished tied for the league-lead in hits during the month and was second in the Southern League in batting average.
Wiemer appeared in 84 of the Shuckers 94 games this season, slashing .243/.321/.440 with 19 doubles, a triple, 15 home runs, 47 RBI and 57 runs scored. At the time of his promotion, Wiemer ranks fifth in the Southern League in runs scored, tied for sixth in total bases (147), tied for seventh in home runs and stolen bases (25) and tied for eighth in extra-base hits. The reigning Brewers' Minor League Player of the Year was named the Southern League Player of the Week for the Week of May 15-21 and was selected for the SiriusXM All-Star Futures Game in Los Angeles. Wiemer also leads the Southern League in outfield assists with 11 this year.
Mitchell appeared in 44 games with the Shuckers in 2022, missing time from May 14 to July 12 with an injury. For the season, Mitchell slashed .277/.353/.428 with nine doubles, two triples, four home runs, 25 RBI and 29 runs scored. The outfielder returned from the injured list on July 13, and in 14 games in July slashed .373/.397/.576/.973 with six doubles, two home runs, 14 RBI and nine runs score, hitting safely in 12 of 14 games with eight multi-hit efforts.
Gasser earns his first promotion to Double-A after being acquired from the San Diego Padres. In 18 starts with High-A, Gasser went 4-9 with a 4.18 ERA, striking out 115 in 90.1 innings while walking just 28. At the time of his promotion, Gasser was third in the Midwest League in strikeouts, trailing only Timber Rattlers' pitchers RHP Justin Jarvis and LHP Antoine Kelly. He was also fourth in innings pitched and ninth in ERA. The 23-year-old is now rated as the #8 prospect in the Brewers' organization according to MLB Pipeline and was originally selected with the 71st overall pick in the 2021 draft out of the University of Houston by the Padres.
Doston returns to Biloxi for his second stint with the Shuckers. The 21-year-old appeared in 22 games with the Shuckers already this season, hitting .222 with two doubles, six RBI and eight runs scored. Doston delivered one of the Shuckers' 11 walk-off wins with an RBI single on May 27 against the Montgomery Biscuits. Doston was selected in the 22nd round of the 2019 draft by the Brewers out of Hillsborough High School in Florida.
Whitley comes to Biloxi after appearing in 48 games with Triple-A Nashville this season, hitting .196 with eight doubles, three homers, 13 RBI and 29 runs scored. The outfielder has previous experience in the Southern League, playing in 57 games with the Montgomery Biscuits in 2021, slashing .255/.370/.510 with 14 doubles, two triples, 11 home runs, 24 RBI and 44 runs scored. The 25-year-old was selected 13th overall by the Tampa Bay Rays in the 2015 draft out of Niskayuna High School in New York and signed with the Brewers as a minor league free agent in December of 2021.
Mejia begins a rehab assignment with the Shuckers after making two appearances with the Brewers this season. Mejia was acquired from the Cleveland Guardians on November 22, 2021 in exchange for a player to be named later, which ended up being former Biloxi Shuckers' infielder/catcher David Fry.
Following a postponement on Tuesday night, the Shuckers now begin a six-game series against the Mississippi Braves with a doubleheader on Wednesday night starting at 5:05 pm. The games can be seen on MiLB.TV and heard locally on WGCM AM 1240/FM 100.9 or online here. Individual tickets, Flex Plans and group outings are available for the 2022 season by calling (228) 233-3465 or visiting biloxishuckers.com.
ABOUT THE BILOXI SHUCKERS:
The Biloxi Shuckers are the Double-A Affiliate of the Milwaukee Brewers. The Shuckers are members of the Southern League and play at MGM Park in Biloxi, Mississippi. For more information please visit biloxishuckers.com and follow us on Twitter @biloxishuckers and at facebook.com/biloxishuckers.