Shuckers Set 21 Franchise Records In 2018
2018 Shuckers Pace the Franchise in Wins, Homers and Handful of Individual Records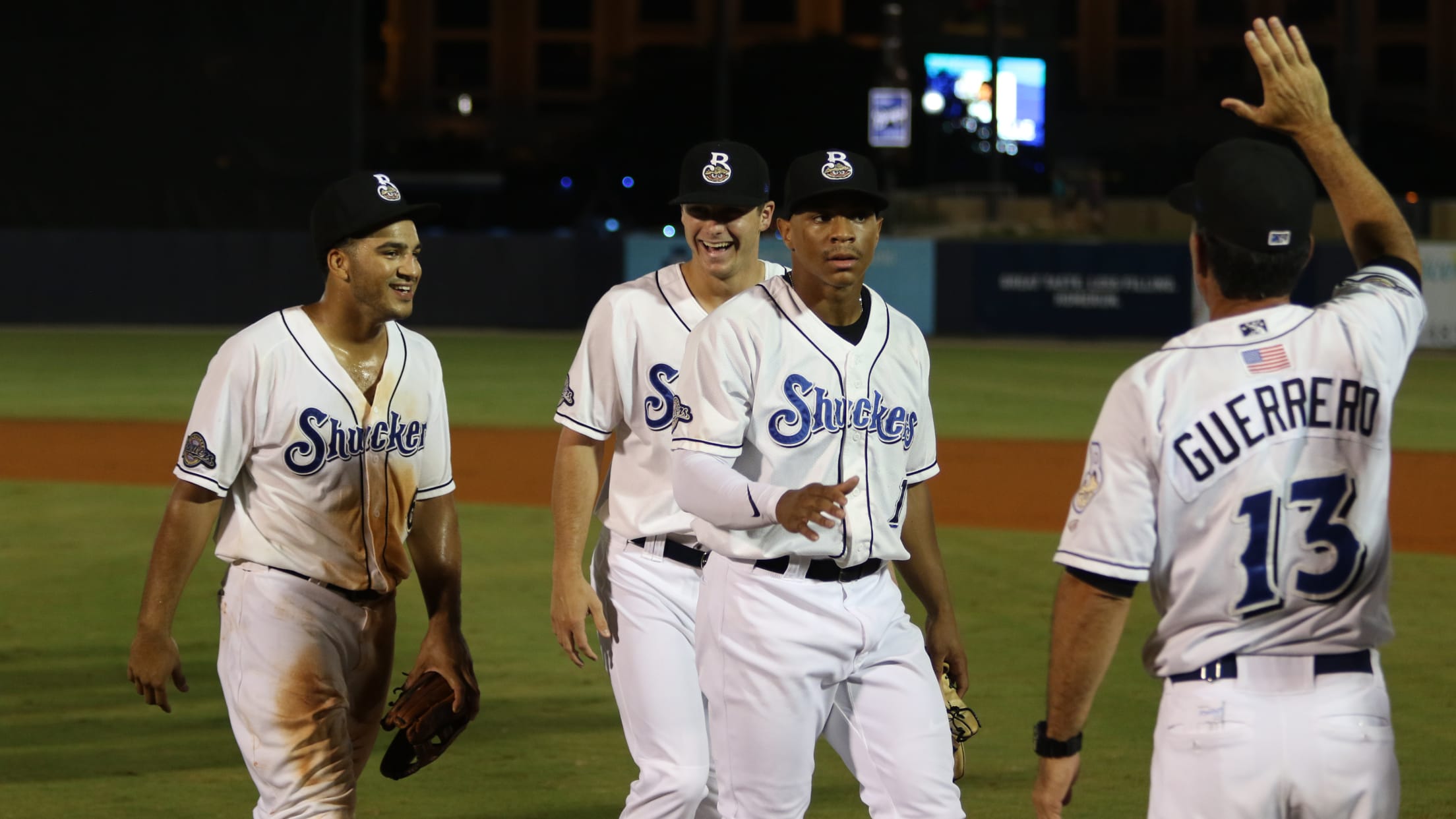 Manager of the Year Mike Guerrero greets Southern League MVP Corey Ray, Pitcher of the Year Zack Brown and outfielder Trent Grisham after the Shuckers clinch the South Division. (Michael Krebs)
After another run to the Southern League Championship Series, the Biloxi Shuckers concluded the 2018 season with 21 new franchise records, including 12 team records and nine individual records. Most notably, the Shuckers won a franchise best 81 games in the regular season, including a record 47 games at home.As
After another run to the Southern League Championship Series, the Biloxi Shuckers concluded the 2018 season with 21 new franchise records, including 12 team records and nine individual records. Most notably, the Shuckers won a franchise best 81 games in the regular season, including a record 47 games at home.
As a team, the Shuckers offense set a new franchise high in home runs (145), runs scored (581), RBI (535), total bases (1790), slugging percentage (.399), OPS (.721), intentional walks (20) and games played (140). Their 145 home runs were the most by a team in the Southern League season since 2001 when the Chattanooga Lookouts hit 155.
Individually, Corey Ray broke eight records during his Southern League MVP season, setting new single-season records in home runs (27), RBI (74), runs scored (86), slugging percentage (.477), total bases (254), extra-base hits (66), games played (135) and at bats (532). Ray became the first player in Southern League history to lead the league in home runs and stolen bases in a season, and his 66 extra-base hits were the most in the Southern League in a season since 2012.
On the mound, Biloxi set a new high-water mark in wins (81), saves (48) and double plays (108). They were the first Shuckers' staff to start 140 games, and came up just one out shy of tying the most innings pitched in franchise history (1214.1), set in 2016. Though it didn't set a new franchise record, the Shuckers' team ERA (3.47) was the lowest in the Southern League.
All-Star closer Nate Griep not only set the new single-season record for saves (34), but also became the franchise's all-time leader in saves after recording 34 saves in 37 save opportunities. His 34 saves were the most in the Southern League since 2009 and rank in the top five in Southern League history for saves in a season.
Details on the Shuckers 2019 schedule will be released in the coming weeks. The Shuckers will host the 2019 Southern League All-Star Game at MGM Park on Tuesday, June 18.
ABOUT THE BILOXI SHUCKERS:
The Biloxi Shuckers are the Double-A Affiliate of the Milwaukee Brewers. The Shuckers play at MGM Park in Biloxi, Mississippi. For more information please visit biloxishuckers.com and follow us on Twitter @biloxishuckers and at facebook.com/biloxishuckers.com.