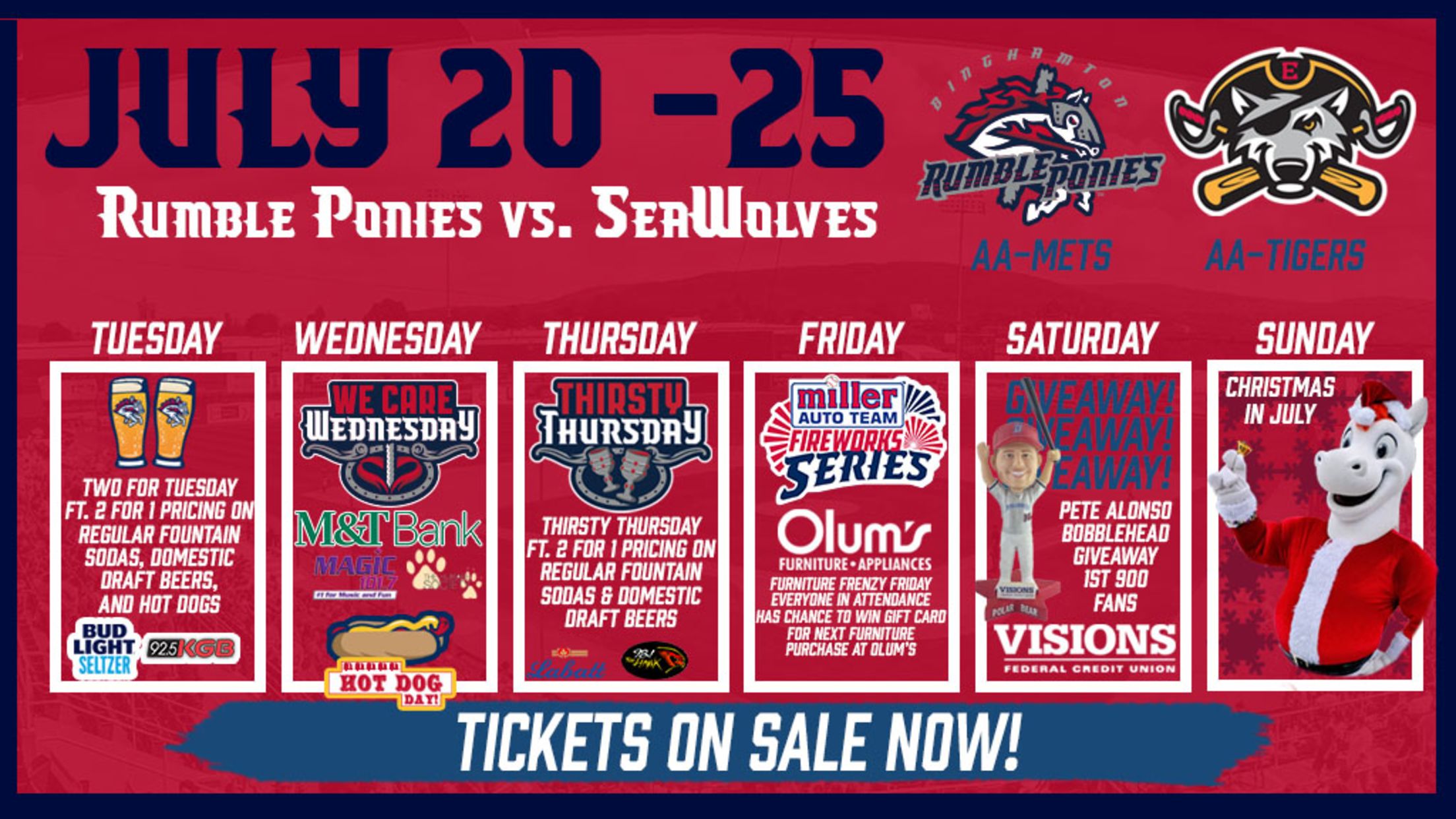 Thursday, July 22nd
Promotions:
Feelin' Thirsty? Head on down to Mirabito Stadium for Thirsty Thursday presented by 98.1 The Hawk and Labatt! All fans 21 years of age and older can enjoy special 2-for-1 pricing on all domestic draft. All fans in attendance can receive special 2-for-1 pricing on all regular fountain sodas at any of the RumbleTown Eatery Concession Stands. What are you waiting for? Come out and see the New York Mets stars of tomorrow TODAY!
Click here for tickets to Thirsty Thursday >>>
Friday, July 23rd
Promotions:
It's Friday! Friday! Got to get down to RumbleTown on Friday! Kick off the weekend at Mirabito Stadium as Jake Mangum and the Rumble Ponies continue their series with the Double-A Tigers Affiliate, the Erie SeaWolves. It's Furniture Frenzy Friday thanks to our friends at Olum's Furniture & Appliances where all fans in attendance are entered for the chance to win (1) of (8) $100.00 Gift Cards OR the grand prize of a $300 gift card to Olum's (only good on furniture purchases). One lucky fan will be selected at random every inning to win one of the coveted gift cards.
Arrive early for special 1/2 priced domestic draft beers and craft drafts from 5:35 PM - 6:35 PM and live music as part of our Friday Night Happy Hour. Stay after the game for another fantastic fireworks display thanks to our friends at Miller Auto Team.
Food and Beverage Specials:
Happy Hour (5:35 PM - 6:35 PM): Special 1/2 off pricing on all domestic draft and craft beers
Couch Potato: A bowl full of tater tot puffs topped with chili, cheese, sour cream, and scallions! After eating one bowl it will have you feeling like a couch potato!
Click here for tickets to Olum's Furniture Frenzy Friday & Miller Auto Team Fireworks Series >>>
Saturday, July 24th
Promotions:
Sunday (July 25th) might be Christmas in July at Mirabito Stadium.....but Saturday, July 24th Rowdy Claus is delivering a special present a day early to the 1st 900 fans as we give away our Pete "Polar Bear" Alonso Bobblehead presented by Visions Federal Credit Union. Be one of the 1st 900 ticketed fans in line to take home this one of a kind bobblehead that has been a year in the making.
It's also another Bark In The Park Day where all fans can bring their four legged friends with them to enjoy the game.
Food and Beverage Specials:
Polar Bear Popcorn: Special white cheddar popcorn served in a Rumble Ponies popcorn helmet at RumbleTown Eateries.
Double Dog Deal: 2 Hot Dogs and a "dog bowl" full of fries for $8.00
Click here for tickets to Pete Alonso Bobblehead Day >>>
Sunday, July 25th
Here comes Rowdy Claus, here comes Rowdy Claus right down RumbleTown Lane! Join us for Christmas in July at Mirabito Stadium on Sunday, July 25th. Bring the kids and get down to the ballpark early for a special FREE cookie decorating event with the Rumble Ponies in the Wegman's Birthday Bash zone down the right field line from 12:05 PM - 12:45 PM.
Ticket Special:
Bring a new unwrapped toy to the Visions Federal Credit Union Starting Gate Box Office for donation and receive a special discounted $8.00 reserved grandstand ticket price (upgrade to the box seats for $4.00 additional dollars).
Team Store Specials:
Spend $75.00 in the Lourdes Orthopedic & Sport Medicine Team Store and receive (1) Mystery Signed Baseball. Baseballs signed by former and current Rumble Ponies players.
Food and Beverage Specials:
Celebrate the holidays with a glass of ice cold adult egg nog! Available at Bully Hill Vineyards Wine Bar on the 1st Base Concourse!
Click here for tickets to Christmas In July >>>
Upcoming Promotions Highlights:
Friday, August 6th (7:05 PM) - Miller Auto Team Fireworks Series
Saturday, August 7th (6:35 PM) - Charpit Charlie Bobblehead Giveaway (First 700 Fans) presented by Lupos's S&S
Sunday, August 8th (1:05 PM) - Pirates and Princesses Day at the Ballpark
Friday, August 13th (7:05 PM) - Summerween presented by Hellstead Manor and post-game Miller Auto Team Fireworks
Saturday, August 14th (6:35 PM) - 42 Jackie Robinson Hat Giveaway presented by Moore's Tire Sales and Hankook Tires (First 1,000 Fans)
Sunday, August 15th (1:05 PM) - Carnival Day At The Ballpark