Meet the Ponies Dinner Set for April 3
Fans will have the chance for a meet and greet with the 2018 Rumble Ponies and kick off the unofficial start of the season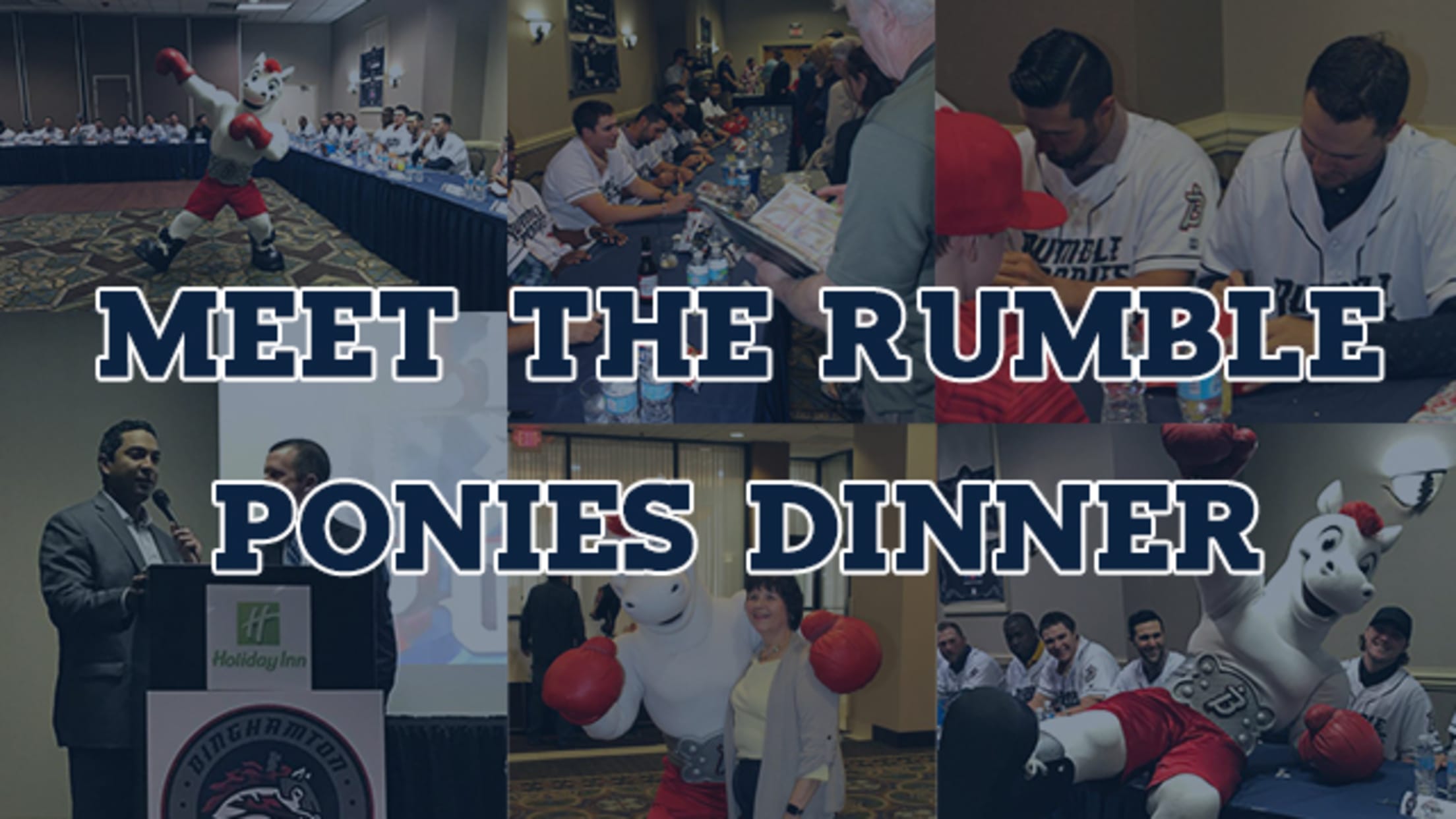 BINGHAMTON, NY - With Opening Day less than a month away, the Binghamton Rumble Ponies are excited to invite fans to their annual Meet the Rumble Ponies Dinner on Tuesday, April 3 at the Holiday Inn in Downtown Binghamton. Tickets for the dinner, the first opportunity for fans to meet
BINGHAMTON, NY - With Opening Day less than a month away, the Binghamton Rumble Ponies are excited to invite fans to their annual Meet the Rumble Ponies Dinner on Tuesday, April 3 at the Holiday Inn in Downtown Binghamton. Tickets for the dinner, the first opportunity for fans to meet the 2018 team, will go on sale Friday, March 9 at 9:00 AM at the Starting Gate Box Office.
On the night of the dinner, Rumble Ponies players will arrive at 5:30 PM for the "Meet the Rumble Ponies" autograph reception. Dinner will be served promptly at 7:00 PM followed by a special event including an interview with returning Rumble Ponies manager Luis Rojas and introductions of the new coaching staff and players.
Rumble Ponies owner John Hughes will highlight key moments from last season as well as introduce what's in store in 2018 with the team's "A Night in RumbleTown" showcase. Exciting promotions coming to NYSEG Stadium this season include Jurassic Ballpark Night, Human Cannonball, "A Rowdy Story in July Bobblehead" giveaway, and an Instant upgrade to the Subway Series at Yankee Stadium on July 21.
The Rumble Ponies have a stacked lineup filled with giveaways, appearances, specialty jerseys and hats, and opportunities to meet the future stars of Citi Field. Join the team in the fun and meet the players taking the field in the Rumble Ponies uniform.
Individual tickets for the event are $35 per person and include dinner plus an item to be autographed. Dinner tickets are available to 2018 Rumble Club members at only $30. Fans can start purchasing tickets at 9:00 AM on March 9 by calling 607-722-FUNN or at the Starting Gate Box Office at NYSEG Stadium.
For questions, please reach out to Branden Kimble, Director of Community Relations/Box Office Manager at 607-722-FUNN (3866) or by email at [email protected].
The Rumble Ponies kick off the 2018 season at home on Thursday, April 5 against the Portland Sea Dogs (AA-Red Sox) at 6:35 PM. Individual game tickets go on-sale at The Starting Gate Box Office on March 5 at 9:00 AM.