Hendriks earns All-Star win, honors
Bisons righty named IL's 'Top Star' in Durham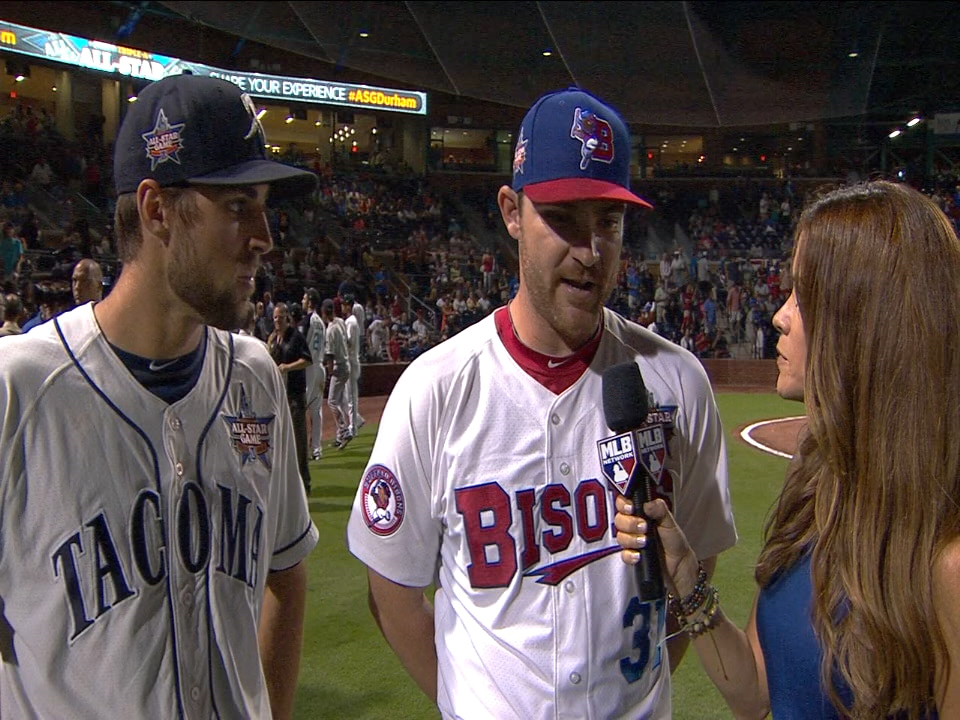 By Blake Arlington / Buffalo Bisons | July 16, 2014 10:39 PM ET
There were a lot of great stars at the 2014 Triple-A All-Star Game in Durham, NC Wednesday night. The best came representing a Bisons uniform.
Herd hurler Liam Hendriks shined the brightest among minor league baseball's stars, earning the win and MiLB.com 'Top Star' honors in the International League's 7-3 win over the Pacific Coast League.
Hendriks threw two shutout innings and struck out four PCL All-Stars to set the tone for the IL. He allowed just one hit and left the 27th annual event with a 4-0 lead the IL would not relinquish.
The righty is the first Bisons hurler to earn the win in the All-Star Game since Roy Smith tossed a pair of shutout frames in the 1993 event which featured the IL, the PCL and the American Association, in which Buffalo played.
In his usual self, Hendriks threw strikes. He needed just 25 pitches (19 strikes) to get his six outs.
"I don't know too many of [the PCL hitters], so I was just coming in trying to get ahead, stay ahead and be aggressive. I think that worked out pretty well for me today," said Hendriks.
The lone hit allowed by Hendriks was a two-out double to Tacoma's Chris Taylor in the first. Hendriks got out of the inning by striking out former Bisons slugger Mike Jacobs on just three pitches.
"He was good. He was pounding the strikes zone, that's why I swung at the pitch. I really I didn't want to get to that secondary stuff," said Taylor, who was named PCL's 'Top Star' for his three-hit night.
Hendriks is the fourth Bisons player to earn 'Top Star' honors for their league at the Triple-A All-Star Game. DH Luis Lopez was the American Association's MVP in the 1995 All-Star Game while DH Russell Branyan received the honor for the International League in 1999. Two years ago at the Triple-A All-Star Game at Coca-Cola Field in Buffalo, pitcher Matt Harvey was given the IL's 'Top Star' award for his two shutout innings of work.
Ten International League relievers held the lead for Hendriks, including his teammate, Bobby Korecky. The Herd reliever allowed an infield single and picked up a strikeout in 0.2 innings of relief. The runner eventually scored the PCL's third run of the game.
The Bisons return to action Thursday night in Pawtucket against the Red Sox.
-the herd-
This story was not subject to the approval of the National Association of Professional Baseball Leagues or its clubs.
View More