Norris dominates in Herd's 5-1 victory
Daniel Norris' nine-strikeout outing tops Bisons over RailRiders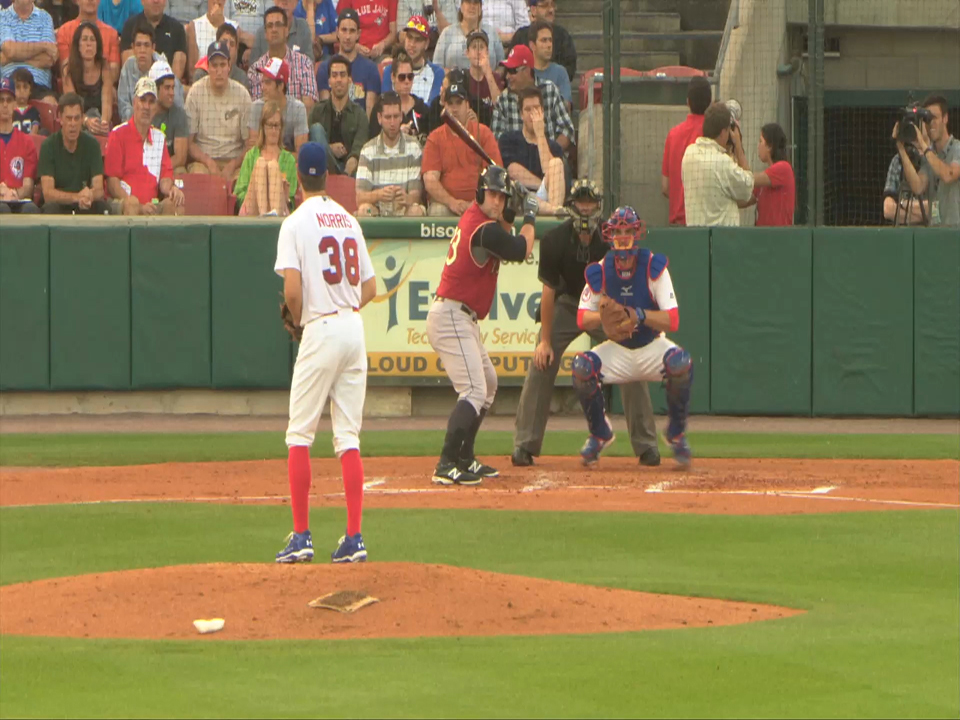 By Joe Sarro / Buffalo Bisons | August 21, 2014 9:51 PM ET
It's easy to say that no one on the mound was better tonight than starting pitcher Daniel Norris.
The 2011 second round pick made it a long night for Scranton Wilkes/Barre in his Coca-Cola Field debut when led his team on the hill to a 5-1 victory.
The lefty dealt some nasty stuff on Thursday night against the International League's top hitting club. In his five innings of work, Norris tossed 79 total pitches and hit the strike zone for 48 of them, topping the gun at 94mph. The pitcher pounded the strike zone which led to fanning nine RailRiders on Thursday night, just one strikeout short to match Bisons' modern era best Matt Harvey when had 10 plus strikeouts in three consecutive starts in 2012. The pitcher allowed just a lone hit to the RailRiders in his outing.
"He's got really good stuff," manager Gary Allenson said. "He's got a pretty good fastball. It's pretty tough to pick up. It's deceptive. He mixes in his secondary pitches pretty well."
The southpaw has been incredible since being called up from Double-A New Hampshire. Since his promotion on Aug 9th, Norris has 32 strikeouts in 16.2 innings and an ERA of 1.08 in his first three starts, leading to a 3-0 record with the Herd.
"I kind of was rushing my delivery a little bit so in the fourth and fifth inning I made an adjustment, kind of slowed down my tempo and started sticking pitches a little more," Norris said post game. "I just want to keep winning ball games, it's a lot of fun when you win."
Winning is nothing unusual for Norris though. The Tennessee native began the year as the Blue Jays' #6 prospect by Baseball America. He opened the season with Dunedin (A) and went a perfect 6-0 with a 1.22 ERA in 13 starts before receiving a promotion to New Hampshire (AA) on June 15th. Norris did not allow a home run in 66.1 innings pitched at Dunedin.
Norris made just one mistake in his outing on Thursday in the third. Norris hung a high breaking ball to Carmen Angelini and the shortstop took Norris yard with the first pitch of the inning that tied the ball game. Norris bounced right back from the homer by striking out the side.
Buffalo followed up Angelini's homer with a run in the bottom half of the inning to retake the lead. Anthony Gose's single set up runners at the corners with one out. Cole Gillespie cashed in Jonathan Diaz from third with a sacrifice fly to right that put Buffalo in front 2-1.
Gose really showed his wheels on Thursday night. The outfielder made it a long night for catcher John Ryan Murphy when he stole four total bases on the backstop. In the fifth, Gose contributed to stretch Buffalo's lead to three when he beat out a double play to score Diaz from third. The Paramount native then proceeded to second for his fourth stolen base. Gose followed up the steal by taking home on a passed ball to put Buffalo up 4-1.
Gose's performance was good enough to tie the Bisons' modern day record. The outfielder joins a group with Bernie Tatis ('88), Albert Hall ('89) and Jordany Valdespin ('12) to have four stolen bases in a game.
"He did a great job running the bases tonight to make the most of our opportunities," Allenson said.
With the win the playoff chase is still on. The Herd stays in pace to try and catch the final wild card spot being held by Pawtucket by three games. The two teams will resume action tomorrow when Raul Valdes takes the mound against Matt Tracey at 7:05pm.
Bisons Notes:
There were 11,134 fans in attendance for Thursday's contest. Darin Mastroianni extended his hit streak to 10 games after his one for two night at the plate on Thursday. The outfielder has 11 walks and 17 hits in his last 20 games. Ryan Goins had a big night going two for four with a pair of doubles and a run scored. Dalton Pompey recorded his first Triple-A base hit with a single in the fifth in his debut with the Herd.
This story was not subject to the approval of the National Association of Professional Baseball Leagues or its clubs.
View More