Life is a Highway
Miles and miles of open road have led to the latest opportunity for one pitcher.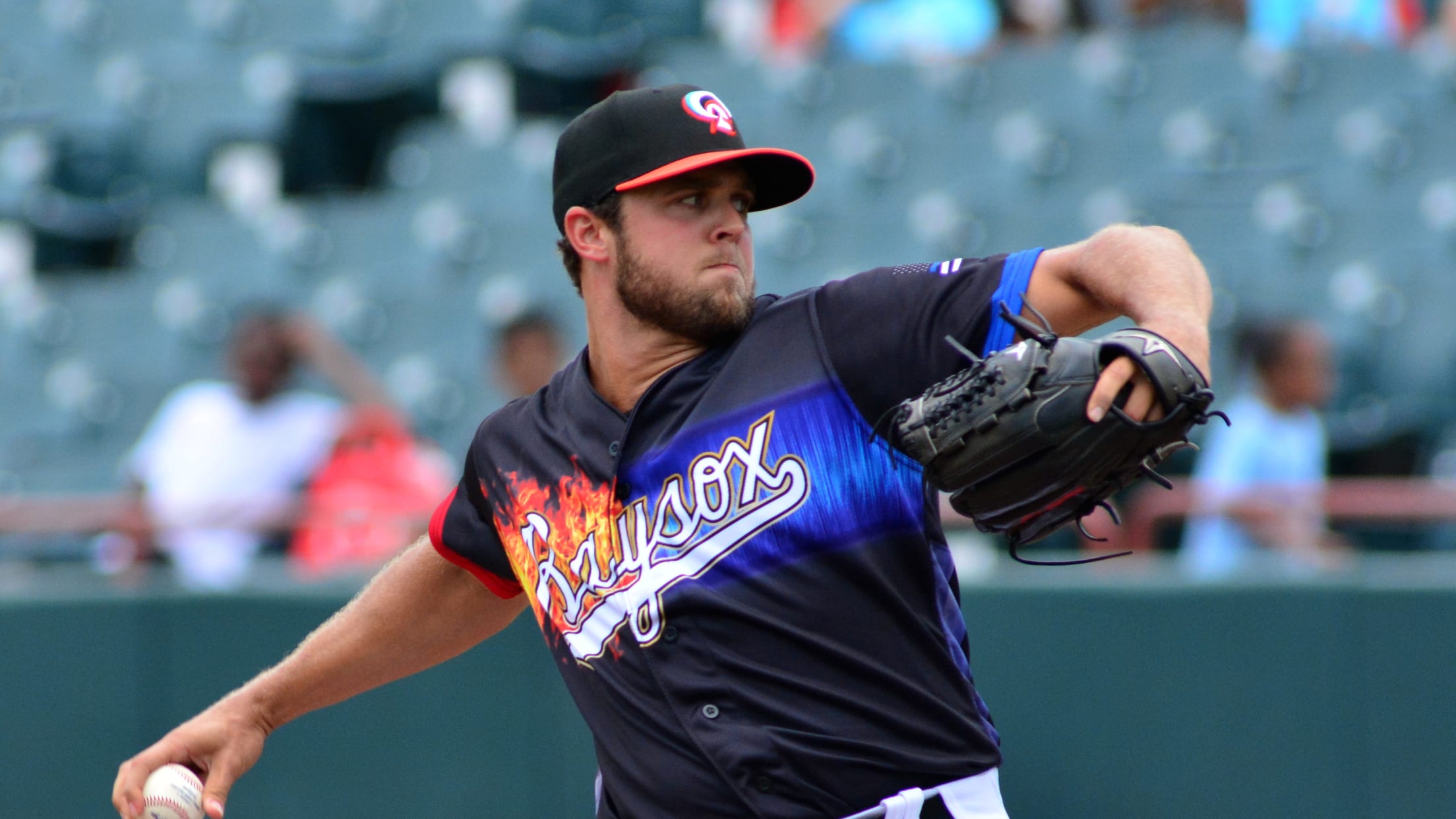 (BERT HINDMAN )
On Taylor Grover's wrist, there are three dots. A tattoo with a relatively simple design on paper, the meaning is what gives this piece of art its depth.A right-handed pitcher for the Baysox, the three dots signify triple digits on a radar gun. With offseasons filled with throwing into trash
On Taylor Grover's wrist, there are three dots. A tattoo with a relatively simple design on paper, the meaning is what gives this piece of art its depth.
A right-handed pitcher for the Baysox, the three dots signify triple digits on a radar gun. With offseasons filled with throwing into trash cans and moving blankets to increase velocity in the rearview, Grover achieved this feat in 2017 and got the tattoo soon after.
"I told myself that if I touched it once or twice that I wasn't going to get a tattoo, but I started hitting it a lot and so then I got it," said Grover. "It was huge milestone. It sounds funny, but two big milestones (for me) were to reach 100 miles per hour and play in the big leagues.
He may not be a MLB hurler yet, but Grover has certainly put in the time and effort so far.
--
South Carolina. Massachusetts. South Carolina. Virginia. Maine. Arizona. Illinois. New York. Venezuela. Maryland.
That's more than 11,000 miles during seven years as a professional baseball player. For what it's worth, those places listed above are just spots he's played in. That doesn't include trips back home to the Augusta, Ga., area or down to Florida for multiple Spring Trainings in both Fort Myers and Sarasota.
What would cause someone to bounce around the Western Hemisphere in such a way? One heck of a dream, a lot of determination and a stout support system.
Check. Check. Check.
In this case, the dream started back around 1995, when a young Taylor was turning four years old.
"One of the first toys my dad got me was a plastic bat and some balls," said Grover. "He'd take me to the backyard and we'd just hit and hit and hit. We have a ton of home videos of all that stuff. Between that and basketball, that was my kind of fun."
Sports reigned supreme in the North Augusta, South Carolina, community.
"I started really young and all of the people on my team were my best friends," said Grover. "I lived near all of my friends, so we'd go down to this big cul-de-sac in the summer and literally play basketball or baseball or football all day every day."
Years of little league, high school ball and travel ball later and Grover wound up just up the road in Aiken, SC, playing for the University of South Carolina-Aiken. It was here that his dream first meshed with a determination to overcome any obstacle thrown at him.
"I dreamed of playing baseball past college, but I was just enjoying myself at the time," said Grover. "I was redshirted my freshman year and, after that, I took it upon myself to create a routine. I ran it by my coach and stuck with it each year. My junior year is when I really started excelling at pitching."
A 10th-round selection by the Boston Red Sox in the 2013 season capped his year at pitching excellence.
"I had a lot of family and friends over, (but) it was a very stressful day," said Grover. "At first, when a team calls you, you think you're going to go. They start talking money and you get really excited. It was an exciting total package. I was expecting to get drafted after that first call. I didn't. Then came the second call and I didn't (and) the third call, I did."
--
Fast forward about three years. It's 2016 in Fort Myers, Florida, home of the Red Sox Spring Training camp. Before he heads back to Salem, Va., for the first half of the Carolina League season, Grover is hanging out in Southwest Florida.
So is a girl named Emily. Spolier: she plays a big role in this story.
"I met Emily in 2016," said Grover. "She was finishing college and we just happened to cross paths as I was picking up my friends and she was going to see her group of friends. We started dating shortly after and then Spring Training was about to end. We told each other that we were invested in keeping it going.
"I ended up going to Portland, Maine, (later) that year. She visited me a lot and we kept it going. At the very end, she stayed the rest of the season with me. The following year, I was in Portland again and she lived with me. She got a job and made it work like that.
Then, came the end of the 2017 Eastern League season. That offseason was quite the busy one in the Grover household.
"At the end of 2017, I asked her to marry me in Portland," said Grover. "I ended up getting released within a week and a half of the season ending. We came home and stayed with my parents for the offseason. It was tough. I got home and about a week went by when the Arizona Diamondbacks reached out to me.
"They called me a couple days after Thanksgiving and asked if I could come down to Florida. I was in South Carolina, so I said 'Sure. When?' They said 'tomorrow, in Port St. Lucie.' I got in the car the next morning and drove nine hours down. I got out of the car and threw my bullpen on a softball field. I threw about five pitches and they said, 'Ok. That's it.'"
A few weeks after that, the newly married man and his wife took a small road trip. Destination: Scottsdale, Arizona.
"She and I hopped in the car and drove about 36 hours out to Arizona," said Grover. "We split it up into five days, so we could see the countryside and make it a cool trip. I went out there and had a really good Spring Training. I threw my last game against the Chicago White Sox Opening Day team. I had a rough go and then, about four days later, they released me.
"We drove back across the country in two days this time. I was a little bitter and honestly thought about hanging it up."
Now released from a pair of MLB organizations, the dream seemed distant and the levels of determination varied based on the day. Thanks to that strong support system, Grover entered the Independent League circuit, playing in Chicago and on Long Island before signing with the Cincinnati Reds following the 2018 season.
While playing in Venezuela, Grover found out he was selected by the Baltimore Orioles in the ensuing Rule 5 Draft. The top pick of the minor league selections, Grover was eventually assigned to Double-A Bowie, bringing the whirlwind of a timeline to its present day.
For all the miles and all the trips across the country, Emily has consistently stayed on board and stuck with Taylor throughout this part of his journey.
"We're both kind of go-with-the-flow types and are in in the moment," said Grover. "That's what has kept us sane, really. She's very quick to turn me the other way at my first breath of negativity. She gets pretty upset, as a matter of fact, when I mention anything negative. She reminds me that everything is literally going to be alright (as long as) I keep working hard, having fun and doing the things I'm supposed to be doing.
"That's how she's been from the start: very positive, laid-back and not sweating the small things. What my wife and I have is so rare, important and special-just like this game. Going out and pitching, I couldn't imagine going out and doing something that would jeopardize my opportunity. That all comes from my faith."
Even before meeting Emily, Grover made efforts to keep his faith-infused positive mentality strong. It's written in his other two tattoos.
"I got (Romans 8:31 on my bicep) when I was 18. Shortly after I got saved, it was on this verse," said Grover. "I was never a tattoo person, but it meant a lot to me and was big moment in my life."
Then, there's the cross on his wrist.
"My faith is very important," said Grover. "There's a lot of distractions and temptations (in this game). I've seen a lot of people with a lot of talent get overlooked or leave the game for a lot of reasons.
"When you're out on the mound, some people look up to the sky or into the stands. I just look down at the cross on my wrist and remember that I could be doing something I hate. It's a thing that clears my mind for a second to refocus."