Hunt Homers Twice, Drives in Six in 12-2 Win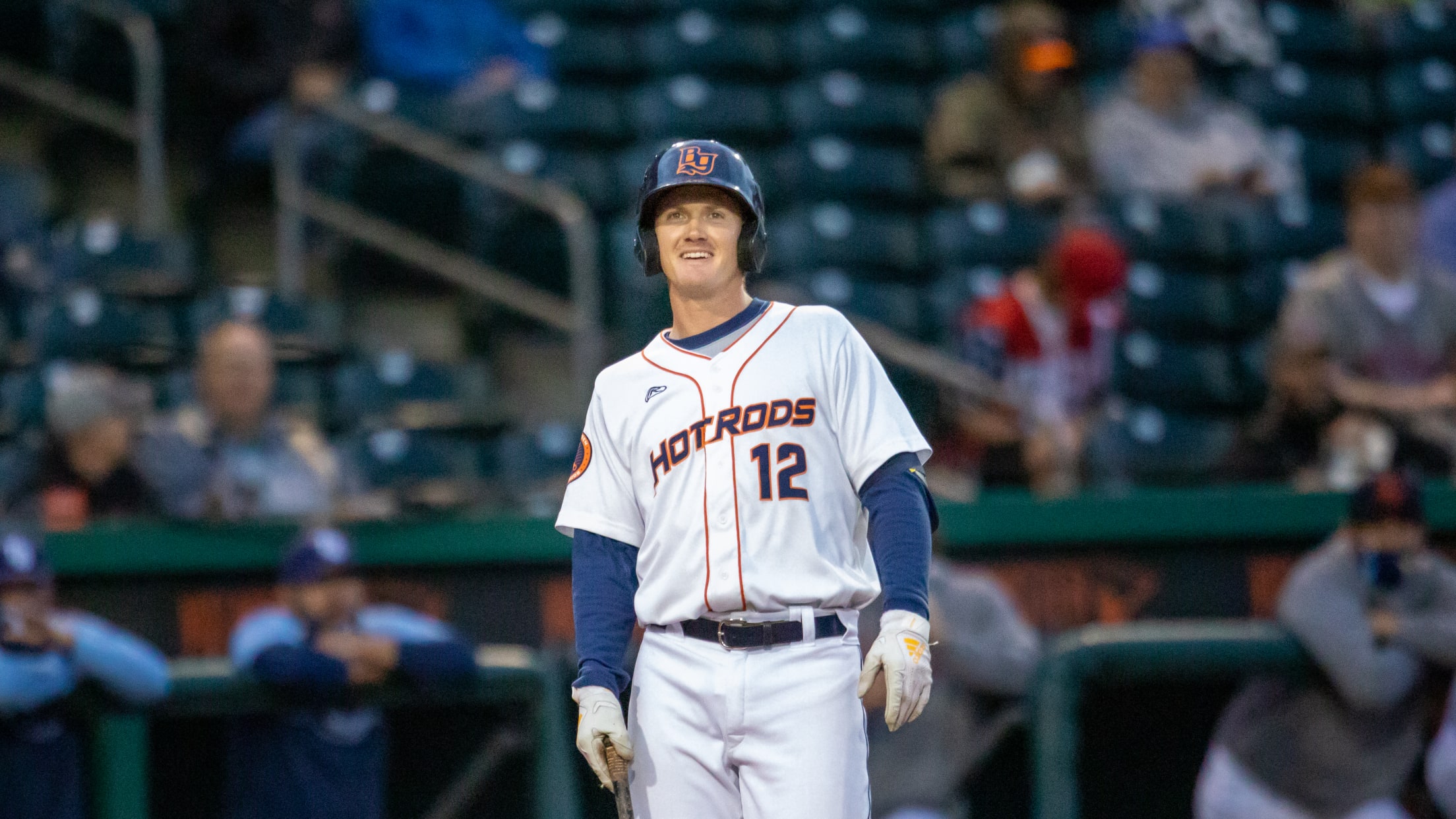 Asheville, North Carolina – Blake Hunt set a career-high with two home runs and tied a franchise record with six RBIs, leading the Bowling Green Hot Rods (13-10) to a 12-2 victory over the Asheville Tourists (11-10) on Saturday night at McCormick Field in Asheville, North Carolina. The two teams
Asheville, North Carolina – Blake Hunt set a career-high with two home runs and tied a franchise record with six RBIs, leading the Bowling Green Hot Rods (13-10) to a 12-2 victory over the Asheville Tourists (11-10) on Saturday night at McCormick Field in Asheville, North Carolina. The two teams play the series finale on Sunday with a 12:05 PM CT first pitch.
The Hot Rods jumped on Asheville starter Danny Cody early in the first inning. Greg Jones singled and Hunt hit a two-run home run to put the Hot Rods up 2-0. In the bottom of the first Asheville cut into the Bowling Green lead against starter Zack Trageton. The Tourists loaded the bases and Scott Schreiber hit a sacrifice fly to left field to bring in Alex McKenna and make it a 2-1 game.
Bowling Green got back on the scoreboard in the top of the third against Tourists pitcher Michael Horrell. Hunt led off with a single and moved to third on a Grant Witherspoon double. With one out, Niko Hulsizer drove in Hunt and Witherspoon with a double to push the Hot Rods lead to 4-1. The Tourists scored one run in the bottom of the third, with a solo homer to make it 4-2.
In the top of the sixth inning the Hot Rods tacked onto their lead off Asheville reliever Chandler Casey. Jones singled with two outs and Hunt hit his second homer of the night to increase the Bowling Green advantage to 6-2.
Hunt struck again in the eighth inning against Tourists reliever Yeremi Ceballos. Jacson McGowan and Pedro Martinez both walked and moved up on a wild pitch. Hunt singled them home to give the Hot Rods a six-run lead, 8-2. Bowling Green added four more runs in the top of the ninth, headlined by a two-RBI double by Osmy Gregorio to give the Hot Rods a 12-2 victory.
Trageton pitched 3.2 innings, giving up four hits and two runs while striking out four and walking two in a no-decision. Lopez (2-0) tossed 4.1 innings, allowing just one hit while striking out eight and walking none in a win. Carlos Garcia hurled 1.0 perfect inning, striking out all three batters.
Notes: Hunt had his fifth multi-RBI game… Hunt's six RBIs ties the franchise record, which has been done four times… The last to accomplish the feat was Zach Rutherford on May 28, 2018, against the Dayton Dragons… Hunt also had his sixth multi-hit game… His four hits tie his career-high… Hunt hit two homers, tying Erik Ostberg for the most in a game this season… Hunt becomes the 43rd player in Hot Rods history with a two-homer game… Jones collected his fourth multi-hit game of the season… His three hits are a season-high… Hulsizer had his second multi-hit game of the season… His three RBIs marks the first time he has had a multi-RBI game this year… Gregorio collected his first multi-hit and multi-RBI game of the year… Lopez's 4.1 innings is his longest outing this season… His eight strikeouts ties a career high… This is the third time he has recorded eight K's… The Hot Rods have scored first in all five games of this series… BG has scored first in seven consecutive games… Bowling Green's win snaps a four-game losing streak… This was the longest skid of the season… BG walked 10 times Saturday… This ties the season-high set on May 18th against Rome… The Hot Rods and Tourists play the series finale Sunday… First pitch will be at 12:05 PM CT… Bowling Green will send RH Jayden Murray (1-1, 2.87) against Asheville's RH Matt Ruppenthal (2-0, 5.63).
###
Hot Rods Baseball is presented by MedCenter Health