Wiles Whirls Gem in Second Shutout of the Series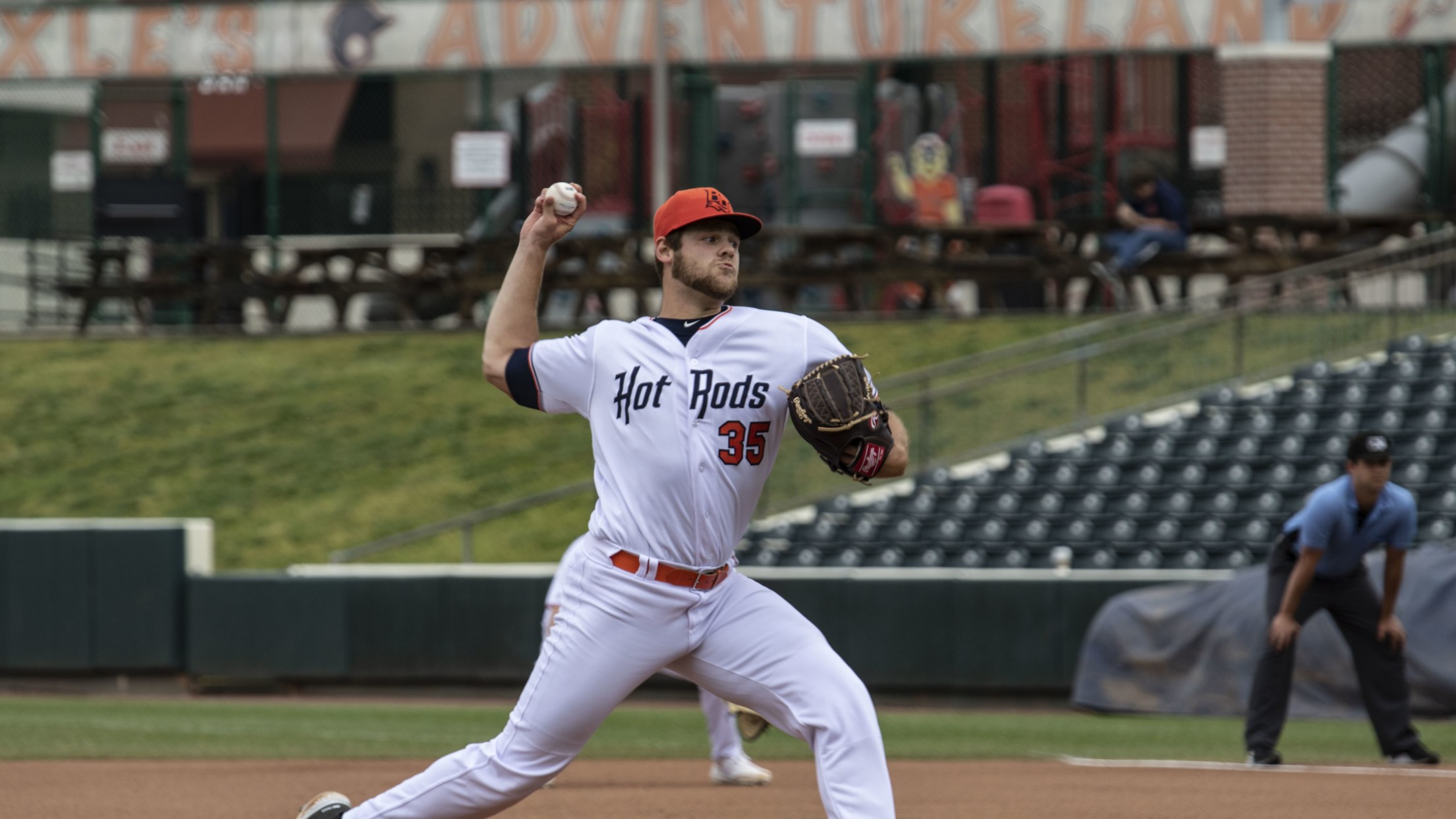 Bowling Green, Kentucky– Nathan Wiles allowed one baserunner for the Bowling Green Hot Rods (36-28, 77-52) who took a no-hit bid deep into the seventh inning in a 5-0 shutout win over the Greensboro Grasshoppers (31-31, 58-69) at Bowling Green Ballpark on Friday. The Hot Rods will resume their series
Bowling Green, Kentucky– Nathan Wiles allowed one baserunner for the Bowling Green Hot Rods (36-28, 77-52) who took a no-hit bid deep into the seventh inning in a 5-0 shutout win over the Greensboro Grasshoppers (31-31, 58-69) at Bowling Green Ballpark on Friday. The Hot Rods will resume their series against the Grasshoppers on Saturday with a 6:35 PM CT first pitch.
Tanner Murray led off the game with a single before Alexander Ovalles hit a two-run homer off Grasshoppers starter Jared Jones into the right-field bullpen. Matthew Dyer reached with a two-out single, and Abiezel Ramirez singled to center. Greensboro centerfielder Sammy Siani misplayed the ball on the ground, allowing Dyer to score from first to make it 3-0. Michael Berglund hit a solo home run in the seventh to increase the lead to 4-0. Dillon Paulson led off the eighth with a solo homer of his own and Kyle Whitten tossed a scoreless ninth to secure the shutout in a 5-0 win for Bowling Green.
Wiles (2-2) earned the win in 5.0 scoreless and hitless innings with one walk and five strikeouts. Conor Dryer allowed two hits in 2.0 innings with a strikeout. Matthew Peguero went 1.0 inning without allowing a run or a hit, walking one with two strikeouts. Whitten allowed two hits with a strikeout in 1.0 scoreless inning.
Notes: Murray has recorded a hit in six-straight games… He has recorded one or more hits in all five games he's played in September… Murray has also scored at least one run in every game he's played in September… Ovalles became the second Hot Rods hitter to drive in 60 runs this season… Ramirez tied his season-high with three hits… The Hot Rods have shut out Greensboro twice in the last three days… This was the 10th shutout of the year for Bowling Green… All four hits for Greensboro came with two outs… Bowling Green and Greensboro will continue their series on Saturday at Bowling Green Ballpark, with first pitch set for 6:35 PM CT… RH Victor Muñoz (3-2, 4.66) will start for the Hot Rods against Grasshoppers RH Justin Meis (4-4, 4.21)… The game is available to watch on MiLB.tv… Fans can listen to the game on Talk 104.1 FM and 930 AM WKCT and listen via the MiLB First Pitch app on Android and IOS, or go to the Hot Rods website at www.bghotrods.com... Fans can get their tickets for upcoming Hot Rods home games by calling 270-901-2121, visiting the Bowling Green Ballpark box office, or visiting www.bghotrods.com.
###
Hot Rods Baseball