Brooklyn Rocks Wilmington for Doubleheader Sweep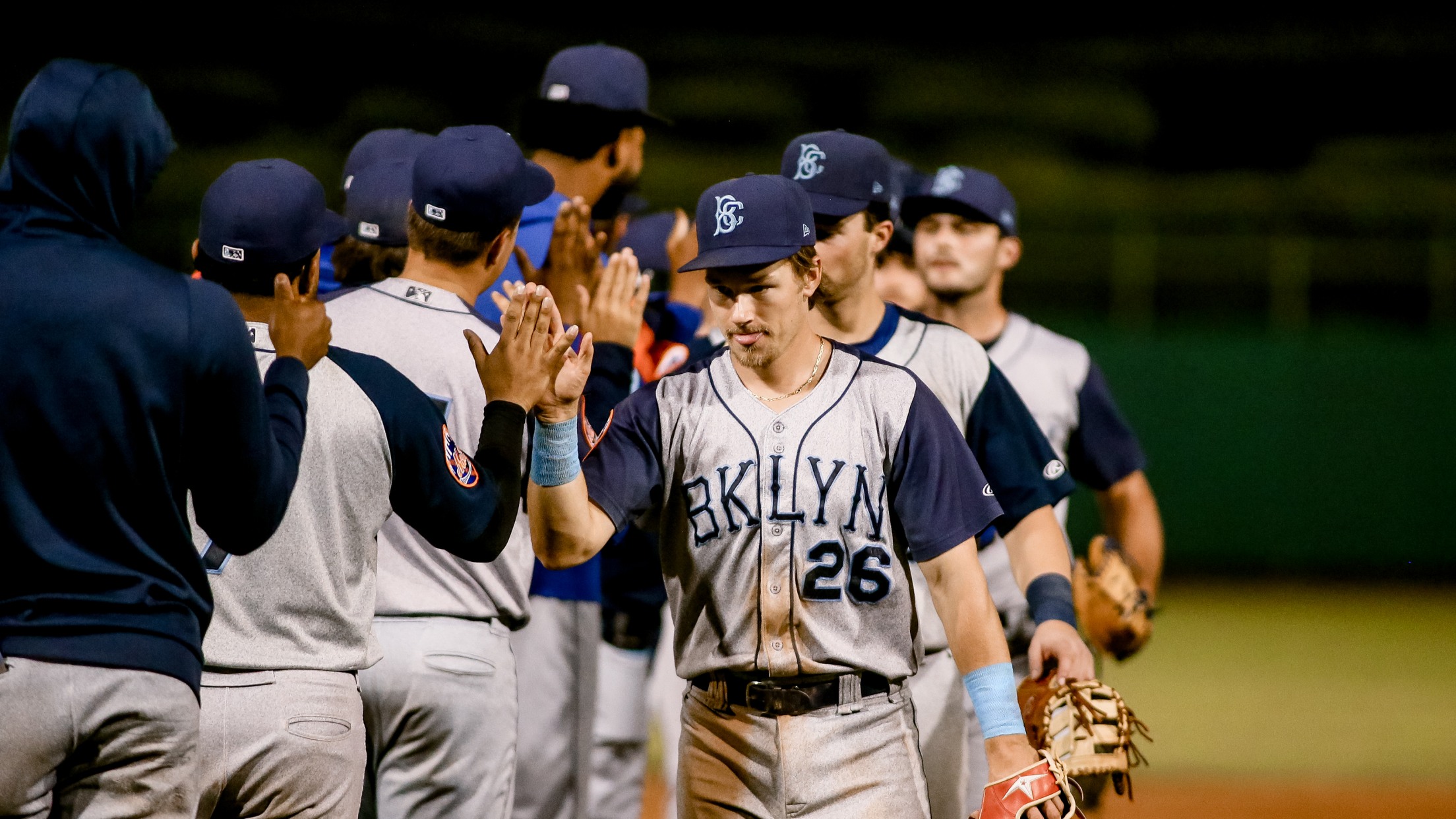 BOX SCORE GAME ONE Win – Courtney (3-2) Loss – Willingham (2-2) Save – None Home Runs – None Time of Game – 1:56 Wilmington, DE (June 18, 2022) – The Cyclones needed extra innings in Game One of Saturday's doubleheader to defeat the Wilmington Blue Rocks by the score
Win – Courtney (3-2)
Loss – Willingham (2-2)
Save – None
Home Runs – None
Time of Game – 1:56
Wilmington, DE (June 18, 2022) – The Cyclones needed extra innings in Game One of Saturday's doubleheader to defeat the Wilmington Blue Rocks by the score of 1-0. Rowdey Jordan's RBI single in the top of the eighth scored Shervyen Newton, the automatic base runner in extra frames, for the only run of the game.
LHP Nick Zwack made the start for Brooklyn and had his best outing since joining the Cyclones. The southpaw tossed 6.0 shutout frames, scattering four hits while striking out three. Justin Courtney (3-2) added 2.0 flawless frames out of the bullpen to collect the win.
In the top of the eighth, with Newton placed at second to start the frame, Matt Rudick had an infield single that put runners on the corners. Rowdey Jordan took advantage of the scoring chance with an RBI single to centerfield that pushed across the first – and only – run of the game.
In the bottom of the frame Courtney retired the BlueRocks in order to close out Brooklyn's 1-0 victory.
Win – Bryant (2-1)
Loss – Romero (3-3)
Save – Hartwig (5)
Home Runs – BRK: Gaddis (2), Murphy (1) / WIL: Antuna (7)
Time of Game – 1:46
Wilmington, DE (June 18, 2022) – The Cyclones completed the doubleheader sweep with a 4-1 win over Wilmington on Saturday evening. Garrison Bryant (2-1) tossed 6.0 solid frames, allowing one run on three hits with two walks and four strikeouts. Nic Gaddis connected on a two-run shot to give Brooklyn a lead they wouldn't relinquish to pace the Brooklyn bats.
The nightcap of the doubleheader was a make-up of a rained in game in Brooklyn, so the Cyclones played as the home team in Wilmington. So, in the top of the first it was the Blue Rocks who jumped out to an early lead when Yasel Antuna snuck an 0-2 offering from Bryant just inside the right field foul pole for his seventh home run of the year to give the Rocks a 1-0 lead.
After a scoreless second inning Brooklyn took the lead in the bottom of the third with a two-out rally. Rowdey Jordan walked and stole second before coming home on an RBI single from JT Schwartz to knot the game at 1-1. Nic Gaddis followed with a no-doubter over the left field wall to put Brooklyn ahead 3-1.
In the bottom of the fourth Tanner Murphy extended the lead to 4-1 with his first home run of the year to cap the scoring.
Wilmington had one last chance to try to salvage the nightcap when Onix Vega and Ricardo Mendez had back-to-back one-out singles in the last chance top of the seventh. Gage Canning followed with a walk to load the bases, but Grant Hartwig settled down to strike out Cole Daily and Darren Baker to end the game and complete the doubleheader sweep.