Brooklyn Falls to Blue Rocks, 5-3 on Sunday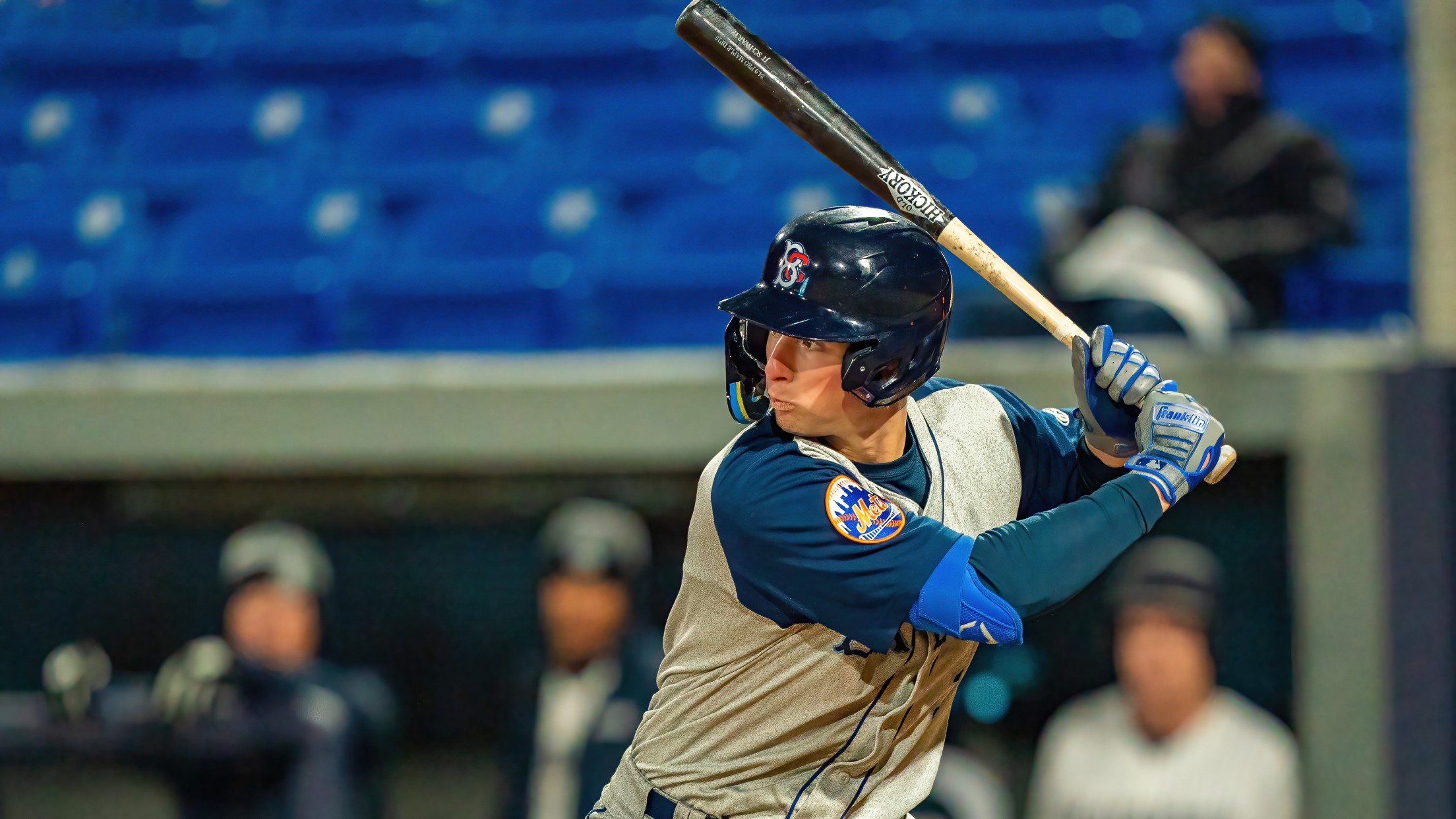 WILMINGTON, DE (June 19, 2022) – No. 19 prospect JT Schwartz blasted a home run, but the Brooklyn Cyclones, the High-A affiliate of the New York Mets, dropped a 5-3 decision to Wilmington on Sunday at Frawley Stadium on Father's Day to round out the eight-game series. Win: Shuman (2-1)
WILMINGTON, DE (June 19, 2022) – No. 19 prospect JT Schwartz blasted a home run, but the Brooklyn Cyclones, the High-A affiliate of the New York Mets, dropped a 5-3 decision to Wilmington on Sunday at Frawley Stadium on Father's Day to round out the eight-game series.
Win: Shuman (2-1) | Loss: Moreno (0-1) | SV: Ferrer (3)
HR: Schwartz (2)
KEY PLAYS
Down 3-0 early, the Blue Rocks scored five unanswered runs across the second and fifth innings. Wilmington cut the Brooklyn deficit to 3-2 with a pair in the bottom of the second, scoring on Omar Meregildo's solo home run and Kevin Stroschein's sac fly. Wilmington took the lead in the fifth, crossing three runs against Cyclones starter Luis Moreno and reliever Cam Opp. Israel Pineda's two-run single to left field broke the 3-3 tie.
Wilmington starter Seth Shuman settled in after a rocky first inning, tossing five frames –the final four scoreless – with five strikeouts and no walks in the win. Relievers Lucas Knowles, Malvin Pena, and Jose Ferrer combined to throw four scoreless in relief to seal the victory.
JT Schwartz ignited the Cyclones offense with a three-run home run over the bullpen in right field, giving the Cyclones a 3-0 lead in the top of the first.
KEY CYCLONES PERFORMERS
JT Schwartz: 2-3, home run, three RBIs, walk, run, stolen base
Tanner Murphy: 1-3, hit by pitch, run
Rowdey Jordan: 1-2, run
NEWS AND NOTES
The Cyclones and Blue Rocks split an eight-game series. Wilmington leads the season series with nine wins in 15 games.
Rowdy Jordan exited the game mid-at-bat in the sixth inning due to apparent injury.
Luis Moreno struck out a High-A high six batters on Sunday.
Jaylen Palmer snapped a nine-game on-base streak, going 0-4.
*WHAT'S NEXT
*Brooklyn vs. Jersey Shore –Tuesday, 7 p.m. at Maimonides Park in Coney Island, NY
TBA vs. TBA
Video: MiLB.tv
Audio: BrooklynCyclones.com