Canadian accepted 'At Par' for any single-game tickets purchased on Bisons.com by April 30
Canadian residents can use promo code BisonsAtPar to save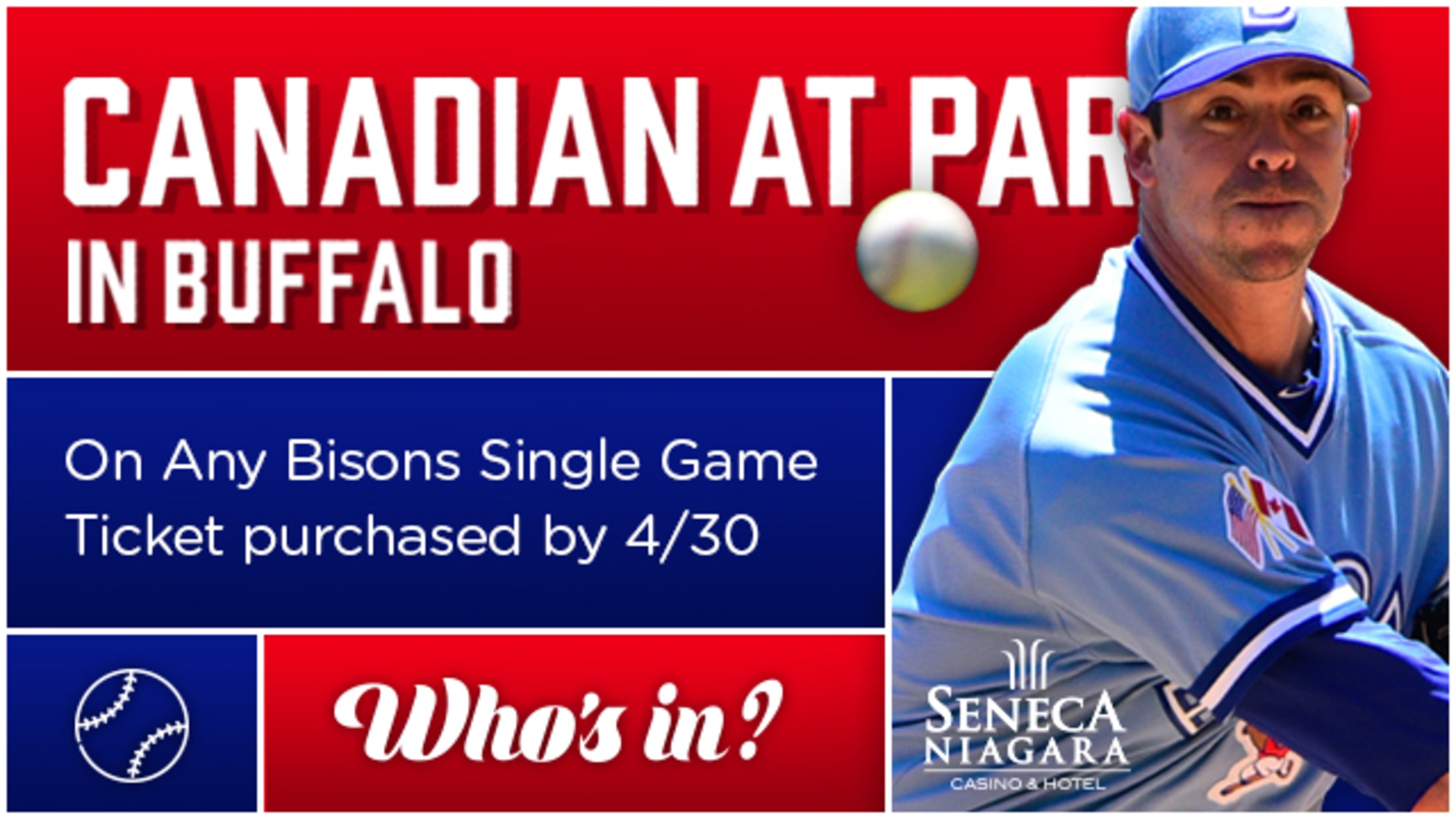 To all the great Bisons and Blue Jays in Southern Ontario and throughout Canada, we've got an exciting new addition to our annual At-Par Policy…and we're bringing the savings right to you!!!Canadian residents can now purchase any 2018 Bisons single-game ticket AT-PAR right here on Bisons.com as long as the
To all the great Bisons and Blue Jays in Southern Ontario and throughout Canada, we've got an exciting new addition to our annual At-Par Policy…and we're bringing the savings right to you!!!
Canadian residents can now purchase any 2018 Bisons single-game ticket AT-PAR right here on Bisons.com as long as the purchase is made before April 30. Not only does that include all 10 Bisons games in April -including Opening Day on April 12- but also any other home game in 2018*, as long as the purchase is made by April 30 (excluding blackout dates of June 2 and July 3).
Here's how it works: We know the exchange rate will fluctuate every day, but don't worry. We're LOCKING IN a rate of 25% right now for the entire month of April. When you get your tickets (CLICK HERE), make sure you use the promotional code BisonsAtPar and that rate will be reflected in the US prices you'll pay so your money is accepted 'at-par.' Then, just enter your Canadian address when checking out and you'll get your Bisons tickets 'at-par'
CLICK HERE TO ORDER YOUR TICKETS TODAY.
Start planning your trips to Buffalo, because this is a great way for your dollar to go even farther at Bisons games. All initiatives to show our appreciation for fans coming from across the border are in cooperation with our great partner, Seneca Buffalo Creek Casino.
Keep in mind, Canadian residents can also take advantage of our 'At-Par' Policy AND avoid online service fees by purchasing their tickets right at the Coca-Cola Field Box Office (cash purchases only). That offer is also available through the end of April.
Other great At-Par and Exchange Rate discounts include:
Check out the Bisons 2018 Promomtional Scheule and 2018 Game Schedule.
All Canadian Cash 'at par' policies exclude the use of the Bisons' Gift Cards