2020 Burlington Bees Field Staff Announced
Manager Howell, two coaches and trainer return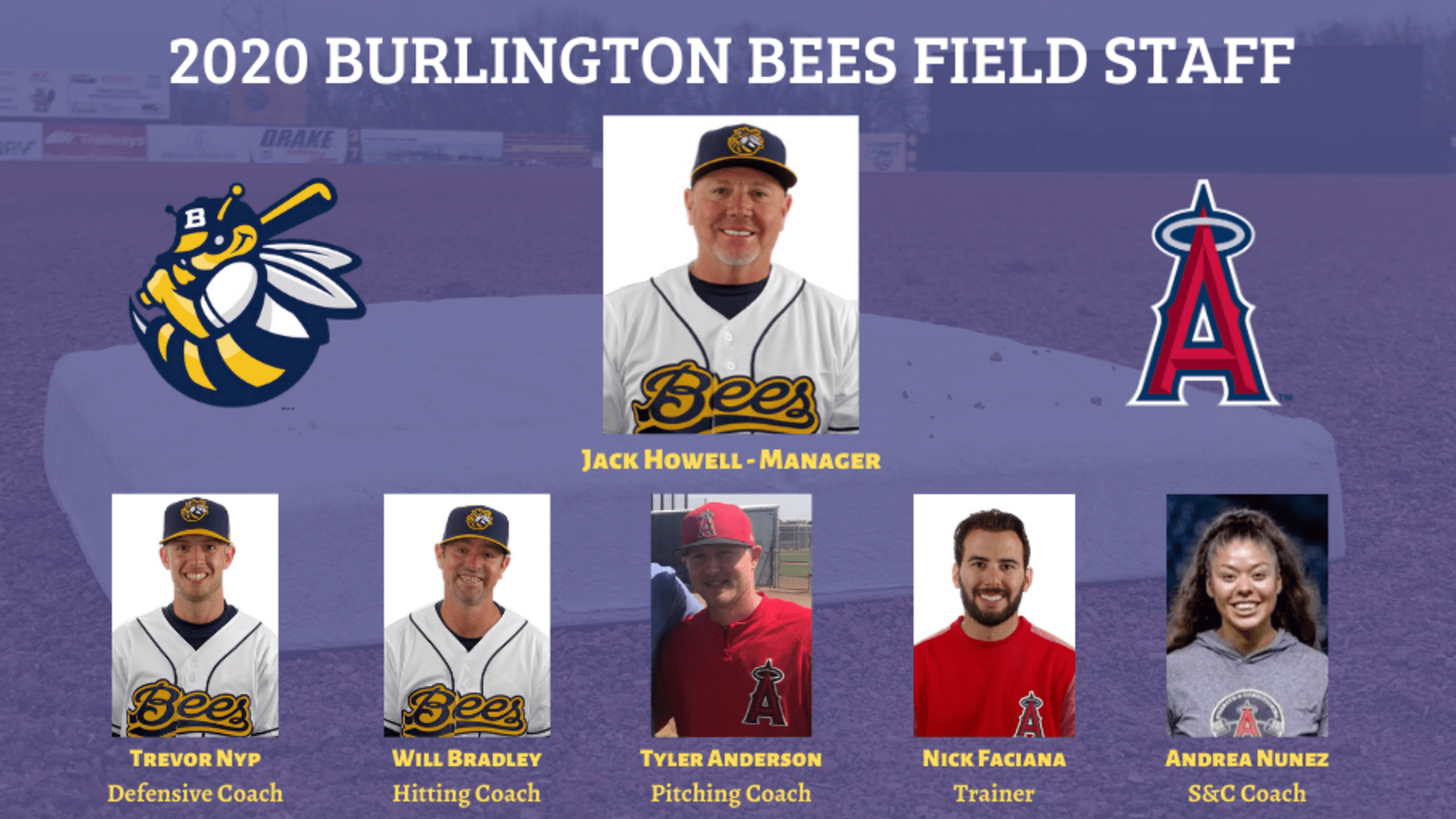 Burlington, IA - Wednesday, January 15, 2020 - The Burlington Bees, in cooperation with the Los Angeles Angels officially announce the team's 2020 field staff as follows:Manager: Jack HowellPitching Coach: Tyler Anderson Hitting Coach: Will BradleyDefensive Coach: Trevor NypAthletic Trainer: Nick FacianaStrength and Conditioning Coach: Andrea NunezJack Howell returns for
Burlington, IA - <w:sdt docpart="5BE2BFEE508F48758222BAF1408F3F0F" id="894537250" multiline="t" prefixmappings="xmlns:ns0='http://purl.org/dc/elements/1.1/' xmlns:ns1='http://schemas.openxmlformats.org/package/2006/metadata/core-properties' " sdttag="Date:" storeitemid="X_6C3C8BC8-F283-45AE-878A-BAB7291924A1" text="t" title="Date:" xpath="/ns1:coreProperties[1]/ns1:category[1]">Wednesday, January 15, 2020 - The Burlington Bees, in cooperation with the Los Angeles Angels officially announce the team's 2020 field staff as follows:
Manager: Jack Howell
Pitching Coach: Tyler Anderson
Hitting Coach: Will Bradley
Defensive Coach: Trevor Nyp
Athletic Trainer: Nick Faciana
Strength and Conditioning Coach: Andrea Nunez
Jack Howell returns for his third season as Bees manager. The MLB veteran has helmed Burlington to a 116-158 cumulative record in his two seasons with the team. Under Howell's guidance in 2019, the Bees improved their overall record by adding 16 more wins than they posted in the 2018 season. As a player, Howell spent 11 seasons in the majors with the Angels, San Diego Padres and Houston Astros in addition to four seasons playing professionally in Japan.
Tyler Anderson begins his first season in Burlington as pitching coach after serving in the same role with the Orem Owlz in 2018 and the Angels Arizona League affiliate in 2019. The Australian coached collegiately from 2014 to 2017 and has served as pitching coach to the 18U Australian National team.
Will Bradley returns to Burlington for his second season as hitting coach. Bees hitters batted a cumulative .215 average during the 2019 season with three Bees hitting double-digit home runs. Under Bradley's tutelage the Bees had Midwest League top-10 finishers in doubles, triples and base-on-balls.
Defensive coach Trevor Nyp returns for his second season with Burlington and second with the Angels after earning acclaim for his analyses of defensive practices posted to Instagram after playing professionally in Canada. Nyp mentored a 2019 defensive group loaded with shortstops and converted shortstop prospects including touted infielders Livan Soto and Kevin Maitan.
Nick Faciana returns as Bees athletic trainer after serving the same role in 2019 and previous stops in assistant athletic trainer roles with the Boston Red Sox and University of Akron.
Andrea Nunez joins the Bees staff in her first season with the team as strength and conditioning coach after serving in the same role in 2019 with the Angels Arizona League affiliate.
The Bees open the 2020 season against the Wisconsin Timber Rattlers in Appleton, WI on Thursday, April 9 before hosting the team's opener at Community Field in Burlington against the Clinton LumberKings on Monday, April 13 at 6:30 PM.
<w:sdt docpart="D8F5D8AA1EF846E9B933FE0AE83C39EC" id="509885579" sdttag="Page section:" showingplchdr="t" temporary="t" title="Page section:">###
The Burlington Bees are the class-A, Midwest League affiliate of the Los Angeles Angels. Please direct any inquiries to the Bees' front office at 319-754-5705.