Martinez, Storm surge to Cal League Finals
Padres prospect hurls five shutout innings, offense pulls away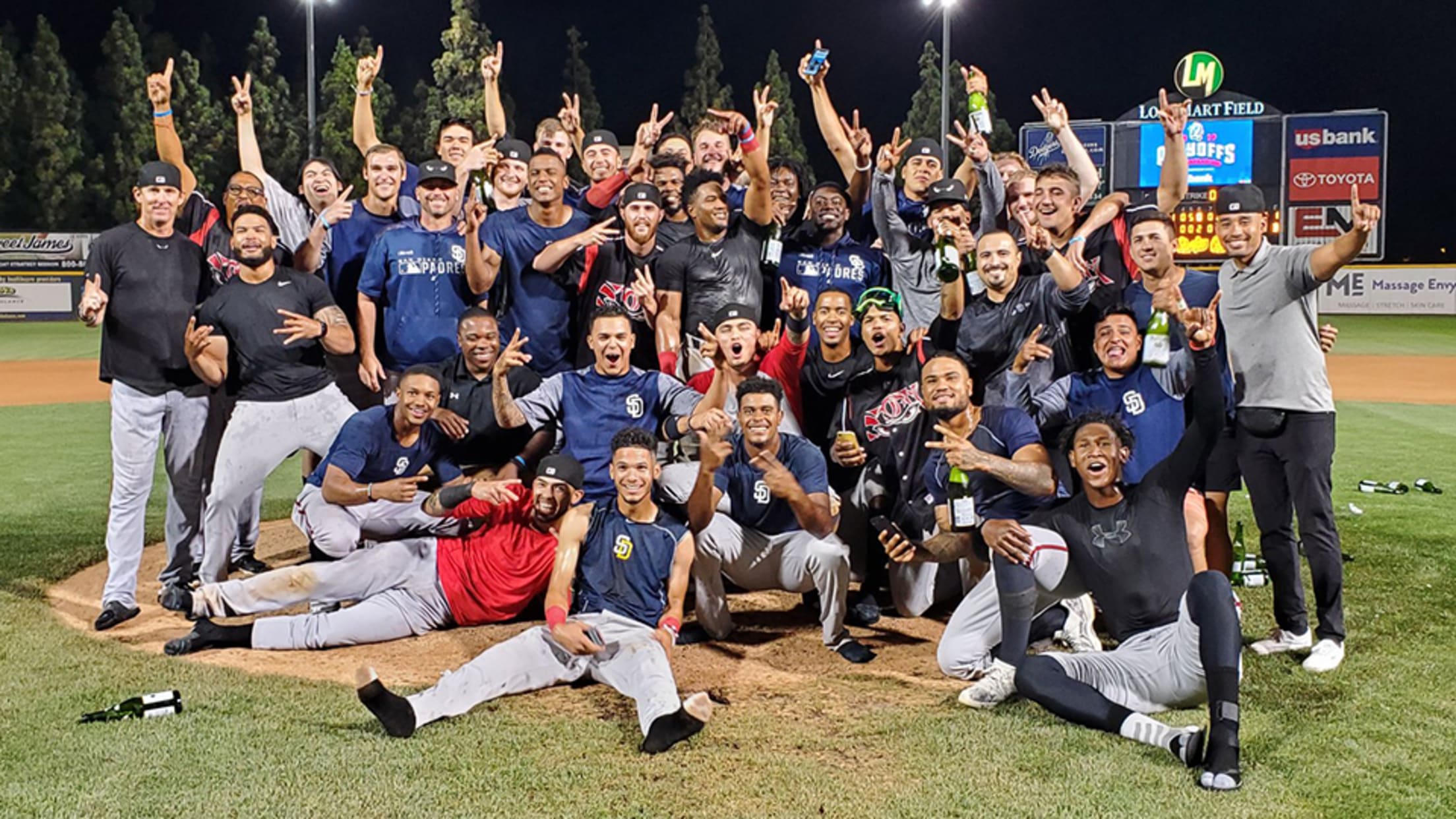 Lake Elsinore is three wins away from its first California League championship in eight years. (Lake Elsinore Storm)
Adrian Martinez pitched well in the one regular-season start he made in the California League as Lake Elsinore hunted for a playoff spot. On an even more dramatic stage on Saturday, he was better than ever.The right-hander dealt five scoreless frames of one-hit ball in his postseason debut to pilot
Adrian Martinez pitched well in the one regular-season start he made in the California League as Lake Elsinore hunted for a playoff spot. On an even more dramatic stage on Saturday, he was better than ever.
The right-hander dealt five scoreless frames of one-hit ball in his postseason debut to pilot the Storm to an 11-2 win over Rancho Cucamonga at LoanMart Field and a berth in the Championship Series. He walked one and struck out six as Lake Elsinore took the best-of-5 semifinal series in four games.
"His performance was phenomenal. ... He had nerves of steel," Storm manager Tony Tarasco said. "He executed. He had a good, heavy fastball tonight, but his equalizer was that changeup, which is one of his better pitches."
Jeren Kendall tagged Martinez for a two-out single to left field in the bottom of the first, but nobody else could touch him. He issued a four-pitch walk to No. 13 Dodgers prospectJacob Amaya with two outs in the third, but after a mound visit, got 17th-ranked Devin Mann to fly to center.
In his Cal League debut on Aug. 30, Martinez gave up one run on six hits across six innings, striking out seven. That was a big spot, too, as the Storm were battling for the South Division second-half crown.
"So far, he's come up and pitched two very big, important games for us," Tarasco said. "That's extremely impressive, and I'm very humbled by the opportunity to be a part of watching him grow."
Gameday box score
Luis Campusano singled in a run in the third to open the scoring. Even with his pitcher throwing a tremendous game, Tarasco was a bit on edge with the narrow lead heading into the middle innings, especially after the Quakes crushed back-to-back homers in the bottom of the ninth to stun Lake Elsinore with a walk-off victory on Friday.
"Every single one of our games against the Dodgers is a grinder," he said. "You never know what could happen. I think the night before proved that."
In the top of the fifth, though, No. 14 Padres prospectGabriel Arias and Eguy Rosario drew consecutive two-out walks off right-hander Jose Martinez. Twelfth-ranked Tirso Ornelas followed with a single to right to drive in Arias, and Lee Solomon singled home Rosario on the next pitch. Olivier Basabe slapped a hit off the glove of third baseman and Dodgers No. 16 prospect Miguel Vargas to bring home Ornelas. Thirteenth-ranked Tucupita Marcano then doubled to left, driving in Solomon and Basabe to cap a five-run outburst.
Complete postseason coverage
Marcano finished 3-for-5 with three RBIs. Like Martinez, he hasn't been with Lake Elsinore long. He was promoted from Class A Fort Wayne just for the postseason.
"To be a part of high-leverage, high-pressure situations and be able to perform, I'm sure it's going to wonders for his confidence," he said. "He's just ... another player in this bottomless well of talent that we have here in the Padres organization."
Henry Henry struck out six over two innings of relief, shrugging off a two-run homer by Kendall. Fellow righty Nick Kuzia closed it out with two spotless frames, striking out the side in the ninth.
The Storm will face Visalia in the best-of-5 Finals beginning Tuesday in Lake Elsinore.
Jordan Wolf is a contributor to MiLB.com. Follow him on Twitter @byjordanwolf.