Cal notes: Lake Elsinore's staff is all aces
With six top Padres prospects, Storm loaded with talented arms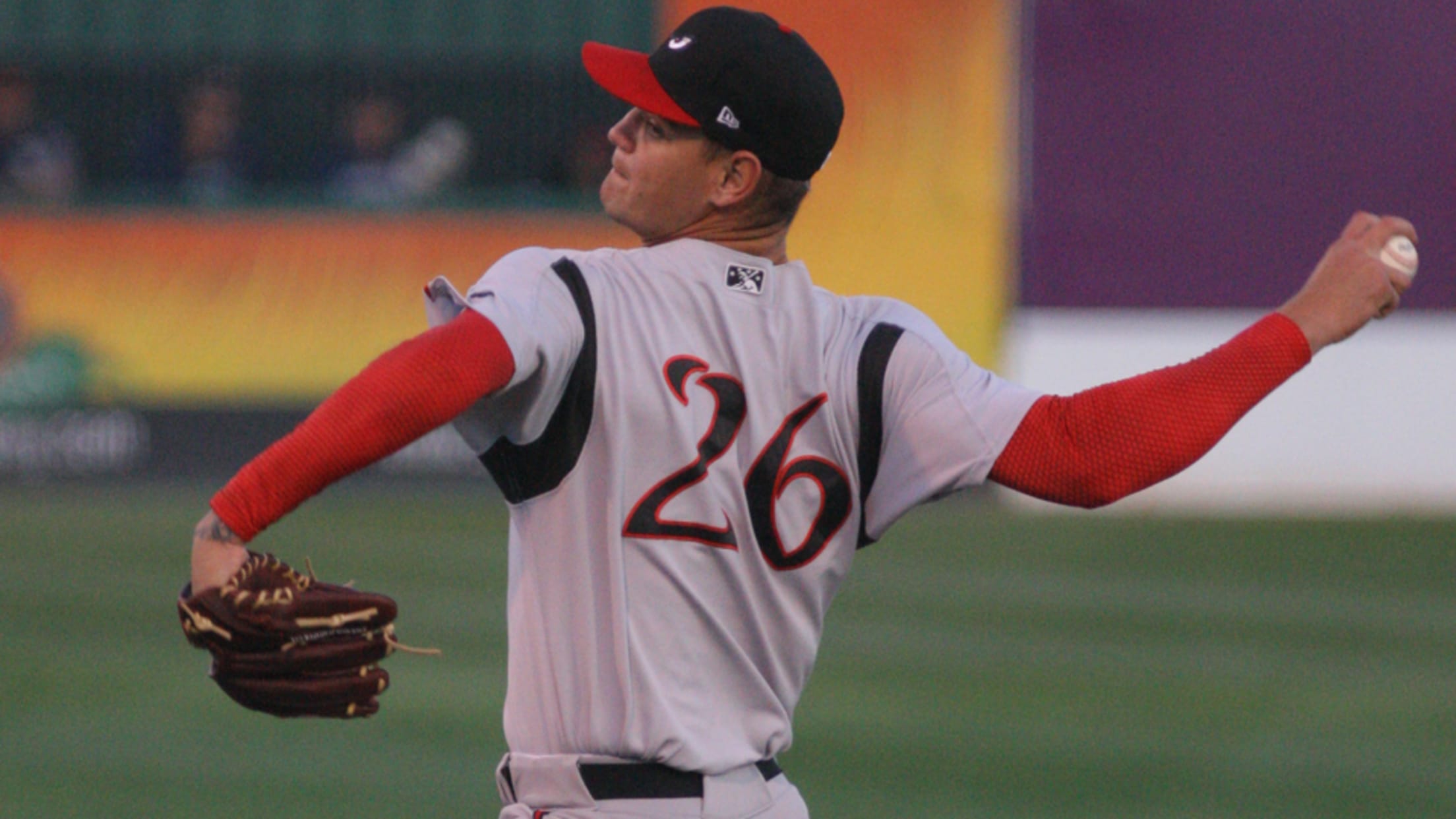 Working with a 70-grade fastball, Michel Baez struck out 13 over his first 12 innings this year. (Shelly Valenzuela/San Jose Giants)
LAKE ELSINORE, Calif. -- Edwin Rodriguez has seen a few things in baseball. He had an eight-year playing career, with parts of three seasons in the Majors. He's been a scout. He's managed at every level of affiliated ball, including the big leagues, and in the World Baseball Classic.And yet
LAKE ELSINORE, Calif. -- Edwin Rodriguez has seen a few things in baseball. He had an eight-year playing career, with parts of three seasons in the Majors. He's been a scout. He's managed at every level of affiliated ball, including the big leagues, and in the World Baseball Classic.
And yet ...
"I have never been in this situation before," he said. "I've been saying that to this group since Spring Training. ... We have some very good arms here."
At the helm of Class A Advanced Lake Elsinore, Rodriguez has a pitching staff that includes a full fifth of the Padres' top 30 prospects. With right-handers Michel Baez (No. 5), Chris Paddack (No. 22), Pedro Avila (No. 25), David Bednar (No. 27) and Reggie Lawson (No. 30) as well as left-hander Adrian Morejon (No. 6), the Storm are loaded with more pitching potential than any other team in the California League, and arguably more than any team in the Minors.
Of course, transforming potential into results is the whole point of player development. At 12-19, Lake Elsinore has the worst record in the eight-team league, and its 4.02 ERA ranks fourth. Lawson, a 2016 sandwich pick, has been the staff's top performer, going 2-0 with a 1.44 ERA (third-best on the circuit), having struck out 27 and walked seven over 25 innings in five starts.
"It's me cutting down on my walks. That's definitely helped me, obviously," the 20-year-old Southern Californian said. "I'm not beating myself. I added a new pitch this year, a changeup, so that helped me a lot. [And] most definitely, being with these guys makes me want to try to be better, because I know they're going to produce and I have to produce as well."
That atmosphere of friendly competition between teammates makes the job easier for pitching coach Pete Zamora.
"It's a lot of fun coming to work every day for me," he said. "There's talent, there's aptitude, [but] more important than anything else, these kids compete against each other and they want to get better every day."
He's aware, too, that statistics don't reflect how talented his staff is.
"It's a young group, so they're still getting their feet wet here in the Cal League," Zamora said. "These guys are learning what they got away with in the Midwest League that they can't get away with here. Their bullpens are turning very detailed and focused, because as you get up the misses have to be smaller and smaller. These guys are learning that and they take that on. When they get lit up, they come to the field the next day and they get better."
Rodriguez, who last year had a staff that included Cal Quantrill and current Major Leaguers Eric Lauer and Joey Lucchesi, reminds this year's staff members that their youth and relative inexperience should motivate them against more advanced opponents. But he's careful not to apply extra pressure.
"Knowing they have this kind of ability, they're going to struggle because they're learning," he said. "They have to learn to pitch -- pitchability -- but the arm is there. They're young guys, they're 19, 20, 21 years old. We've been playing teams that average 23, 24, 25 years old.
"I want them to enjoy the process and be patient because sometimes they get down with themselves. The pressure is already there. They don't need pressure from me and the [coaching] staff. They need to know, 'Hey, we've got your back' They get here early, working hard, they're asking questions, analyzing video."
At 19, Morejon is the youngest of the group. He and Baez (22) rank 48th and 40th among MLB.com's Top 100 Prospects, respectively, and each Cuba-born hurler is adjusting to his first full season in the States.
"That's another element that you have to take into consideration. They don't speak the language. I mean, the basics, but ... " Rodriguez said. "[On Saturday], we had a nutritionist here and we were talking 1-on-1 with Morejon. You could tell he's still learning how to handle the traveling. When we're on the road, Wendy's is right there, McDonald's is right there and he said, 'Yeah, I'm ordering that because that's the only thing I know how to order.' He doesn't know how to order, 'sirloin, medium-well.' He says, 'I don't know how to order that, so I order hamburgers.' The culture, that's one thing they're still learning, trying to get more comfortable, but they will learn."
On the mound, although each has run into trouble (Morejon is 0-3 with a 4.84 ERA; Baez is 0-2 with a 3.75 ERA), they've both flashed brilliance. Morejon gave up four runs over five innings at Inland Empire on Wednesday, but Rodriguez blames two wind-blown homers for a box score that hides a strong outing. The lefty is working on bringing his fastball inside and his manager believes his breaking pitches will be much more effective when he's consistently able to do so.
As for Baez, he struck out seven over four scoreless innings on Saturday, working out of a bases-loaded jam in his final frame.
"All of a sudden, he was pitching. He was overpowering everybody, breaking balls for strikes, everything for strikes," Rodriguez said. "We saw the real Michel Baez. Whenever he's throwing the breaking pitches for strikes, they have no chance. I mean, 95 [mph fastball], 98, then that breaking ball? They have no chance."
Paddack, who missed most of 2016 and all of last season because of Tommy John surgery, is a new addition, but he's made himself a welcome one. He pitched six scoreless innings in his 2018 debut on April 30 and punched out nine over four scoreless frames on Sunday.
Those kinds of starts will make him stand out, even in a group of hurlers as talent-rich as Lake Elsinore's.
"I don't ever remember having those kinds of arms with that potential in any staff I've ever had -- and I'm talking any, big leagues, Triple-A, any staff," Rodriguez said. "The whole list, you go one by one and you go, 'Oh, my goodness!'"

In brief
Squeaky clean:
Lancaster's
Roberto Ramos
, who recorded the Minor Leagues'
first three-homer game
of the season on April 8, went yard in four consecutive games through Friday and rewarded himself with a car wash.
"I honestly haven't washed my car since Spring Training, so I really needed it,"
he told MiLB.com
. "You get to that gas station and you're about to pay and it says, 'Do you need a car wash today?' And I thought, 'Well, if it's not today, it won't be any day.'"
No need to worry that the cleansing stripped any of his power: he went 4-for-4 with another homer, a double and five RBIs on Sunday. That gives him nine long balls on the year, tying him with Rancho Cucamonga's
Rylan Bannon
for the league lead.
Tight fit:
A month of play has done little to separate any Cal League team. In the North Division, Visalia (18-12) is a half-game up on San Jose and Stockton (both 18-13) and 4 1/2 games ahead of Modesto (14-17). In the South, the JetHawks are 16-15, ahead of the 66ers (14-17) by two games and the Quakes 13-17 by 2 1/2. The Storm are four games off the pace.
Workhorses:
Of the 11 pitchers who've thrown more than 30 innings, two have ERAs under 3.00. The Ports'
Parker Dunshee
is 2-1 with a 2.73 mark over 33 frames and the Rawhide's
Bo Takahashi
has a 2.61 ERA over 31 innings.
Emilio Vargas
, a teammate of Takahashi, leads the loop with a 1.23 ERA and is just shy of 30 innings -- he's worked 29 1/3 over six games, including five starts.
Josh Jackson is a contributor to MiLB.com. Follow and interact with him on Twitter, @JoshJacksonMiLB.