Cal League Preview: JetHawks take off
Lancaster's got talent, then there's another big SoCal baseball rivalry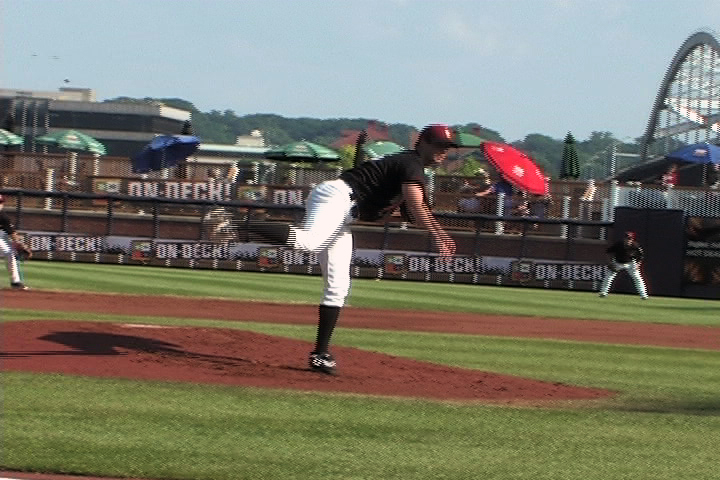 By Josh Jackson / MiLB.com | April 3, 2014 10:00 AM ET
There have been no franchise changes in the California League since 1996, when Lancaster joined the circuit. As far as the Cal League is concerned, no news is good news.
The circuit drew over a million-and-a-half fans last year and saw an increase over its 2012 attendance numbers. The Lake Elsinore Storm -- the league's top draw in every season since 2010 -- and the San Jose Giants each welcomed more than 200,000 fans through the gates.
There's no reason to think they'd stop coming in 2014. A few teams around the league boast very highly ranked prospects from several different Major League organizations, and Minor League promotional hijinks begin on Opening Day from Stockton to Riverside County.
JetHawks ready for takeoff: As the Astros have put together one of baseball's richest farm systems, fans in Lancaster have become accustom to seeing a high-quality team when they come out to The Hangar. The JetHawks have made the playoffs in each of the past two seasons, and in 2012, they were league champions. Even by those standards, Lancaster's 2014 squad is shaping up to be particularly memorable.
The Astros had the top picks in each of the last two Drafts, and both of those individuals are ticketed for Lancaster. Carlos Correa, whom Houston grabbed in 2012, hit .320 and had a .405 on-base percentage in the Class A Midwest League. He'll be the JetHawks' shortstop. Last year's No. 1 pick overall, Mark Appel, underwent an emergency appendectomy in January, but is still slated to pitch for Lancaster until he outgrows the level. They'll be joined by Lance McCullers and at least two other top 20 prospects in the Astros system, and MLB.com's Jim Callis projects the club to be the most talented in the Minors.
"The kids I'm watching here are a good group," said 2013 Cal League Manager of the Year and JetHawks skipper Rodney Linares during the spring at Astros' facilities in Arizona.
"I've only been working with them the past couple days, and Correa and some of those guys left to go play an exhibition in San Antonio, but it is a really talented team that we're getting together. There's really not enough I can say about Correa and Teoscar Hernandez and Rio Ruiz… and the pitching, man… I'm really I'm excited."
Linares stressed that the players' development is still his primary concern, but he likes his odds of earning another league title.
"Every year in the beginning of year, everybody has a chance. But I'm watching players here, and we're deep. We've got real depth in this system," he said. "Even if we have movement early in the year, we're not going to miss a beat. I think we're going to be not only one of the teams to watch, but the team to beat in the Cal League."
SoCal's other baseball rivalry: The Dodgers and the Padres, the Dodgers and the Angels or even USC and UCLA might be the first Southern California baseball rivalries that come to mind, but the one between the two Los Angeles Minor League teams easily offers as much fun as -- maybe more than -- any of the bunch.
Last season, the Inland Empire 66ers (Angels) and the Rancho Cucamonga Quakes (Dodgers) finished four games apart in the overall standings, and the 66ers beat the Quakes in the first round of the playoffs en route to winning the circuit championship. Even though it came out on top in '13, Inland Empire has tried to strike first this year. The 66ers have announced they'll host "Beat the Quakes Night" on May 1, at which Inland Empire is sure to keep things classy and subtle.
Join us May 1st for 'Beat The Quakes Night' as we hand out Quakes toilet paper! Expect the Rivalry Series to heat up! pic.twitter.com/RbjiOri6jh

- Inland Empire 66ers (@66ersBaseball) February 15, 2014
Each team has a new manager for 2014. Rancho Cucamonga welcomes P.J. Forbes, who knows a little something about Minor League rivalries. Last year, his Arizona League Dodgers lost that league's championship to the Giants. Danny Hocking, who takes the helm in Inland Empire, managed the AZL Angels last year, and prior to that spent time working in the Orioles system.
The Quakes have yet to announce any sort of "Run the 66ers Off the Road Night," but there is time. They will host the 66ers in their final home series.
Giveaways galore: In terms of promotions, between-innings entertainment and giveaways, the Cal League is about as rich in offerings as just about any league in the Minors.
For example, the perennially contending San Jose Giants play in one of the state's larger Minors markets, but they don't count on winning and a large local population alone to get fans into seats.
This year, they're offering an impressive slate of theme nights and giveaways. Their bobblehead giveaway series includes Sergio Romo, Brandon Belt and Bruce Bochy. Buster Posey, whose bobblehead was handed out as a prize following tennis ball tosses last year at Municipal Stadium gets a different treatment this season. He'll be offered in garden gnome form Aug. 10. On June 29, beloved mascot Gigante will be given out as a piggy-bank garden gnome.
Being the Bay Area, the Giants' Grateful Dead Tribute Night with Cherry Garcia giveaways July 9 should be a crowd-pleaser. They also have a "Star Wars" night with a jersey auction scheduled for June 4.
One of the Giants' earliest promo nights will also likely be one of their most successful. On April 13, they offer an appreciation of the military, focusing in part on World War II veteran Joe Bell, the 95-year-old San Jose resident featured in this video taken during a race honoring fallen Army Ranger Pat Tillman:
The Giants' toast to Bell, of course, comes with a trading card.
Quick Hits
The Giants have a new manager, who happens to also be their old manager. Lenn Sataka helmed the club in 1999, 2001 and from 2004-'07, winning titles in '01, '05 and '07. He has 684 wins over 10 Cal League seasons. His three championships are a record for a manager, as are his eight playoff appearances, 10 playoff series wins and 33 playoff game wins. ... The Stockton Ports are another team that will demand attention. They have several top A's prospects, including Billy McKinney, Daniel Robertson, Renato Nunez and Michael Ynoa. ... The Visalia Rawhide will feature a serious young power hitter in Brandon Drury, who should enjoy the Cal League. ... Lake Elsinore fans will get the chance to see MLB.com's No. 43 prospect overall, pitcher Max Fried, as the Padres southpaw develops through his second full season.
Last things last: Here's a look at some significant lasts around the California League.
Last season's championship: Inland Empire over San Jose in three games MiLB.com Coverage »
Last back-to-back champion: San Jose Giants, 2009-'10 MiLB.com Coverage »
Last no-hitter: Dan Winkler, Nelson Gonzalez and Scott Oberg, Modesto vs. San Jose, June 24, 2013 MiLB.com Coverage »
Last perfect game: Marcos Castillo, San Bernardino vs. Lake Elsinore, June 14, 1999
Last 200-strikeout pitcher: Clint Nageotte, San Bernardino, 2002
Last cycle: Darnell Sweeney, Rancho Cucamonga vs. Inland Empire, May 7, 2013 MiLB.com Coverage »
Last three-homer game: Juan Duran, Bakersfield vs. Visalia, Sept. 2, 2013 MiLB.com Coverage »
Last 30-homer hitter: Adam Duvall, San Jose, 2012
Josh Jackson is a contributor to MiLB.com. This story was not subject to the approval of the National Association of Professional Baseball Leagues or its clubs.
View More