Cal League selling caps for a cause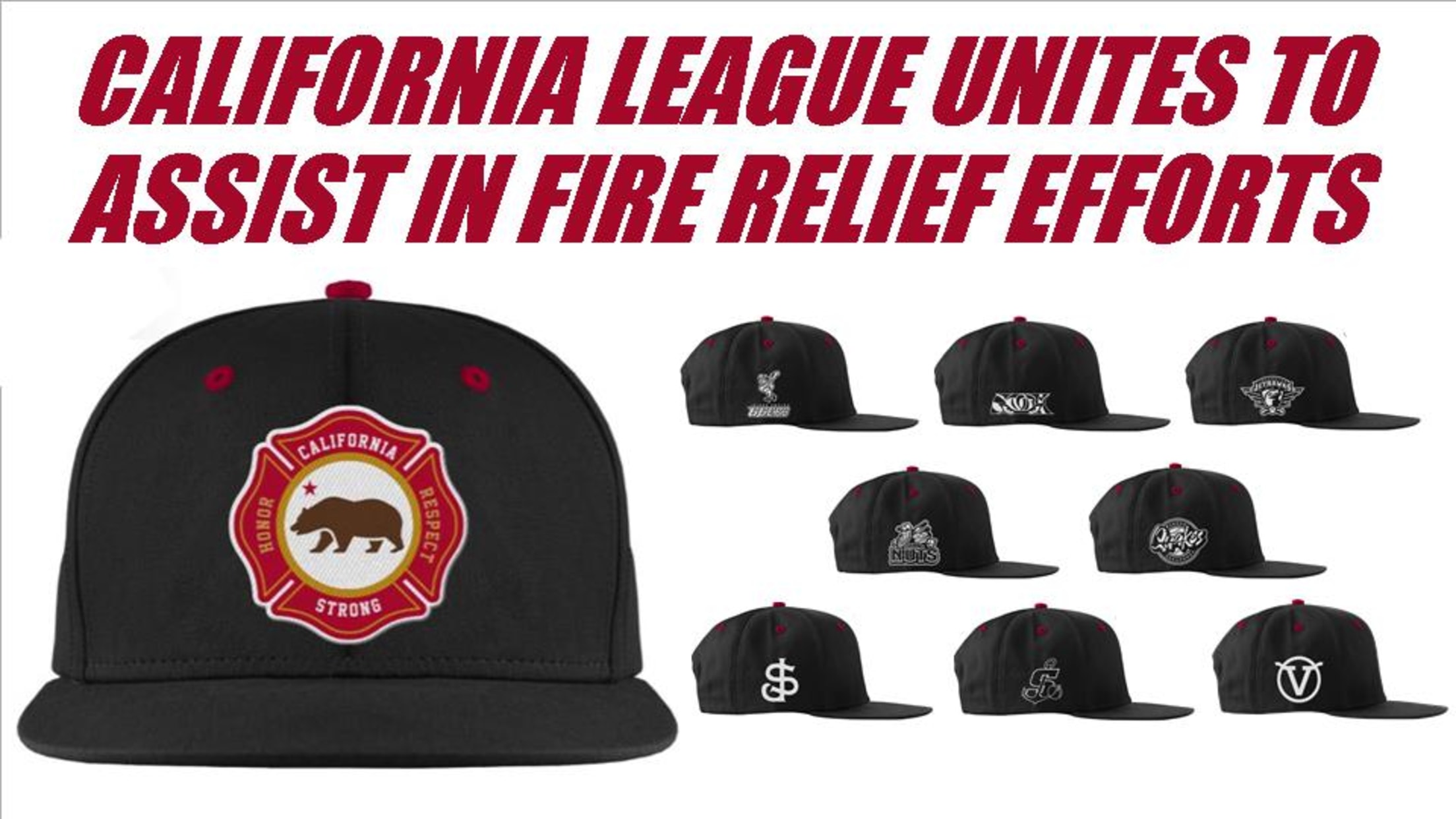 OXNARD, Calif. -- As California begins its slow recovery process after some of the most deadliest and destructive fires in California history, the baseball teams of the California League have decided to step up to the plate and do their part for the relief efforts.The California League boasts eight teams
OXNARD, Calif. -- As California begins its slow recovery process after some of the most deadliest and destructive fires in California history, the baseball teams of the California League have decided to step up to the plate and do their part for the relief efforts.
The California League boasts eight teams located throughout the state: San Jose, Stockton, Modesto, Visalia, Lancaster, San Bernardino, Rancho Cucamonga, and Lake Elsinore. Each team will be producing their own logoed cap with a firefighter theme, produced by Cotapaxi, a custom design and manufacturing corporation located in Commerce, California. These custom caps will only be available for a limited time from each team and can be purchased for $20. Net proceeds from these sales will be donated to support the disaster relief efforts as we enter this holiday season.
"Minor League Baseball is all about being involved with our local communities. These fires have affected everyone in the state, and we all want to do our part to help out as much as we can" stated California League president Charlie Blaney.
If you would like to purchase one of these caps, you can contact each team individually via their respective websites:
www.66ers.com
www.stormbaseball.com
www.jethawks.com
www.modestonuts.com
www.rcquakes.com
www.sjgiants.com
www.stocktonports.com
www.rawhidebaseball.com
The California League was founded in 1941 by a combination of Major League and Pacific Coast League clubs. The league has eight teams and plays a 140‐game season starting in April, with the regular season wrapping up on Labor Day. Over the years, the California League has produced 19 Hall of Famers, 19 MVP winners, 21 Cy Young Award recipients and 35 Rookie of the Year award winners. The California League has become the premier Class "A" League in Minor League Baseball.
See today's Minor League stars on their way to becoming tomorrow's Major League legends taking the field for the Inland Empire 66ers, Lake Elsinore Storm, Lancaster JetHawks, Modesto Nuts, Rancho Cucamonga Quakes, San Jose Giants, Stockton Ports and Visalia Rawhide.