JetHawks' Hill gets back on bump in style
Rockies prospect hurls five hitless frames after missing 2017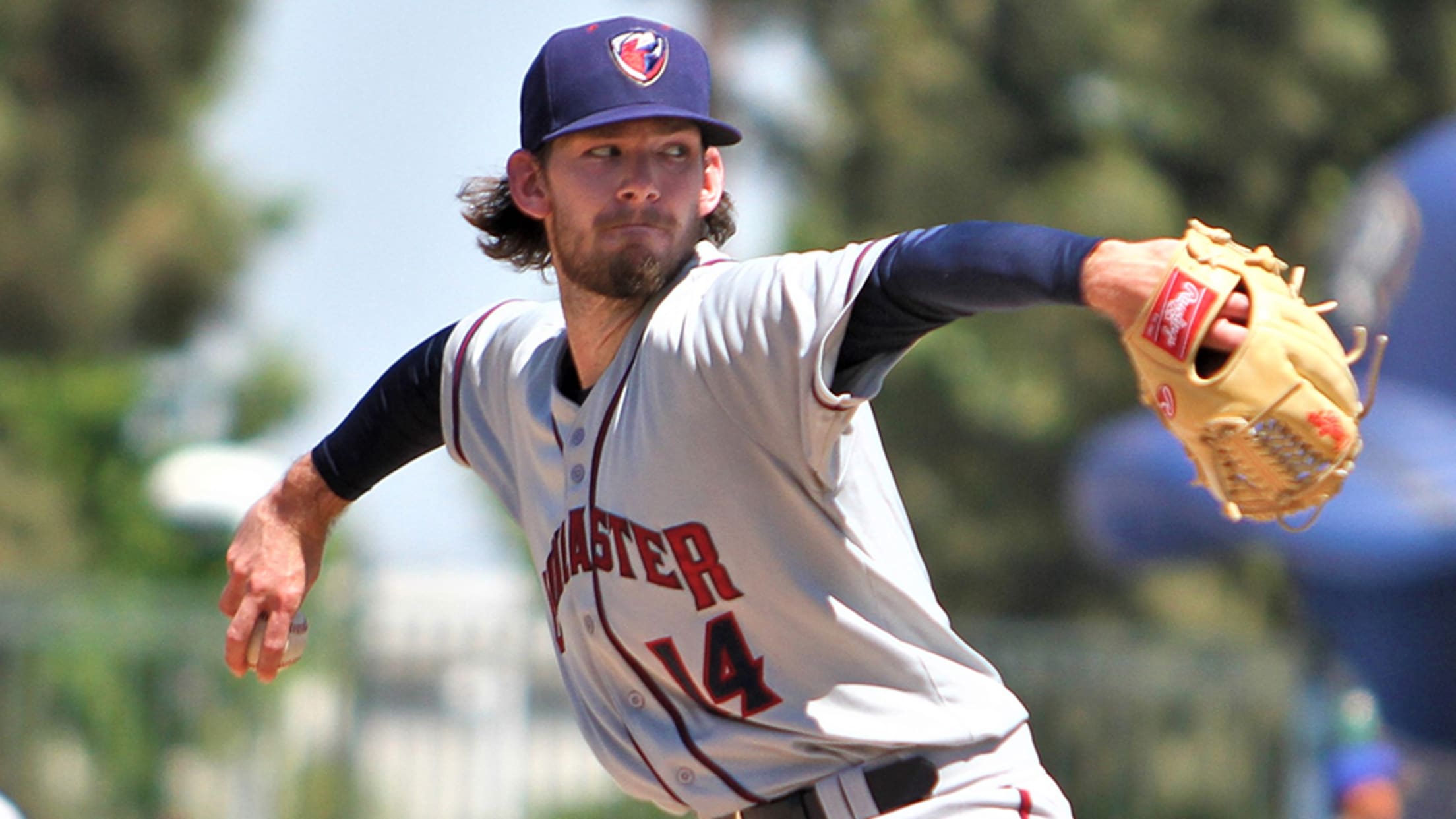 David Hill returned to the mound in a game that counted for the first time since June 26, 2016. (Jerry Espinoza/MiLB.com)
At one point, David Hill wasn't concerned about whether he'd play baseball again. He just wanted to hold his nephew in his arms. Turns out, he got to do both.In his first outing since June 26, 2016, the Rockies right-hander tossed five hitless innings Sunday as Class A Advanced Lancaster
At one point, David Hill wasn't concerned about whether he'd play baseball again. He just wanted to hold his nephew in his arms. Turns out, he got to do both.
In his first outing since June 26, 2016, the Rockies right-hander tossed five hitless innings Sunday as Class A Advanced Lancaster held on for a 3-2 victory over Rancho Cucamonga at LoanMart Field.
Gameday box score
Hill had two solid years of pro ball after the Rockies selected him in the fourth round of the 2015 Draft. But his seeming emergence was cut short when he needed surgery to combat thoracic outlet syndrome. The procedure and ensuing rehabilitation sidelined him for the remainder of the 2016 season and all of 2017. He returned this spring, pitching in extended spring training in Arizona until his assignment to Lancaster.
He admitted there were times he did not think he'd play ball again.
"For sure. When my nephew, Dominic, was born, I couldn't even hold him," he said. "I had neck surgery and there was nerve damage. Then last June they were thinking of re-operating on my neck, and I wasn't even thinking about baseball. Then, all the way to October, my nephew was born and I couldn't hold him. Now I can finally hold him and it just so happens he took his first steps on the field. It's a good bookmark for me."
There are three types of thoracic outlet syndrome, and arterial -- the one that most famously affected former Met Matt Harvey -- is the easiest one to come back from, Hill said.
But Hill had Neurogenic TOS, meaning his nerves were compressed and he couldn't lift his arm for six months. He believes throwing a baseball likely played a part in at least exacerbating the condition.
"I think so," he said. "Years of pitching, the overhead motion. If you just Google [thoracic outlet syndrome], you see how it works. But this is interesting -- my mom had it, my godmother had it, my twin brother had it, although he had arterial.
"So, yes, there are obvious tendencies in my family, but I do believe baseball contributed."
Hill had surgery in November 2016 and his brother, Jacob, was operated on five months later.
Jacob Hill, a lefthander, went 11-0 at Orange Coast Community College in California, which he attended at the same time as David. Both Jacob and David transferred to the University of San Diego, but while David thrived and gained the Rockies' attention, Jacob couldn't feel the ball.
Jacob walked almost as many batters as innings he pitched before the surgery. He was ready to quit.
"We had radically different recoveries," David said. "I didn't even remember the day [I was operated on] because I was in so much pain. He had the surgery and said, 'I'm healed.' I was jealous."
Coincidentally, David's brother just returned to the mound for the Martinez Clippers in the indepedent Pacific Association of Professional Baseball Clubs.
David Hill had a circuitous route to pro ball. The Whittier, California, native was drafted in the 17th round by the Phillies in 2012 but decided to attend Long Beach State, where he pitched on the same staff as his older brother, Michael. He transferred to Orange Coast Community College and then the University of San Diego, where he was 9-3 with a 2.33 ERA in 14 starts in 2015. He struck out 115 and walked 35 over 100 innings, drawing the interest of the Rockies, who drafted him in the fourth round and signed him for $550,000.
The 24-year-old, whose brother, John, played in the Phillies organization from 2011-12, pitched 23 innings in his pro debut in 2015. He looked strong in his first full season at Class A Asheville, going 4-4 with a 4.48 ERA but displaying the command that interested Colorado in the first place. He struck out 82 and walked 14 while giving up 95 hits over 82 1/3 innings.
Still, he knew something wasn't right.
"Once I saw the specialist, he helped me trace it back," Hill said. "I felt it in my freshman year in college, but I thought this was normal pain. In 2016, I was in so much pain, I faked two hamstring injuries just to get off the mound. I couldn't lift my arm up. I was pitching decently well, so that's why my stuff looked fine. But I didn't know what was going on. After the first start of the year, that was the most pain I was in in my life. In the bullpen, I was throwing 30 mph. I had no strength, but I just couldn't put my finger on it."
Finally healthy -- and pitching on 707 days' rest -- Hill wasn't just strong in his return to the mound, he was dominant.
"It didn't feel like rest, I tell you that," he said with a laugh. "These next four days will. But it was weird. It was awesome, but it definitely felt weird."
Hill was a little rusty in the early going. He plunked leadoff man Zach McKinstry and walked Rylan Bannon. But he promptly fanned Cristian Santana, sixth-ranked Dodgers prospect Jeren Kendall and Logan Landon to escape the jam unscathed.
"I thought they were going to yank me after the first two guys," Hill said. "But after everything I've been through -- I didn't know if I was going to play ball again -- so when [pitching coach Dave] Burba came out, I was just calm. I just had this feeling of, 'This is just cool to be here,' so I settled back in, dialed back in to what I had gone through and I said, 'This was nothing.'"
Hill retired the next 12 batters before with eight strikeouts, which tied his career high.
"It's crazy that I get to play baseball again," he said.
Rockies farm director Zach Wilson said Hill's return was a testament to the player and also the organization's medical staff and pitching coaches.
"No. 1, it speaks to the kid, the work he's put in, the mentality that he's stuck with and preserved through almost two years of being on the shelf," Wilson said. "Not only through the surgery but also not being able to throw and not feeling good.
"To see him being able to get through that, it was very impressive, and we are very proud."
Right-hander Heath Holder carried the no-hitter into the seventh, but it ended in the eighth. Bryan Baker issued a leadoff walk to Cody Thomas, then allowed a two-run homer to former JetHawk Hamlet Marte to break up the no-hit bid and the shutout. Following consecutive walks, Baker exited in favor of Justin Lawrence, who loaded the bases on a single by 13th-ranked Cristian Santana. The righty struck out Kendall and Landon to end the inning and worked a scoreless ninth for his fourth save.
The JetHawks got a jump-start on offense when Roberto Ramos hit a two-run homer off Andrew Sopko (3-4) in the first. It was his California League-leading 14th homer. They added what ended up as the decisive run in the fourth when 29th-ranked Vince Fernandez tripled and scored on a ground ball by No. 27 prospect Willie Abreu.
At his best, scouts say Hill has a 90- to 94-mph fastball with late life and a curveball that is still developing but shows promise. His strike-throwing ability is considered his biggest weapon.
Vince Lara-Cinisomo is a contributor to MiLB.com. Follow him on Twitter @vincelara.