Prospect Q&A: Nottingham breaks out
Catcher stays hot at plate amid promotion, trade from Astros to A's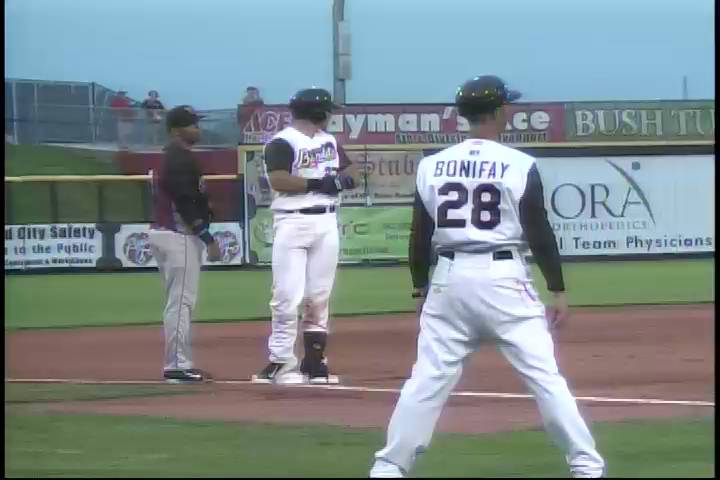 By Kelsie Heneghan / MiLB.com | January 7, 2016 10:00 AM ET
After two seasons in Rookie ball in the Astros system, Jacob Nottingham was ready to move on. And move on, he did.
First to Class A Quad Cities to start the 2015 season, then to Class A Advanced Lancaster for his first midseason promotion. After hitting 326/.383/.558 with 14 homers and 60 RBIs in 76 games, Nottingham's stock was rising and the A's took notice. On July 23, Oakland acquired the 20-year-old catcher and right-hander Daniel Mengden from Houston for veteran southpaw Scott Kazmir.
On the most basic level, Nottingham and Mengden just switched clubhouses as Lancaster was playing their new team, Stockton, that night. With a new organization, a new California League team and a new mentor in A's No. 5 prospect Matt Chapman, Nottingham was able to remain productive through the end of the season with 17 homers and a .316 average.
"I just try to be the same player I am with the Astros and then just moving on," he said. "I didn't change, I did everything the same."
After his first offseason hitting session, the A's eighth-ranked prospect talked about his big year.
MiLB.com: Now that you've had time to process it, what was the season like for you overall?
Nottingham: This year was great, I can't complain. I was with amazing guys all year from different teams. I had a fun time. I was truly blessed to have the season that I had and I'm just looking forward to another great season.
MiLB.com: What was your mentality last offseason as you entered the 2015 campaign?
Nottingham: My goal out of Spring Training was to make a full-season team and try to be the best player that I can and work as hard as I can in Spring Training. ... I worked with Chimmy, [Joel Chimelis], one of our hitting coaches [in Quad Cities], and he just really helped me. He's helped me so much this year, just simplifying everything. I feel like he and I just had a super-good connection and he's just helped me a lot this year.
MiLB.com: You got off to a strong start with Quad Cities -- two homers in the first week and your average kept climbing. How'd it feel to get off to such a great start?
Nottingham: It was good. It kind of just makes you relax. Everything is going good, you're not trying to do too much and you just believe in yourself and everything just falls into place. If things start going south, you just think about what you did in the past and what you were working on and try to lock back in the game. I felt like that was one of the things that helped me. ... If I started feeling weird or something wasn't right, we'd go back in [the cage] and just work on it until I felt good again, and everything just clicked again.
MiLB.com: What were you thinking when you found out you were going to be promoted to Lancaster?
Nottingham: I was excited -- you're moving up, you're one step closer to your dream. I know a lot of guys that were in Lancaster started off in Quad Cities with me, so it's kind of a good feeling to get back with old teammates. So it was an easy transition. I'm from Redlands, [California], so it was close to home. It was really exciting having my family come out and get to watch me play. ... They didn't miss one game.
---
Q: What do you think is the hardest thing you've had to overcome in your career so far?
A: Failure.
-- Jacob Nottingham
---
MiLB.com: You were only with Lancaster for 17 days, but what was that experience like?
Nottingham: It was awesome. The team was great, great group of guys, good coaching staff, it was just fun to be around everyone. Obviously, being able to play in front of my friends and family was awesome because they haven't really seen me play since high school, so it was a fun time.
MiLB.com: What was it like when you learned you were traded?
Nottingham: I was a little upset, just because of all the friendships I built with the Houston Astros. I was upset, but at the same time I was happy. I still get to play baseball and the A's obviously saw something in me, which is great. But I'm still thankful for everything the Astros have done for me and giving me the opportunity out of high school to be a professional baseball player.
MiLB.com: How was it adjusting to Stockton and the A's organization?
Nottingham: Honestly, it wasn't that hard. When I got traded over, the team was very welcoming; I think we hit it off from the start. They took me under their wing and showed me the way and were super nice. It kind of felt like I was already on the team before I even played a game with them.
MiLB.com: That must've been really helpful as you were going through so many changes.
Nottingham: Exactly. It was good. It was still kind of weird playing against Lancaster because I was just with those guys and now they're my opponent, which was funny, but the guys in Stockton, they're great. I had such a fun time with them for the rest of the year.
The trade from the Astros to the Athletics is official. From one clubhouse to the other #WalkofTrade ⚾️ pic.twitter.com/rcE2nQTpY4

- Taylor Rhoades (@T_Rhoades1) July 23, 2015
MiLB.com: How did you keep the success at the plate going amid all the moves?
Nottingham: I was just trying to keep doing what I was doing. When I got traded over, it was hard because I didn't know the coaches at first, so I just stuck with my routine and showed them what I do. So they helped me and worked with me. I mean, I'm open, I'm not too hard to work with. So it was an easy transition and everything was great. It was fun.
MiLB.com: You're mainly a catcher but spent some time at first base. Which do you prefer? Why?
Nottingham: I prefer being behind the plate. I've been a catcher my whole life. First base was fun, but catching is what I love and what I want to do. ... Just being in every play. You always got to be in the game and everyone kind of looks to you because you see everything. I like being a leader. And like I said, you're in every pitch and kind of control things on the field.
MiLB.com: Along with your hitting, your catching improved last season. What part of your game do you feel you need to work on the most?
Nottingham: I'd probably say receiving and throwing. Blocking is a natural reaction to me, I feel like. And just focusing on receiving better pitches and trying to get more pitches for my pitchers and just try to be smoother doing it. And, obviously, just working on my footwork, I feel like that was big. If everything is going well with my lower half, then I'm pretty lined up and just have to make a good throw.
MiLB.com: Because it was such a great year, you were voted the fans' choice for breakout prospect MiLBY. What does that mean?
Nottingham: It's awesome. It's a big honor and I'm just happy that people think of me that way. I really don't know how to answer that without -- I'm blessed to be able to get that award and just be recognized by all the fans.
MiLB.com: Coming out of high school, you had to decide between playing football at the University of Arizona, baseball at the University of Oklahoma or signing with the Astros.
Nottingham: I knew I wanted to play professional baseball and I felt like I was ready. Obviously, it was going to be a big adjustment from high school to professional, but I just felt like I was ready to start my professional career and just took that road. I'm truly blessed that the Houston Astros gave me the opportunity to have my dreams come true. ... I don't regret my decision. College is probably a really good experience, but I'm happy with my decision.
MiLB.com: What do you think is the hardest thing you've had to overcome in your career so far?
Nottingham: Failure. In high school, things weren't as hard, but in pro ball, everyone's really good at baseball and you're not going to succeed as much as you did in high school. So learning that just because you didn't get a hit, things are going to be all right, there's still another day, you're going to play another game. Just overcoming failure, which I feel like I've come a long ways in doing.
MiLB.com: Has it gotten easier to bounce back from a tough game?
Nottingham: Oh, yeah. This is my third year, so when things aren't going right, just have to keep battling and get through it because you're going to play the next day and the next day after that. So you kind of just try to snap out of it and have fun.
Kelsie Heneghan is a contributor to MiLB.com. Follow her on Twitter @Kelsie_Heneghan. This story was not subject to the approval of the National Association of Professional Baseball Leagues or its clubs.
View More