Bailey nearly unhittable for Buies Creek
Astros No. 28 prospect allows one hit in career-best eight frames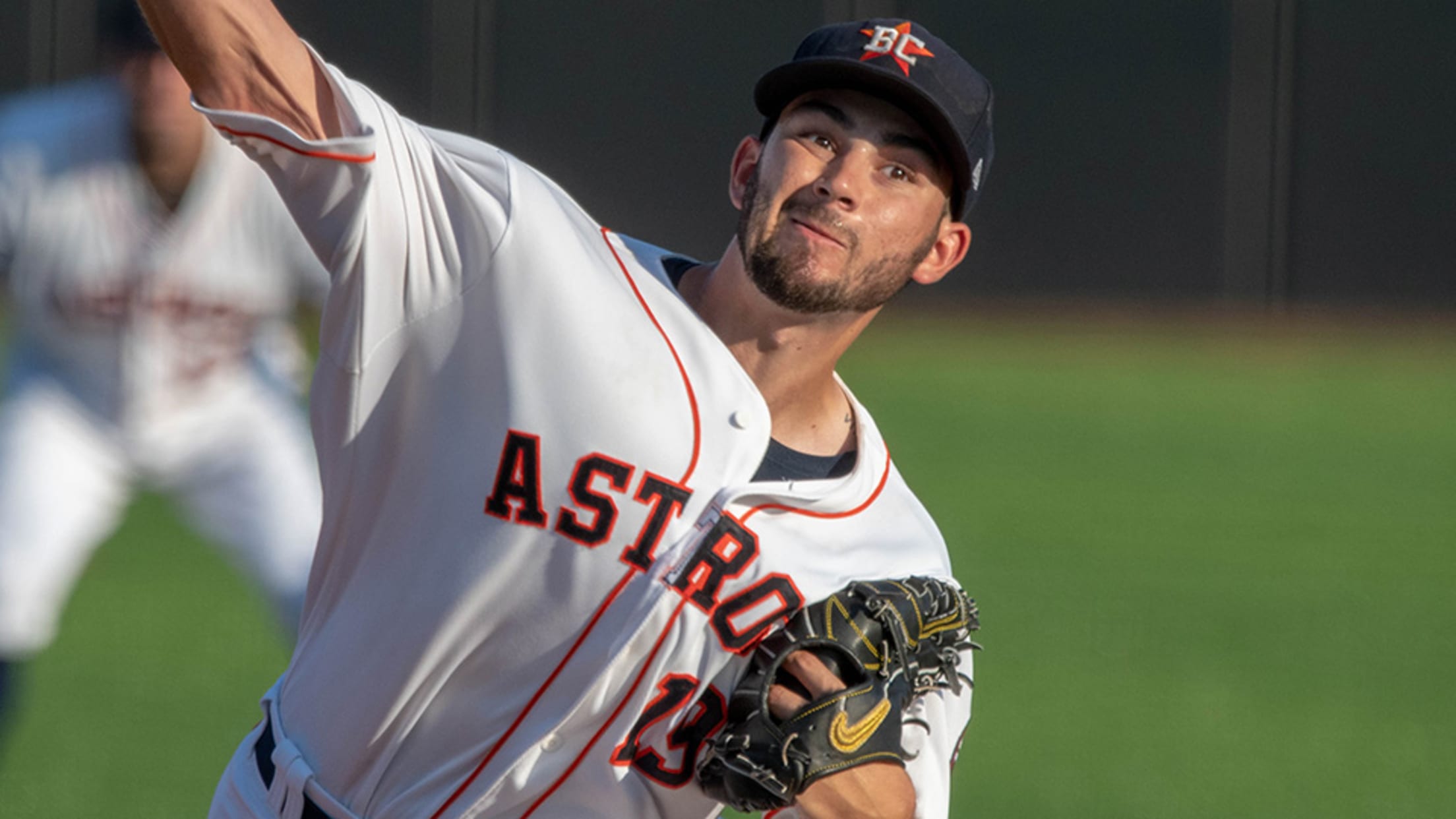 Brandon Bailey's 2.49 ERA stands third in the Carolina League this season. (Joseph Dwyer/MiLB.com)
Since coming over to the Astros this season, Brandon Bailey generally expects to piggyback with his fellow Class A Advanced Buies Creek starters to limit innings. But when given the opportunity to pitch an extended outing, Houston's No. 28 prospect has made the most of his chance to shine.Bailey carried a
Since coming over to the Astros this season, Brandon Bailey generally expects to piggyback with his fellow Class A Advanced Buies Creek starters to limit innings. But when given the opportunity to pitch an extended outing, Houston's No. 28 prospect has made the most of his chance to shine.
Bailey carried a no-hit bid into the eighth inning, eventually allowing one hit and one walk while whiffing eight over a career-best eight innings, but Buies Creek dropped a 2-1 decision to Wilmington at Jim Perry Stadium. It marked Bailey's fifth consecutive start without allowing a run.
Gameday box score
Knowing there would be six right-handed hitters facing him, Bailey and the staff developed a gameplan to use the changeup more in an effort to keep the opposition guessing. The hurler said he has drawn inspiration from All-Stars Max Scherzer and Jacob deGrom and their use of the changeup.
"Just being able to show my changeup kind of helped keep them off my fastball when I was trying to go away," Bailey said. "When I went inside, I was able to throw some quality fastballs up and in. Both breaking balls were working great. When I was behind in counts, I felt comfortable using all three of my off-speed pitches to get back in the count.
"You can see how [the changeup] really opens up the strike zone to your other off-speed pitches and fastball. So that's kind of something I'm definitely trying to emulate and work on every time I go out."
Since allowing two runs against Carolina on June 30, the right-hander has strung together 31 2/3 scoreless frames dating back to the start of July. Over his last six outings, he has tallied 33 strikeouts while allowing just 15 hits. In the middle of this run, the 23-year-old twirled five hitless innings against Salem on July 18.
It's been a season-long process to get to this point, Bailey says, as moving from the Astros from the Athletics in the offseason led to some major changes in his pitches and his delivery. The starter has emphasized improving his mechanics out the of the stretch while finding better grips with his off-speed pitches, namely his curveball and slider. Toward the end of June after making continual adjustments with his slider, he finally found a grip to his liking that has paid dividends over the last stretch.
There are improvements to strive for, but he's pleased with the progression he's made with Buies Creek pitching coach Drew French.
"In Spring Training, I had a conversation with my pitching coordinators [Josh Miller and Chris Holt] and my pitching coach ... and we decided that for me to reach the potential that I want to get to, we needed to make a change," Bailey said. "We started off with the curveball because they felt that was going to be the biggest change, and once the season started, we got a feel for what my slider was doing. Once the curveball was coming along, we started toying with some grips with the slider."
Bailey threw 63 of 93 pitches for strikes while facing just two over the minimum Wednesday. The 23-year-old set down the first five Blue Rocks before issuing a two-out free pass in the second inning to Travis Jones, who took second on a steal. Pitching out of the stretch proved no issue for Bailey, as he fanned Vance Vizcaino to end the frame.
The 2016 sixth-round pick settled in by retiring 18 batters in a row, with the ball leaving the infield only five times on flyouts. Right around the sixth, Bailey realized he still had a no-no intact. He said he thought back to some experiences from his sophomore season at Gonzaga University when he came close to completing the feat, but wasn't going to get caught up in the moment and change his gameplan.
He pitched a perfect seventh and set down the first two in the eighth before Wilmington broke through with an infield single from Vizcaino. He was left stranded when Bailey induced an inning-ending groundout to second by No. 21 Royals prospectBrewer Hicklen.
Bailey didn't etch his name in the history book on this occasion, but he took solace in the fact that he threw quality pitches from the jump. Keeping composed out of the stretch and holding runners at bay are things that the Colorado native has been seeking to improve, so to get good results in those areas felt like another step in a positive directio for him. Keeping the bullpen a little more fresh was an added bonus.
"After we go through one piggyback rotation, each guy gets their own game," Bailey said. "So when it comes around that it's our turn for our own game, we definitely take pride in that and give the bullpen a little rest when we can. You ... show what you can do because it's your game and you're not sharing a game between two starters."
In completing the longest start of his three-year career, he reduced his ERA to 2.49 -- the lowest mark it's been since April 8 (1.69).
Wilmington rallied for two runs in the ninth for the victory. No. 16 Royals prospect Emmanuel Rivera provided the go-ahead RBI with a sacrifice fly.
Andrew Battifarano is a contributor to MiLB.com. Follow him on Twitter, @AndrewAtBatt.