Astros walk off with Mills Cup title
Arauz plates winning run with sac fly in one-game Final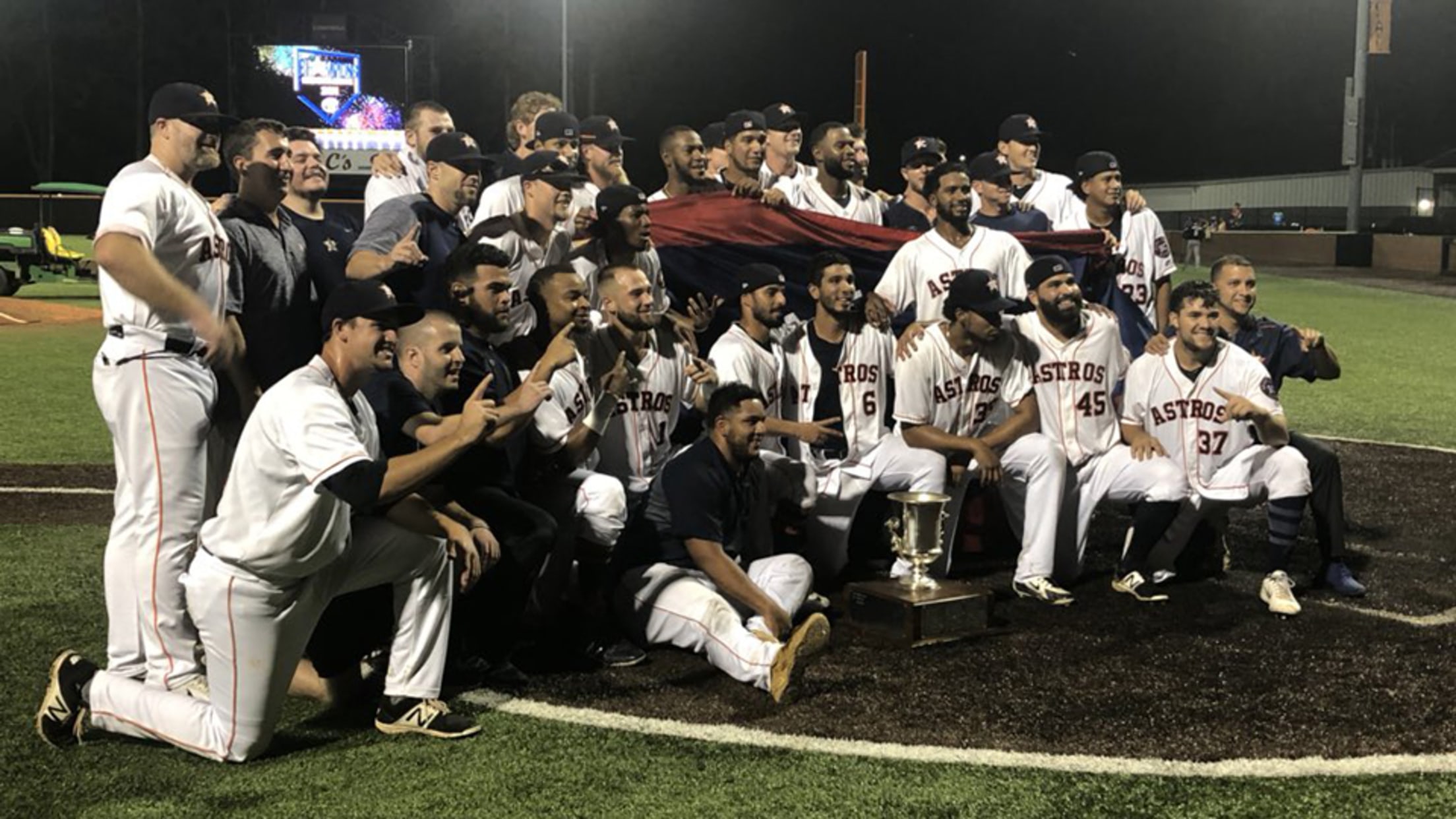 Hurricane Florence forced the Carolina League to condense the Mills Cup Finals to one game. (Buies Creek Astros)
BUIES CREEK, N.C. -- It hasn't always been convenient for Buies Creek to play in its temporary home, but there was a reward at the end."I'm glad we could bring a championship to 'The Creek,'" Astros catcher Chuckie Robinson said after scoring the winning run on Jonathan Arauz's 11th-inning sacrifice
BUIES CREEK, N.C. -- It hasn't always been convenient for Buies Creek to play in its temporary home, but there was a reward at the end.
"I'm glad we could bring a championship to 'The Creek,'" Astros catcher Chuckie Robinson said after scoring the winning run on Jonathan Arauz's 11th-inning sacrifice fly to cap the Carolina League season.
Buies Creek outlasted Potomac, 2-1, in 11 innings on Tuesday at Jim Perry Stadium in the only game of the restructured Mills Cup Final as Hurricane Florence bore down on the region.
Gameday box score
Astros manager Morgan Ensberg found about the one-game setup just a couple of hours before Tuesday's first pitch.
"I really debated whether to tell the players. Obviously, they were amped up," he said. "I'm just thankful that the players will be able to get out safely."
Tuesday's championship brought an end to a two-year arrangement for the Astros to play on the campus of Campbell University. Next year, the team will bear a different name and move into a new ballpark some 35 miles away in Fayetteville, North Carolina. Ensberg praised Campbell baseball coach Justin Haire and the school's staff for the accommodations. In turn, the Astros brought a title.
"You're happy to do this for the fans who come out," Astros first baseman Jake Adams said. "Fifteen, 30 people, whatever it is. … We found a way to get it done."
Buies Creek loaded the bases in the 11th with one out. Robinson opened the inning with an infield single and took second on Adams' base hit, then easily beat center fielder Nick Banks' throw to the plate on Arauz's fly ball. A few dozen spectators were on hand for Tuesday night's game, which was delayed about a half-hour by a pregame shower.
"There's a hurricane coming, that's all everyone was talking about," Robinson said. "Once we knew we were going to play only one [game], I think everyone was really pumped up."
• Complete postseason coverage »
Astros starter Bryan Abreu yielded one hit and one walk with five strikeouts over four scoreless innings. Buies Creek rounded out an undefeated postseason after sweeping the best-of-3 semifinal series from Winston-Salem.
"To get a chance to win a championship is so fun. It's the best," Ensberg said. "We're 100 percent development in the season. The byproduct of that is there is winning."
Adams clobbered Jeremy McKinney's first pitch in the eighth inning over the left field fence with two outs to tie the game at 1-1.
"We're a team that always puts up runs late," Adams said. "It just took a home run to give us a spark."
The Nationals scored in the fifth on Banks' double that just squeezed past Adams down the right field line, scoring Andruw Monasterio from first base. Potomac failed to cash in after loading the bases in the ninth.
Potomac starter Joan Baez yielded three hits and three walks with six strikeouts over 4 2/3 scoreless frames.
Carolina League president Geoff Lassiter, who consulted with farm directors of both teams, said the decision was a matter of player safety after the series concluded amid potential travel concerns.
"Would we even finish the series and would we get our players home?" Lassiter said, adding it was good to determine a champion.
The league has had co-champions only twice since 1945, including last year, when threatening weather from Hurricane Irma forced Down East and Lynchburg to share the Mills Cup title.
Bob Sutton is a contributor to MiLB.com.