Caratini helps Pelicans lock up Finals berth
Cubs No. 22 prospect's early three-run double sparks Game 3 victory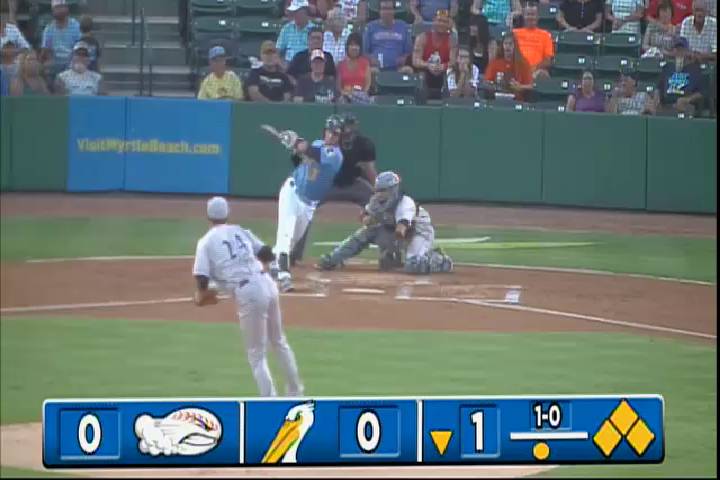 By Alex Kraft / MiLB.com | September 12, 2015 12:35 AM
With one swing, Victor Caratini helped launch the Pelicans to a berth in the Mills Cup Finals.
The Cubs' No. 22 prospect drove in three runs with a first-inning double Friday as Myrtle Beach held on to defeat visiting Winston-Salem, 4-3, in the decisive third game of the Carolina League semifinals.
The Pelicans loaded the bases in the opening frame against Dash starter Brandon Brennan (0-1) on a single by Chesny Young, a double by rehabbing big leaguer Jorge Soler and a walk by Jason Vosler. With one out, Caratini's plan was simple.
"I was looking for something I could drive," he said through pitching coach David Rosario, who served as interpreter. "I was trying to be selective and get a good pitch early in the count, something that I could drive."
The 22-year-old pulled a ground ball down the right field line for a bases-clearing double.
"That was huge to be able to be ahead because that allowed [starting pitcher Jonathan] Martinez to be a little more comfortable and gave him some room to pitch and even to make a mistake," Caratini said.
Brennan settled in and retired 15 of the next 17 batters he faced, while No. 17 White Sox prospect Adam Engel hit a two-run homer in the third that got Winston-Salem within 3-2.
Engel's dinger was the only damage against Martinez (1-0), who scattered five hits over six innings and struck otu three without issuing a walk. He impressed his catcher with his control.
"He was able to throw strikes, command the strike zone with all of his pitches and was able to locate and mix sequences the way he usually does," Caratini said of his batterymate. "Thank God he was able to do it one more time for us."
Myrtle Beach added an insurance run in the seventh when Young plated top Cubs prospect Gleyber Torres with a single to right.
Winston-Salem threatened in the ninth against David Garner after a double by White Sox' No. 6 prospect Trey Michalczewski put runners at second and third with one out. The right-hander gave up an RBI grounder to Keon Barnum but got Nick Basto to ground out to short to notch the save.
The win completed a comeback for the Pelicans, who recorded back-to-back one-run victories after dropping the series opener in Winston-Salem.
"The energy definitely came back," Caratini said. "We got behind losing that first game, but we were able to recover and get two big, close victories. We definitely feel that we're in a good position to win it all at the end going into the final playoffs. The energy is pretty good right now."
Game 1 of the Mills Cup Finals is Sunday.
In other Carolina League playoff action:
Wilmington 4, Lynchburg 3
Jack Lopez smacked a tiebreaking two-run homer in the eighth inning and the Blue Rocks completed a two-game sweep of the Hillcats. Lynchburg leadoff man Carlos Garcia helped erase an early 2-0 deficit with a two-run single in the fifth and Ashton Goudeau (1-0) held the Hillcats scoreless for 2 2/3 innings in relief of starter Matthew Strahm, allowing one hit and fanning two. Gameday box score
Alex Kraft is a contributor to MiLB.com. This story was not subject to the approval of the National Association of Professional Baseball Leagues or its clubs.
View More