On the Road: Keys' Katz talks Classic, cleats
After success with Team Israel, left-hander traded to O's for slots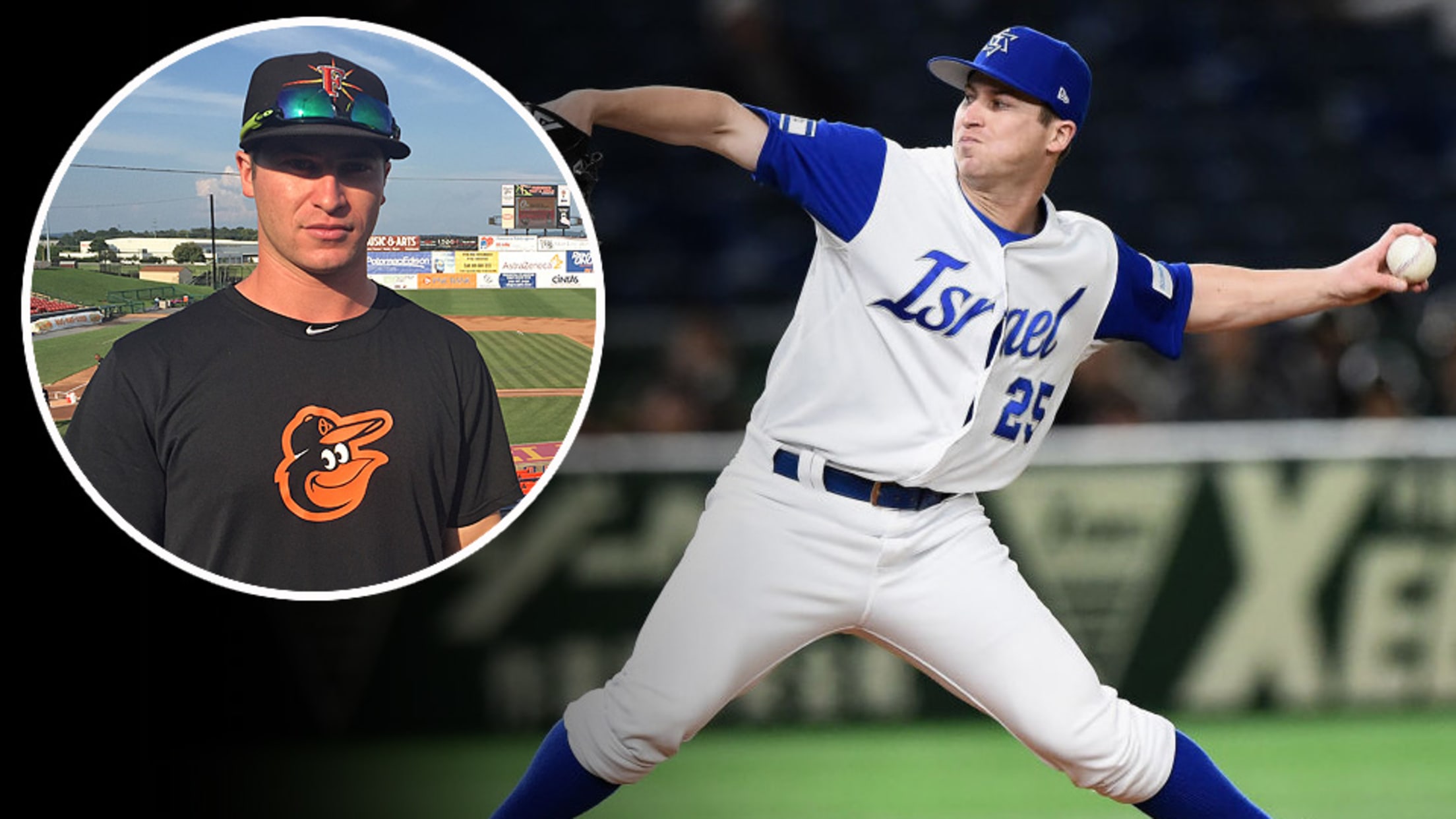 After pitching in the 2017 WBC, Alex Katz was dealt by the White Sox for international signing bonus slots. (Matt Roberts/Getty Images)
Alex Katz, currently pitching out of the Frederick Keys' bullpen, is just two years removed from his professional debut. But it's been an eventful two years, encompassing entrepreneurial endeavors and multiple varieties of international intrigue.
Alex Katz, currently pitching out of the Frederick Keys' bullpen, is just two years removed from his professional debut. But it's been an eventful two years, encompassing entrepreneurial endeavors and multiple varieties of international intrigue.
Katz, a 22-year-old southpaw, was born in Long Island, New York, and went on to attend St. John's University. His comparatively small stature -- Katz is listed, perhaps generously, at 5-foot-11 -- was never something he considered to be a detriment.
"I always knew I had a strong arm," said Katz, who grew up as a Billy Wagner-idolizing New York Mets fan. "But not until the end of high school, when I started seeing scouts coming to games, did I realize I could continue playing into the professional ranks…. Thank God I'm a lefty. Being a lefty definitely helps, as you don't have to be as tall or throw as hard."
The Chicago White Sox drafted him in the 27th round of the 2015 Draft, and he made his professional debut that summer. 2016 was spent primarily with the Class A Kannapolis Intimidators, where he struck out 50 batters over 49 2/3 innings en route to a 3.30 ERA. The subsequent offseason would be an eventful one. Katz pitched for Team Israel in the 2017 World Baseball Classic, an opportunity he'd long dreamed about.
"[Team Israel] was actually in the [World Baseball Classic] qualifiers in Jupiter, Florida in 2012. They were trying to qualify for the 2013 World Baseball Classic," said Katz. "I was only a freshman in college at St. John's at that point. I emailed the president of the Israel Baseball Association and said, 'I don't know how the process works. I know there aren't many Jewish professional baseball players. Am I able to play even though I'm in college?' And he said, 'That might be a conflict of interest with the NCAA, but we'll definitely follow you throughout your career, and when the next one comes around we'll get back in touch.'"
Indeed they did, during the tail end of Katz's 2016 campaign.
"Literally the second I saw that, I responded 'Yes, I'd love to play' and I ended up playing in the qualifiers [at Brooklyn's MCU Park]. We won all three games, and then I was invited to come back for the main tournament in March, which was definitely a thrill -- definitely one of the greatest baseball experiences I've ever had."
2017 Road Trip
Team Israel, overwhelming underdogs as they entered the tournament, quickly became a feel-good story. In the first round, held in Seoul, South Korea, they defeated the third-ranked South Koreans on their home turf as well as fourth-ranked Chinese Taipei and ninth-ranked Netherlands. They then advanced to the second round, held in Tokyo, ultimately finishing sixth in the tournament. Perhaps their success, at least in part, can be attributed to a well-publicized good luck charm.
"Cody Decker, he's in Triple-A with the Mets right now. Very funny guy. Twitter superstar," said Katz, who pitched 3 1/3 scoreless innings in the tournament. "So I guess being a Twitter superstar got him some sort of endorsement. Mensch on the Bench. They gave him a mini [mensch] for qualifiers. The mensch had his own locker in the clubhouse in Brooklyn. And every day we would give it a gift. So one day he got red wine, another day some gelt…. It got a lot of attention. More attention than some of the players on the team."
Katz began the 2017 campaign back in Kannapolis. Approximately five weeks into the season, he was traded to the Baltimore Orioles organization in exchange for two international signing bonus slots. These slots, which give teams more flexibility in signing international talent, were valued at over $750,000.
"It's kind of a cool feeling, because you know that someone wants you. They're investing in you," said Katz, on the sensation of being traded. "I mean, at the same time, you're thinking about a new organization. It can get kind of nerve-wracking for most people. But I just tried to think about the positives, like it's a good opportunity for me. I finished last year in the Carolina League [with Winston-Salem], so [Frederick] is not too big an adjustment.
"Right when I learned I got traded, over the phone, I kind of wondered what for," he continued. "And it wasn't announced until an hour later. I looked on Twitter to see what I was traded for. They traded up two slots worth almost a million dollars, and it ended up saving the White Sox over a million and a half dollars with some of the signings that they had."
Katz is now sporting Orioles orange, and has the shoes to match. He and a friend, Anthony De Lucia, have started the cleat customization service KD Custom Kicks.
Tweet from @KDcustomkicks: Custom @UABaseball cleats for @Orioles prospect and current @FrederickKeys pitcher Alex Katz (@kittyelgato12) #KDCustomKicks #CustomCleats pic.twitter.com/AXaDq2SjdE
Aaron Judge, Clint Frazier. A lot of Minor League guys, some college guys."
Clearly, Katz has had a busy year. So what's next?
"I'm just gonna try to play baseball as long as I can," he said. "That was always my dream growing up, to play baseball. I know I was blessed with a good left arm, so I got to take advantage of that and get the most out of it. I'm definitely enjoying the grind."