Strasburg sharp in first rehab start for P-Nats
Nationals righty allows one run on three hits over five innings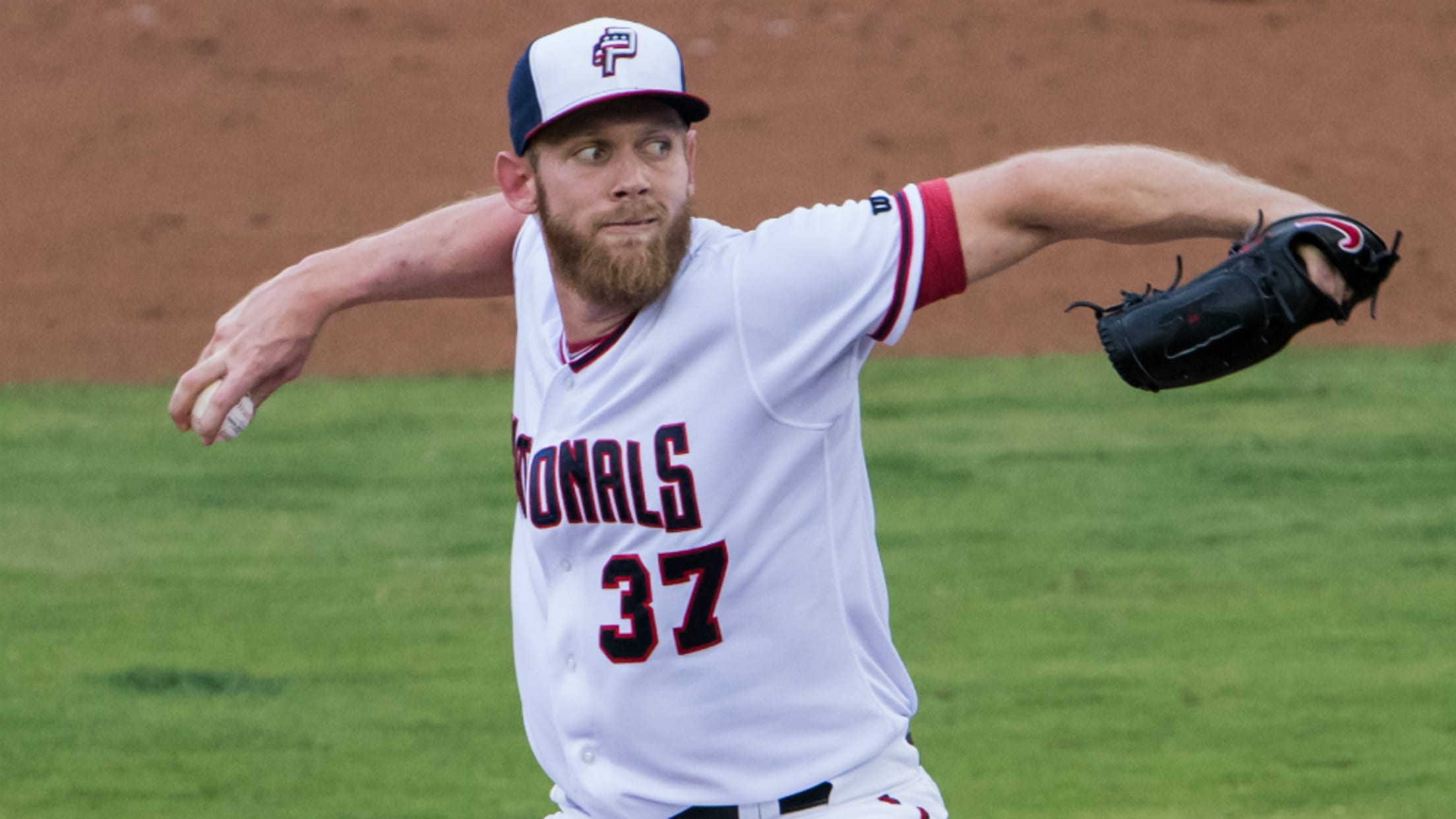 Stephen Strasburg is 79-44 with a 3.18 ERA in 176 Major League starts. (Terrance Williams/MiLB.com)
With Stephen Strasburg on the mound for an injury rehab start, Class A Advanced Potomac manager Tripp Keister welcomed the added excitement at G. Richard Pfitzner Stadium. "It was a Monday night in the Carolina League, this was not your typical home game in the Carolina League," Keister said. "It was
With Stephen Strasburg on the mound for an injury rehab start, Class A Advanced Potomac manager Tripp Keister welcomed the added excitement at G. Richard Pfitzner Stadium.
"It was a Monday night in the Carolina League, this was not your typical home game in the Carolina League," Keister said. "It was a good crowd. Our big league team was off after a good weekend. I think a lot of people knew he was coming, and it was a fun night at the ballpark 20 miles south of our big league stadium."
Throwing in a game for the first time in more than three weeks, the Washington ace allowed one run on three hits and a walk while striking out five over five innings as Potomac topped Salem, 3-2.
On July 23, the right-hander exited after just two innings against Arizona and was placed on the 10-day disabled list four days later with a nerve impingement in his right elbow. Strasburg was 10-3 with a 3.25 ERA and 1.12 WHIP in 20 starts with the Nationals this season.
Box score
"I felt good," Strasburg said at the P-Nats' news conference after the game. "No issues and I felt strong throughout. ... I felt like I was ready to come back before this, but they wanted to be conservative, so hopefully this is enough."
Keister said the eight-year veteran had little rust and quality stuff from the outset.
"He looked good, he looked healthy," the skipper said. "He had some plays that he had to make, some PFPs, so that was good. He competed well and he went the five innings that he was supposed to go. ... It was definitely encouraging to see him move around and get back out there."
Strasburg threw 57 pitches in a simulated game last week before joining the P-Nats. Keister said he logged about 56 pitches Monday and about a dozen more in the bullpen afterward.
"His fastball velocity sat around 95-97 [mph] pretty much the whole game," Keister said. "I know he threw some good curveballs, cutters and changeups -- he mixed it all in. I know he made some really good pitches and his execution was good too."
After allowing two hits through the first two innings, Strasburg encountered trouble in the third. Nick Lovullo drew a leadoff walk before Jeremy Rivera lined a single to left field with one out to put runners on the corners. After Conrad Gregor struck out, Rivera and Lovullo pulled off a successful double steal to give the Red Sox a 1-0 lead. Jose Sermo whiffed to end the frame.
From there, Strasburg retired the final six batters he faced, including two punchouts.
"It was good [for him] to get back into a rehab start and get into a game and not getting thrown right back in the National League East," Keister said. "You're getting back here, back in a game setting, back on a mound, getting comfortable throwing to hitters in a game setting. It was very encouraging.
"He knew what he had to do, he was clearly working on all of his pitches from the jump, so that was good. He made some good pitches and threw some changeups for strikes, threw some curveballs for strikes, threw some fastballs for strikes. I thought he commanded his fastball on both sides at times. He mixed it up, so that was good."
While Strasburg could be in line to pitch this weekend in San Diego, the Nationals have not announced plans for the 29-year-old.
"I do know when these guys come down that are hurt or when they've been on the DL, the big thing is how they feel the next day," Keister said. "And just the length of the day, the competition, they get everything going, whether it be a hitter or a pitcher, they get their juices going. How they feel the next day is a big thing. During the game tonight, he certainly looked comfortable and said that he felt good."
• Get tickets to a P-Nats game »
Washington's No. 23 prospectTaylor Gushue and David Masters both collected two hits and an RBI.
No. 13 Red Sox prospectRoniel Raudes yielded one run on five hits and a walk while striking out six for Salem.
Andrew Battifarano is a contributor to MiLB.com. Follow him on Twitter, @AndrewAtBatt.