"Five County Lager" Coming to Five County Stadium
Carolina Mudcats partner with Mythic Brewing for co-branded beer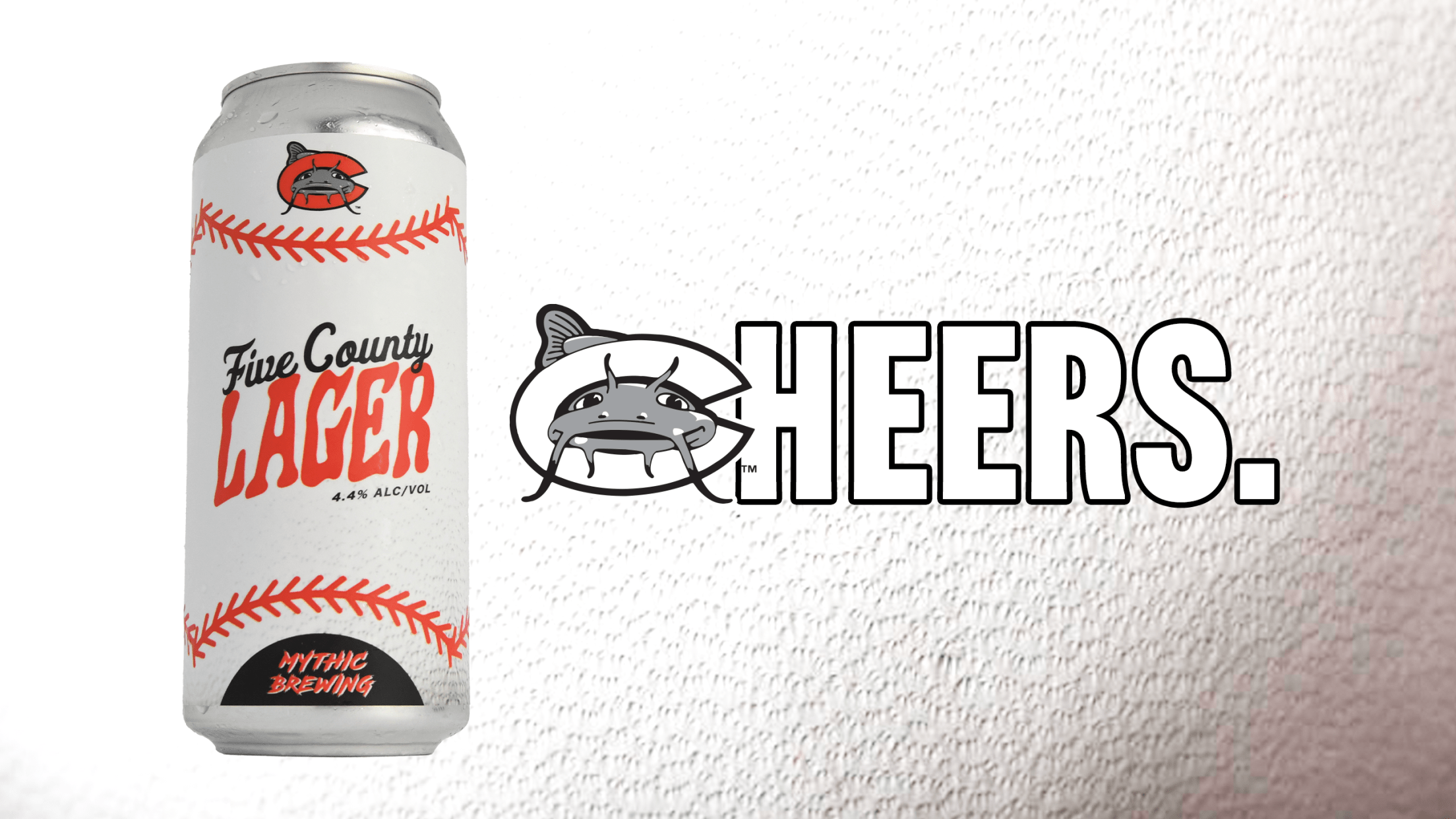 ZEBULON – The Carolina Mudcats and locally owned brewery Mythic Brewing have teamed to introduce "Five County Lager," a new co-branded beer available at Five County Stadium and Mythic Brewing taproom locations in Zebulon and Rocky Mount. Coming in at 4.4% ABV, Five County Lager is a light American lager
ZEBULON – The Carolina Mudcats and locally owned brewery Mythic Brewing have teamed to introduce "Five County Lager," a new co-branded beer available at Five County Stadium and Mythic Brewing taproom locations in Zebulon and Rocky Mount.
Coming in at 4.4% ABV, Five County Lager is a light American lager brewed by Mythic Brewing to be the perfect complement to the Mudcats' game experience. The color scheme and overall can design is inspired by the iconic baseball shaped water tower located outside Five County Stadium.
"We couldn't be happier to be brewing a beer for the Mudcats," said Mythic Brewing owner Chazz Oesch. "When we first rode through Zebulon on a warm sunny day in April in 2019, we thought man; 'I'm thirsty, this town needs a brewery.' So, who better to open one than us? And to make a beer with the Carolina Mudcats, at a ballpark where I once stood on the third base line to receive my little league championship trophy? It's a full circle moment for me."
Five County Lager and other Mythic Brewing beers will be available at Five County Stadium throughout the 2022 season. Five County Lager will also be available at Mythic Brewing taproom locations in Zebulon and Rocky Mount.
"We are thrilled to establish this new partnership with Mythic Brewing," said Carolina Mudcats General Manager David Lawrence. "We've long wanted to add a product like this for our fans and it was important for us to find a local partner like Mythic Brewing for this opportunity."
Five County Lager will be available at the Mythic Brewing kiosk, and select concessions stands at Five County Stadium. This new co-branded beer option will complement traditional ballpark favorites including Miller Lite and Yuengling. Additionally, and back for their fifth straight seasons, local breweries including Deep River and Red Oak will once again be on tap. The Mudcats also recently announced the return of Thirsty Thursday™, with food and drink specials from either 12-ounce Foothills, Sierra Nevada, Corona, or Modelo on select nights.
Opening Night is on Friday, April 8 against the Down East Wood Ducks and will feature post-game fireworks presented by Tryon Family Dentistry and CBS 17 News at Five County Stadium. For the full schedule, visit www.carolinamudcats.com/schedule. Single-game tickets, season ticket packages, and mini plans are all on sale now at www.carolinamudcats.com, (919) 269-CATS (2287), and the Five County Stadium front office in Zebulon.
The Carolina Mudcats are the officially licensed Carolina League, Class-A, affiliate of the Milwaukee Brewers. First established in 1991, the Mudcats have provided affordable family fun for over 30 years at Five County Stadium in Zebulon, N.C. Follow the Mudcats online at www.carolinamudcats.com, and on social media at facebook.com/carolinamudcats, twitter.com/carolinamudcats, tiktok.com/@carolinamudcats and instagram.com/carolinamudcats.