Mudcats to Play as "Carolina Micro Brews" Four Times During 2019 Season
The four-night re-brand marks the first such promotion in team history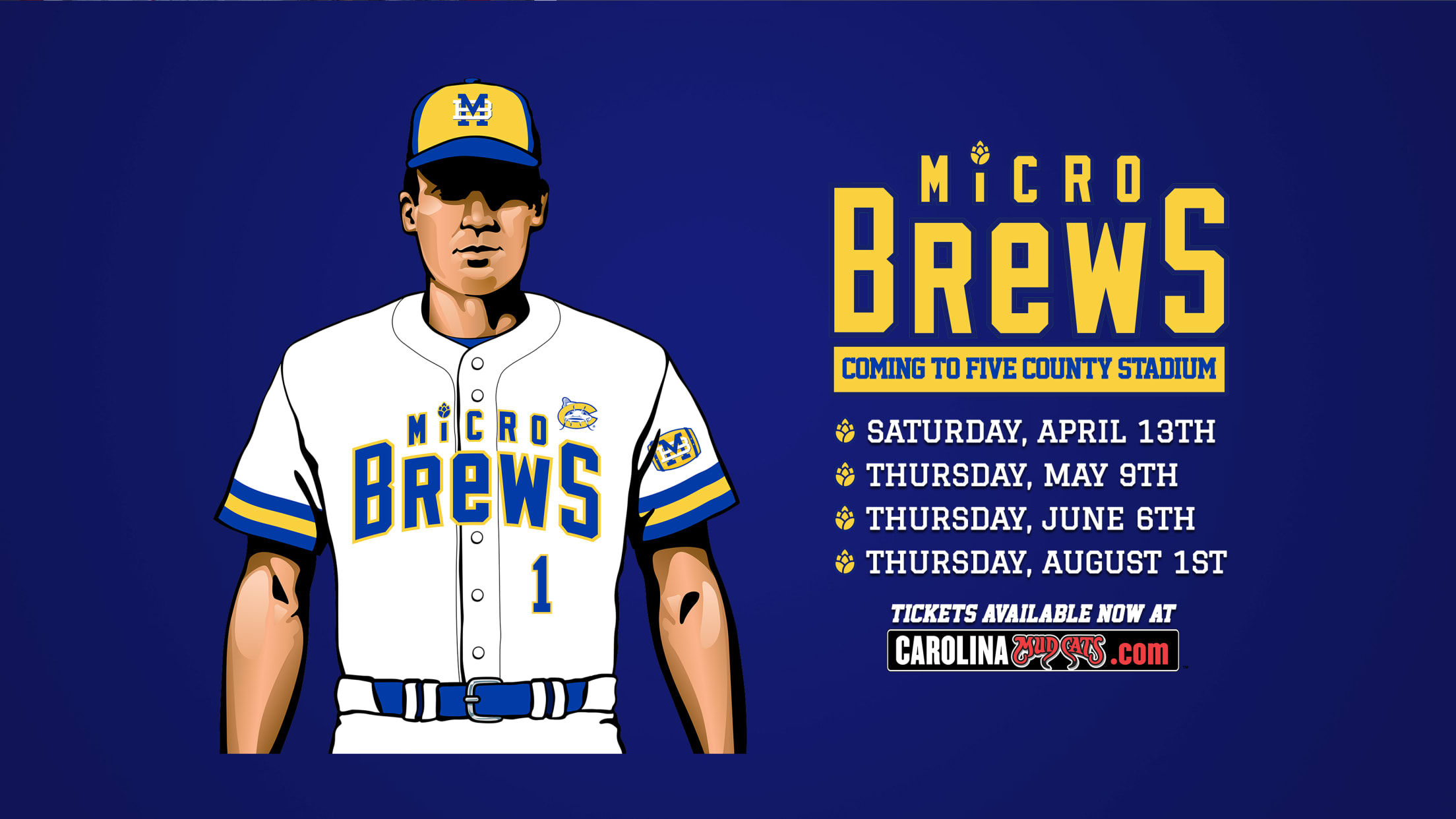 ZEBULON, N.C. - The Carolina Mudcats are brewing up a big change for the 2019 season as the club announced today that it will re-brand for four nights only as the "Carolina Micro Brews," paying homage to their Major League affiliate, the Milwaukee Brewers. The first Carolina Micro Brews game
ZEBULON, N.C. - The Carolina Mudcats are brewing up a big change for the 2019 season as the club announced today that it will re-brand for four nights only as the "Carolina Micro Brews," paying homage to their Major League affiliate, the Milwaukee Brewers. The first Carolina Micro Brews game is scheduled for Saturday, April 13 and will feature a souvenir Micro Brews replica jersey giveaway for the first 1,200 fans through the Five County Stadium gates.
To introduce the new four-night name change, the Mudcats unveiled new on-field caps and jerseys during a public event held at Oak City Brewery in Knightdale, NC. Fans in attendance for the event had an opportunity to purchase the brand new Micro Brews merchandise, including hats and t-shirts. Those same items are currently available for purchase online at carolinamudcats.com.
"We're so excited to introduce this new Brewers-inspired look for the Mudcats this season" said Director of Promotions and Fan Experience, Patrick Ennis. "This new look maintains the Mudcats brand, but also recognizes our parent organization, the Milwaukee Brewers. It ties in locally with North Carolina being home to so many microbreweries and a great hub for the craft beer culture."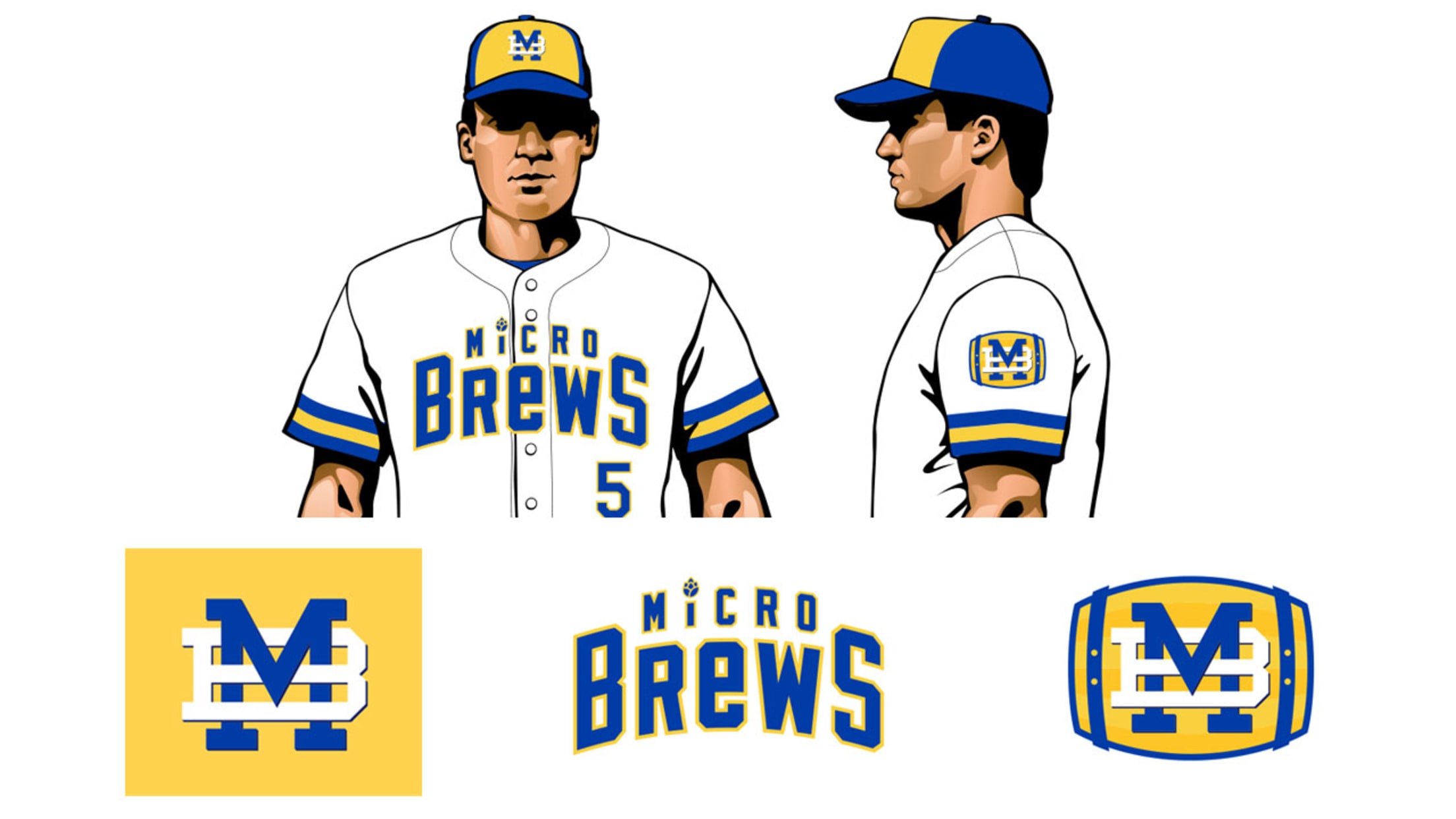 The all-new Micro Brews moniker and brand features a blue and yellow color scheme designed after the Brewers. The new cap logo features an interlocking "M" and "B" logo for Micro Brews, while the jersey logo reads Micro Brews with a hop flower dotting the letter "i" in Micro. The front of the jersey also features the Mudcats logo and uniform number. The left-sleeve also features the interlocking M and B logo placed on a yellow and blue barrel, as well as blue and yellow piping along the edges of the sleeves.
The full, four night, Micro Brews schedule includes the following dates and promotions:
April 13 vs. Wilmington, 5:00 PM: Micro Brews Night, Magnet Schedule Giveaway, Replica Jersey Giveaway
May 9 vs. Fayetteville, 7:00 PM: Micro Brews Night, Thirsty Thursday, Plastic Beer Stein Souvenir Giveaway
June 6 vs. Salem, 7:00 PM: Micro Brews Night, Thirsty Thursday
August 1 vs. Down East, 7:00 PM: Micro Brews Night, Thirsty Thursday, Bottle Opener Souvenir Giveaway
The 2019 season officially begins on Thursday, April 4 at Grainger Stadium in Kinston versus the Down East Wood Ducks. Carolina's 2019 home schedule, however, begins with Opening Night 2019 on Thursday, April 11 versus the Wilmington Blue Rocks at Five County Stadium.
Fans looking to purchase tickets for the new season should either call a front office representative at (919) 269-CATS (2287), visit carolinamudcats.com/tickets or purchase in-person at the Five County Stadium Box Office. Full season, half season and mini plan ticket packages as well as group ticket options are also still currently available by calling (919) 269-CATS (2287) and by visiting Five County Stadium.
The Carolina Mudcats are the proud Carolina League, Class-A Advanced affiliate of the Milwaukee Brewers. First established in 1991, the two-time Southern League Champion Mudcats are entering their 29th season of baseball at Five County Stadium in Zebulon, N.C. The Mudcats are owned and operated by Milwaukee Brewers, LLC.
# # #