TSgt. Lance Daigle Returns Home
Air Force TSgt Lance Daigle surprised his two youngest children in a special first pitch ceremony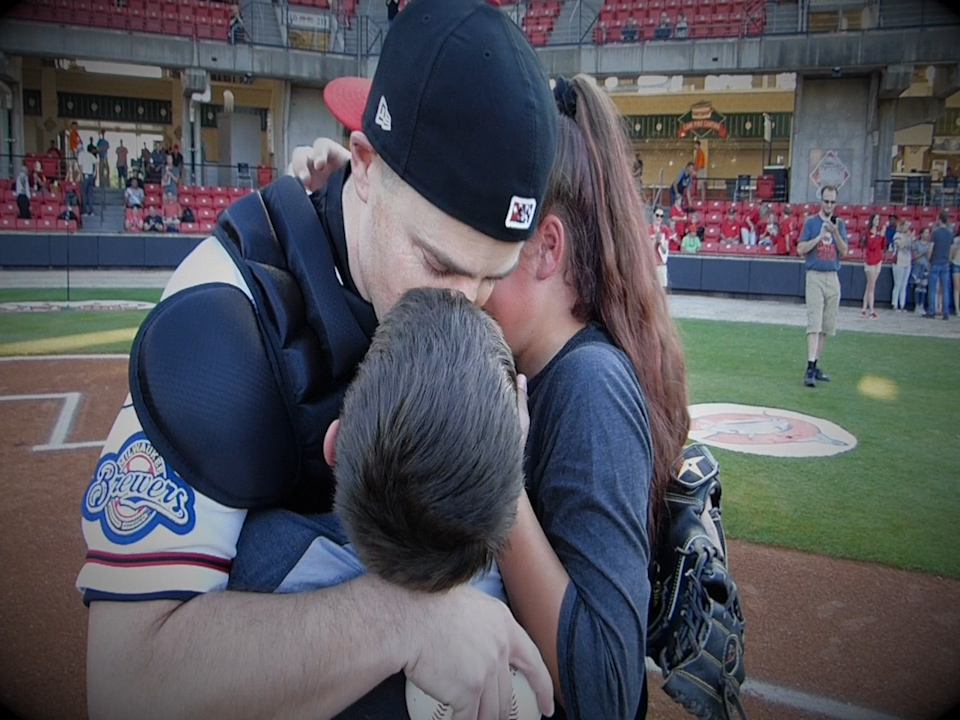 By Evan Moesta / Carolina Mudcats | April 28, 2017 9:39 AM
With the help of the Carolina Mudcats organization, Air Force Technical Sergeant Lance "Todd" Daigle surprised his two youngest children, Karley and Cameron, in a pregame ceremony at Five County Stadium.
Daigle, who is stationed out of Seymour Johnson Air Force Base in Goldsboro, NC, arrived home on Wednesday morning from a six month deployment in southwest Asia. This marked Tech. Sergeant Daigle's fourth deployment, but the first in which he returned home unannounced to his children.
TSgt. Daigle is the father of three, Cameron (11), Karley (13), and Bailey (20). His wife Emily was the only member of the family who was aware of the homecoming as she helped present Cameron and Karley with a special "Carolina Mudcats VIP Experience" which included an all you can eat menu, and the opportunity to throw out the game's ceremonial first pitches.

Unbeknownst to his children, Daigle arrived at the field on Wednesday evening, was outfitted in a Mudcats uniform, and catchers equipment before being escorted to the bullpen where he would hide out, mere feet from Cameron and Karley prior to their first pitches.
After the siblings were announced to the pitcher's mound, Daigle made his way behind home plate to be on the receiving end of a one-of-a-kind moment for all in attendance. Karley fired in her pitch, and Cameron capped things off with a strike right down the heart of the plate.
The masked man approached the children to present them with the baseballs, then took off his helmet to reveal his identity. Both children took a double take. Karley's jaw dropped, and Cameron could say nothing but a loud "dad".

A prolonged emotional embrace followed, and for the first time in six months, the Daigle family enjoyed an evening together... under the lights of Five County Stadium, taking in a Mudcats game.
This story was not subject to the approval of the National Association of Professional Baseball Leagues or its clubs.
View More