Four chosen for Cedar Rapids Baseball 2019 Hall of Fame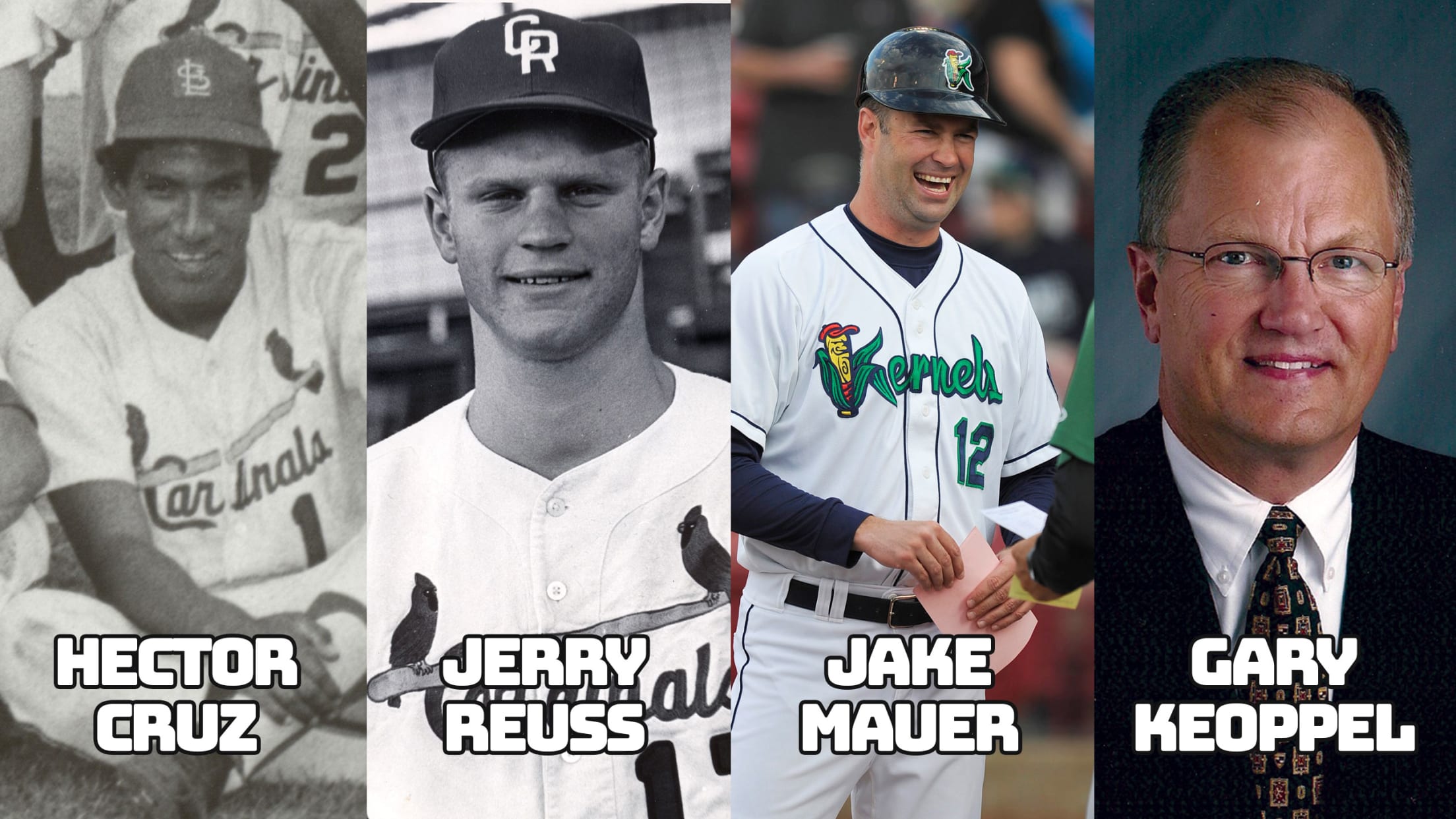 Cedar Rapids, IA - Four individuals have been selected for induction into the Cedar Rapids Baseball Hall of Fame in 2019. They are former players Hector Cruz and Jerry Reuss, former manager Jake Mauer and contributor Gary Keoppel.Hector Cruz played for the Cedar Rapids Cardinals from 1970 to 1972. He
Cedar Rapids, IA - Four individuals have been selected for induction into the Cedar Rapids Baseball Hall of Fame in 2019. They are former players Hector Cruz and Jerry Reuss, former manager Jake Mauer and contributor Gary Keoppel.
Hector Cruz played for the Cedar Rapids Cardinals from 1970 to 1972. He is the younger brother of former major leaguers Jose and Tommy Cruz. He played in 175 games in Cedar Rapids, batting .281 with 28 HR and 93 RBI and was named the Minor League Player of the Year by the Sporting News in 1975. A native of Puerto Rico, he made his MLB debut on August 11, 1973 with the St. Louis Cardinals against the Cincinnati Reds. He played nine seasons in the Majors with the Cardinals, Cubs, Giants and Reds, posting a career .225 BA with 39 HR and 200 RBI and played his final MLB game on July 15, 1982 with the Cubs. He was inducted into the Caribbean Baseball Hall of Fame in 2007.
Jerry Reuss pitched for the Cedar Rapids Cardinals in 1967, posting a 2-5 record and 1.86 ERA in nine starts with four complete games. A native of St. Louis, MO, he was selected by the Cardinals in the 2nd round of the 1967 June Amateur Draft. He made his MLB debut with the Cardinals on September 27, 1969 vs. Montreal, where he allowed two hits over 7 IP in a 2-1 win over the Expos. He pitched for 22 seasons in the Majors with the Dodgers, Pirates, Cardinals, White Sox, Reds, Angels and Brewers and has a career 220-191 record and 3.64 ERA with 127 complete games. He was selected to the 1975 and 1980 MLB All-Star Games, and appeared in the post-season four times including a 1981 World Series Championship with the Dodgers. He is known as the preeminent baseball prankster of the modern era and is one of only 29 players in the majors to play in four different decades.
Jake Mauer managed the Cedar Rapids Kernels from 2013 through the 2016 season, leading the Kernels to the MWL Playoffs all four seasons and the MWL Championship Series in 2015. He has the most wins (316) of any Cedar Rapids manager in the modern era (since 1949) and the 88 wins posted in 2013 ties a modern era record set by the Cedar Rapids Reds in 1990. He was the 23rd round pick of the Twins in the 2001 First Year Player Draft and played five seasons in the Twins system, including 84 games in the Midwest League for Quad Cities. He is the brother of former Twin, Joe Mauer, and attended the University of St. Thomas in St. Paul, MN. He resides in Shoreview, MN with his wife, Rachel, and three children.
Gary Keoppel began his association with the Cedar Rapids Ball Club in 1961 when he became a batboy for the Cedar Rapids Braves. After being a batboy for another season, Gary became the clubhouse boy for the summers of 1963-1965. A Cedar Rapids native, Gary graduated from CR Washington HS and earned All-City baseball honors as a senior. He walked on to the University of Iowa baseball team, earning a full-ride scholarship for his final two years. He attended a Montreal Expos tryout camp in March 1972 and was one of 5 players (out of 118 participants) signed to a contract. After being released in June, he returned to Iowa and began work in the telecommunications industry while continuing to play baseball for teams in eastern and central Iowa. Gary served on the ball club board for a short time in 1980-1981 before being transferred out of state. He rejoined the board in 1988 and served 10 years as Treasurer, 6 years as Vice-President, 5 years as President and 5 years as Immediate Past President - a total of 26 years on the Executive Committee. Gary married his wife Shirley in November 1981 and they have three children - Megan, Lindsey and Tyler - and six grandchildren.
The Class of 2019 Hall of Fame will be recognized before the Kernels game on 'Hall of Fame Night and Alumni Night' scheduled for Wednesday, July 10th at 6:35 PM. Gates open at 5:30 PM.
The mission of the Cedar Rapids Ball Club Hall of Fame is to honor those individuals who, through extraordinary personal effort, have furthered the existence, quality or preservation of professional baseball in Cedar Rapids, Iowa. The Hall of Fame is located in the Bimm Ridder Diamond Shop and a Hall of Fame Timeline is located on the suite level at Veterans Memorial Stadium and is open during all Kernel home games, normal store hours, or by special appointment.