RiverDogs Unveil Alpha Dog Bracket Battle 
36 of the best former RiverDogs battle for the title of Alpha Dog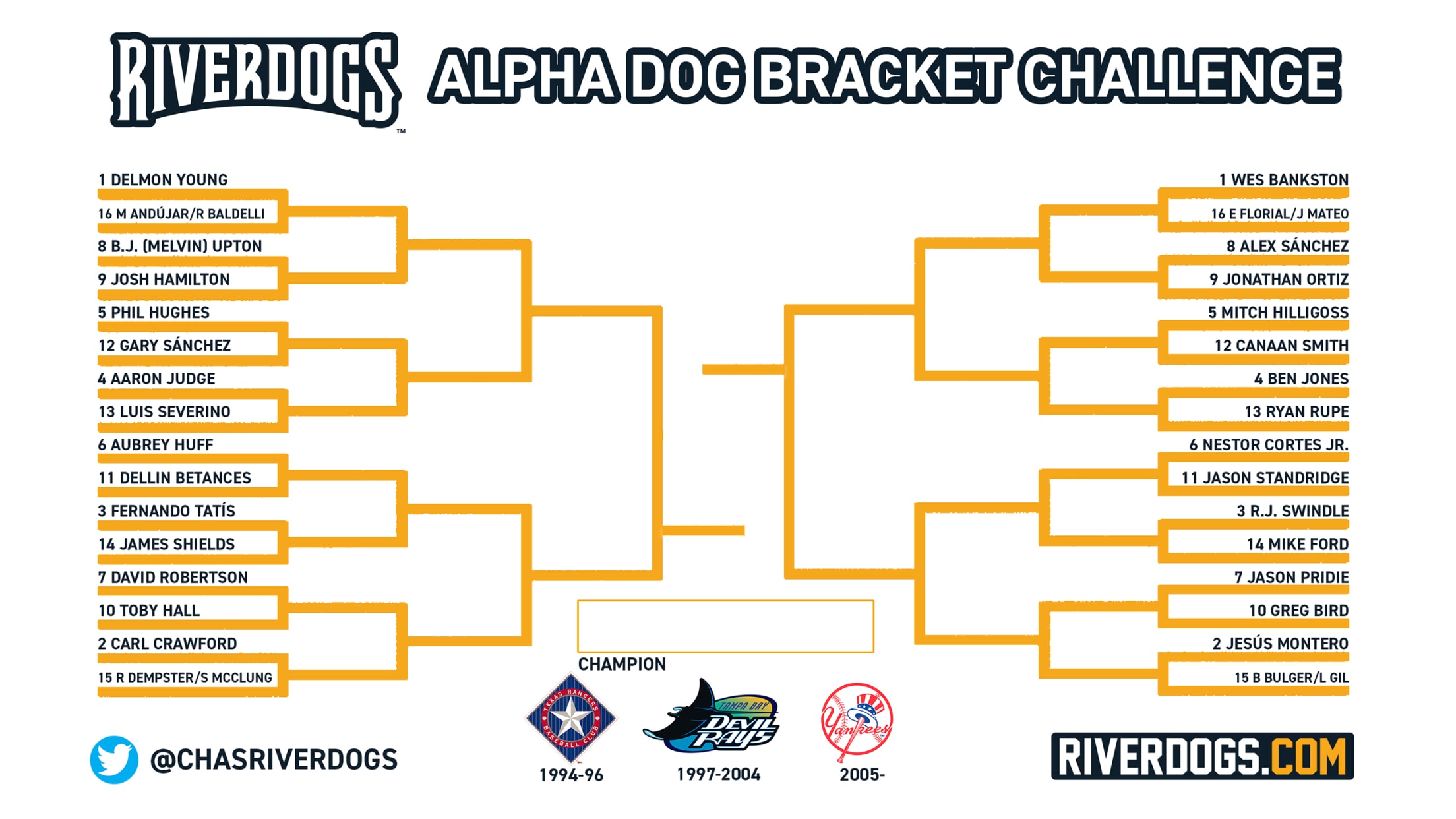 Download Full Bracket With no college basketball to fill a sports fan's annual craving for brackets, the Charleston Riverdogs have something that might do the trick. Beginning on Monday, the top 36 former RiverDogs players will go head-to-head in a challenge to determine which former great is the Alpha Dog!
With no college basketball to fill a sports fan's annual craving for brackets, the Charleston Riverdogs have something that might do the trick. Beginning on Monday, the top 36 former RiverDogs players will go head-to-head in a challenge to determine which former great is the Alpha Dog! These notable names have been divided into two sides of the bracket. On the left, you will find 18 former players that have gained much of their notoriety through their MLB accomplishments. On the right, there are 18 former players that may not be household names, but put together some of the best seasons or careers in team history. Bios for each of the 36 players can be found below.
Voting will take place via Twitter. The schedule for the first round of voting, which begins on Monday, will look like this:
Monday, March 23: Play-in games
Tuesday, March 24: Region #1
Wednesday, March 25: Region #2
Thursday, March 26: Region #3
Friday, March 27: Region #4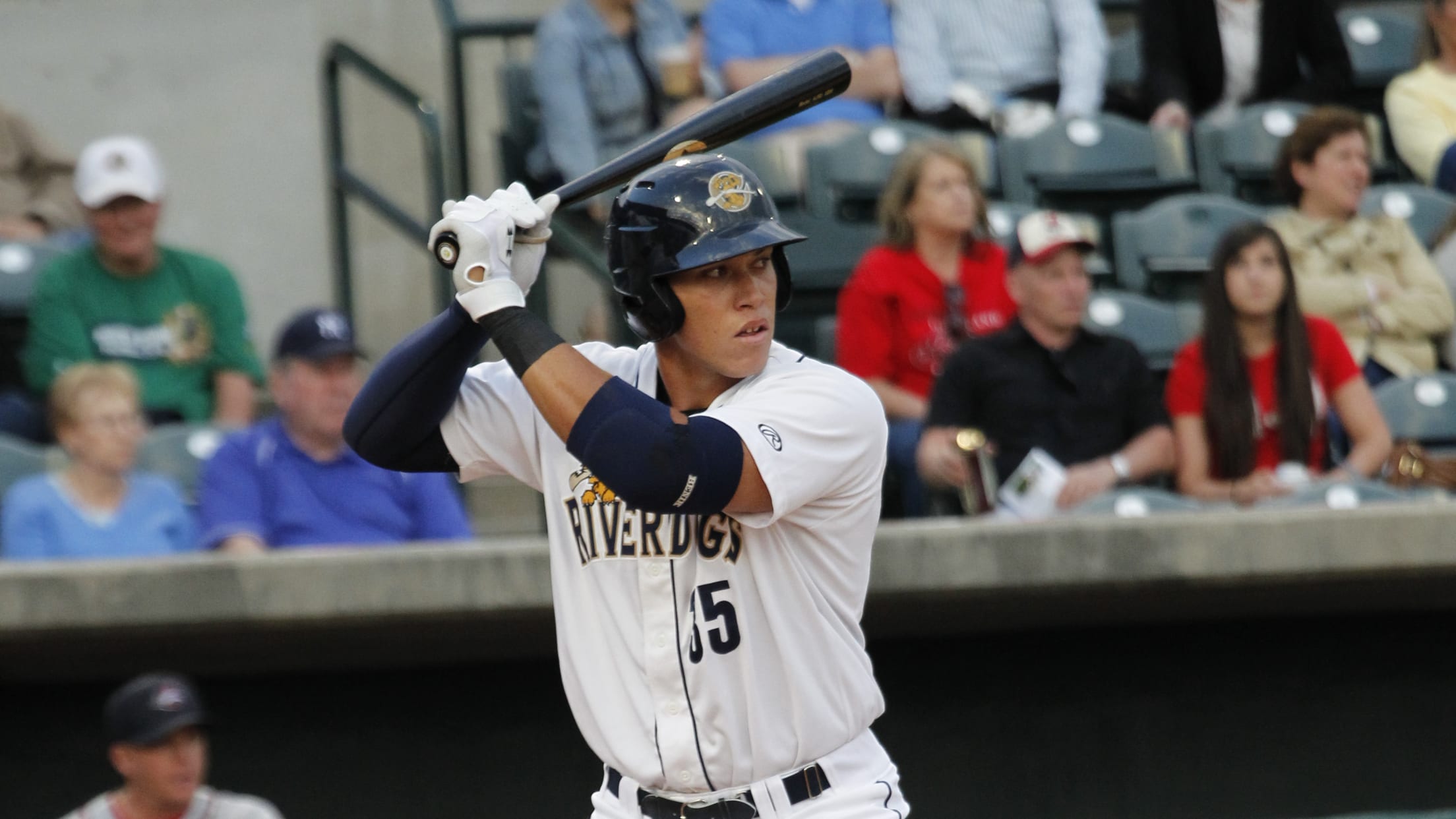 MLB Bracket
1.** Delmon Young** – The top seed on this side of the bracket belongs to this slugger who enjoyed a productive 10-year career in the big leagues with five different organizations. After being selected with the 1st overall pick in the 2003 draft out of high school by Tampa Bay, Young started his pro career in Charleston the next year. He led the RiverDogs in each of the Triple Crown categories and his franchise-record 115 runs batted in were the most in the South Atlantic League that season. Young's 25 home runs are also tied for the most in a single-season in team history.
Carl Crawford - This do-it-all outfielder terrorized South Atlantic League pitchers in a variety of ways before embarking on a 15-year MLB career that saw him be selected as an All-Star four times. His .301 batting average and 55 stolen bases in 2000 led the way for the RiverDogs. He would go on to lead the MLB in steals in four separate seasons.

Fernando Tatis - The RiverDogs name had only been around one season when Tatis put on the original teal and purple. But in the 20-plus seasons that have followed, not many have been able to match his 1995 season. In 131 games, Tatis hit .303 with 15 homers and 84 RBI. He laced 43 doubles across South Atlantic League ballparks. Among his career highlights in his 11 MLB seasons is his MLB record for 8 RBI in one inning, courtesy of being the only player to hit two grand slams in the same inning.

Aaron Judge - All Rise! This towering two-time all-star applied the trade in the Lowcountry as recently as 2014. Despite playing in only 65 games with the RiverDogs, Judge made a big impact. He put together a .333 batting average, with 9 home runs and 45 runs batted in. The California native was named the American League Rookie of the Year in 2017 after blasting 52 long balls.

Phil Hughes - A 12-year MLB veteran, Hughes shined in his time with Charleston. He went 7-1 with a 1.97 ERA in 68.2 innings in the 2005 season. His 72 strikeouts were 5th on the team, despite appearing in far fewer games (12) than the pitchers ahead of him. Overall, he finished 9-1 with a 2.27 ERA in his time as a RiverDogs pitcher. He would go on to become a member of the 2009 World Series champion New York Yankees.

Aubrey Huff - Huff played 69 games for the RiverDogs in 1998 on his way to being named "Top Dog" that season. His slash lines of .321/.371/.547 led the way for the Dogs. His 13 homers led the team, and his 145 total bases put him 5th on the team for the season, despite playing less than half the games. This RiverDogs third baseman would go on to win two World Series titles, as well as the Silver Slugger award over 13 seasons in the MLB.

David Robertson - This University of Alabama product opened his professional career as a reliever for the RiverDogs in 2007. He was perhaps the most dominant reliever in the league during his short 24-game stint with the squad. In 47.0 innings he struck out 67 opposing hitters while posting a 5-2 record and 0.77 earned run average. Robertson has appeared in over 600 MLB games since that time, earning an all-star nod in 2011 and posting a sub-3.00 ERA in four different campaigns.

B.J. Upton - As an 18-year old, Upton played 101 games for the Charleston RiverDogs and proceeded to bat a cool .302 with 7 homers and 46 RBI. The speedy prospect would also steal 38 bases in the 2003 season, making him one of the most exciting players in the pipeline of the Tampa Bay Devil Rays. He would be a crucial bat for the Rays in their run to the 2008 World Series, hitting 7 homers and collecting 16 RBI in the postseason.

Josh Hamilton - In the 2000 season, Josh Hamilton landed in Charleston as one of baseball's best prospects and he lived up to the hype. He hit .302 with 13 homers and 61 RBI through 96 games. Hamilton's prowess in the outfield would carry him into an impressive Major League career, including five All-Star appearances and an AL MVP award.

Toby Hall - Toby Hall spent nine seasons in the Majors, but long before, he developed his prowess at the plate for the young RiverDogs team. His 1998 season is highlighted by a .321 batting average in 105 games. Along with 25 doubles, Hall put 6 out of the park while registering 50 RBI. The future MLB catcher paired up with teammates including fellow bracket-challenger Aubrey Huff to give the Dogs one of the most potent lineups in the South Atlantic League.

Dellin Betances - This four-time MLB All-Star spent his time in Charleston carving up the South Atlantic League. In 2008, Betances went 9-4 with a 3.67 ERA including 135 strikeouts over 115.1 innings. His strikeout total would lead the team, as he started in all 22 games he appeared.

Gary Sanchez - Sanchez split time in Charleston over two seasons coming up through the minors. For his RiverDogs career, he put up 30 home runs and 108 RBI. A two-time MLB All-Star and a Silver Slugger award winner, Sanchez also filled the stands at the Joe one more time in 2019 on a rehab assignment with the RiverDogs.

Luis Severino - This big league ace spent parts of two different seasons in Charleston, pitching in four games during the 2013 season and 14 more the next year. In 2014, Severino went 3-2 with a 2.79 earned run average and struck out 70 in 67.2 innings. The hard-throwing right-hander has averaged well over one strikeout per inning in the bigs and was named an all-star in 2017 and 2018.

James Shields - Before he spent 13 seasons in the Majors, James Shields began as a 19-year old for the RiverDogs. He put up a 2.65 ERA in 71.1 innings in the SAL. He racked up 60 strikeouts while only allowing 10 walks. A 2011 MLB All-Star, he was a key component to the Tampa Bay Rays World Series run in 2008.

Ryan Dempster – This right-hander wiggled his glove through 16 seasons in the big leagues, amassing 132 career wins and two all-star nods along the way. Back in 1996, the 3rd round pick of the Rangers made 23 starts for the RiverDogs before being dealt to Florida by the parent club. Dempster limited opposing hitters to a .229 batting average and finished with an ERA of 3.30.
Seth McClung - McClung totaled a 12-12 record and a 2.73 ERA at the single-A level with the RiverDogs. His 201 strikeouts would set the tone for his six seasons in the MLB. His reputation as a hard-throwing righty earned him a 14-year professional baseball career.
Miguel Andujar - This standout at the hot corner led the RiverDogs with 70 runs batted in and added 10 home runs during his 2014 campaign in Charleston. Andujar also chipped in with 25 doubles on the way to a .267 batting average that year. The native of the Dominican Republic finished second to Shohei Ohtani in the 2918 Rookie of the Year voting.
Rocco Baldelli – Currently the manager of the Minnesota Twins, the 38-year old Baldelli played 10 years in professional baseball, including a stop in Charleston back in 2001. Over a span of 113 games, the outfielder hit .249 with 8 home runs and 55 RBI. Baldelli also stole 25 bases.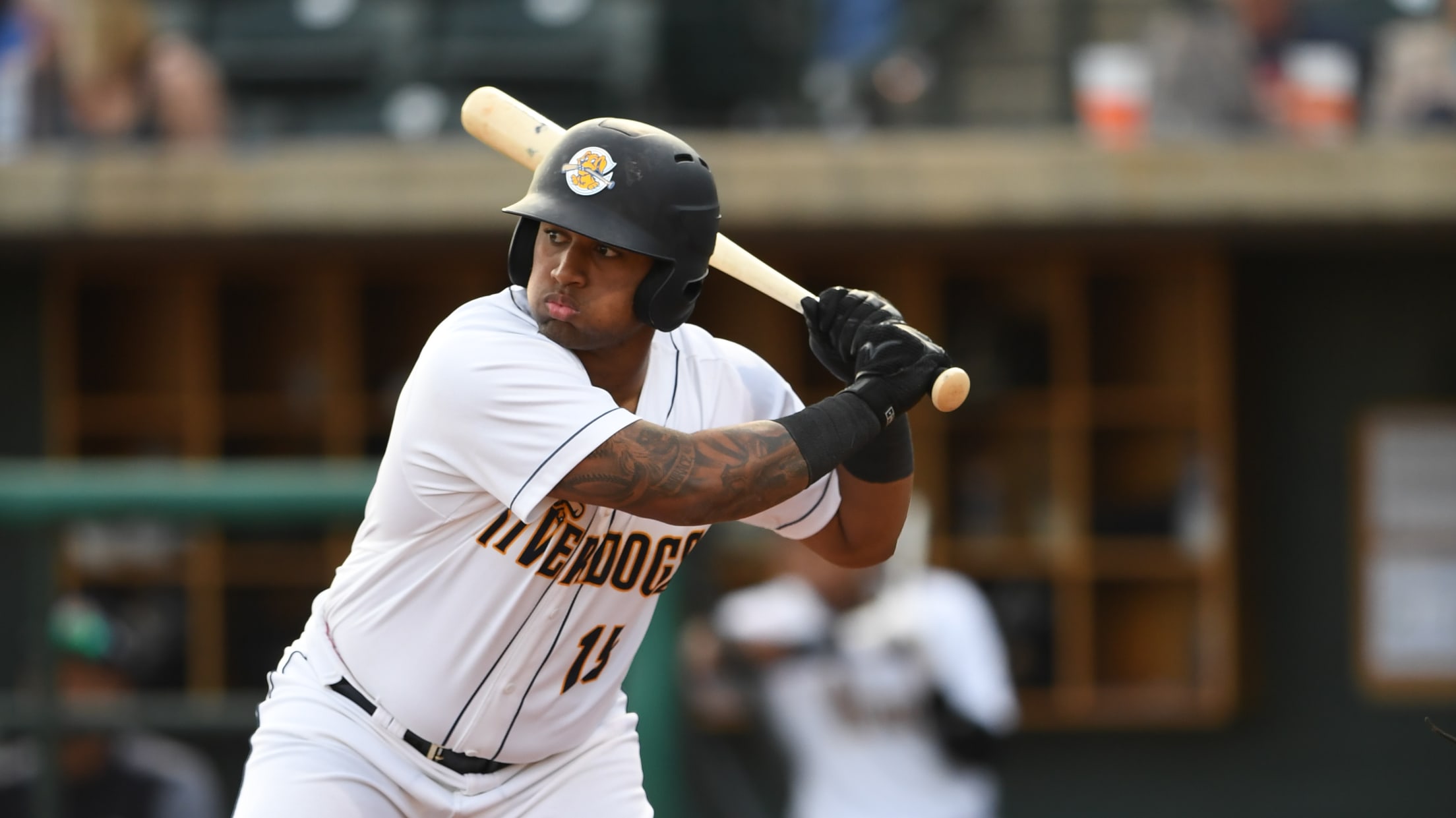 RiverDogs Stars Bracket
Wes Bankston - The top-seeded player for a reason, his two seasons with the Dogs scattered his name all over the Charleston record books. His 35 career home runs are tied for the all-time record and his RBI total of 161 is unmatched. His .275 batting average and 48 doubles add to the fact that Bankston could hit for both average and power. His 13 seasons of professional baseball would conclude with 229 career home runs across all leagues, including one as a member of the Oakland Athletics.

Jesus Montero - Not much separated Montero from the top seed on this side of the bracket. The first baseman led the RiverDogs with a .326 batting average and 87 runs batted in during an impressive 2008 season. He also blasted 17 home runs and collected 34 doubles. His totals for hits, total bases and batting average place him in the top five for a single-season in RiverDogs history. Montero played parts of five years in The Show before calling it a career in 2017.

R.J. Swindle - Dominant on the mound, Swindle spent 2006 baffling SAL hitters. His 21 relief appearances spanned 44.1 innings. His ERA was a stellar 0.61, striking out 46 batters while only allowing 5 walks. As for his career, Swindle has an amazing story, going from MLB draft pick to independent ball to World Series champion with the 2008 Philadelphia Phillies.

Ben Jones - Any true RiverDogs fan knows the name Ben Jones. He is one of the all-time greats in Charleston. Jones is the all-time leader in both home runs and RBI for the team, and his name is scattered elsewhere among the all-time leaderboard. A career .293 hitter for the RiverDogs, Jones did most of his damage as a power-hitting first baseman. However, one of his best career highlights came when he recorded his first professional pitching win in a marathon 13-inning game, with the Dogs claiming a 5-4 victory over the Savannah Sand Gnats.

Mitch Hilligoss - Coming into the 2007 season, the name Mitch Hilligoss may not have been known across MiLB. It certainly was by the end. Hilligoss made his name over the summer as the owner of the longest South Atlantic League hit streak—38 games. A South Atlantic League All-Star and All-Star Game MVP, Hilligoss would hit .310 on the year. A tremendous season and a spot in the SAL record book makes Mitch Hilligoss a strong competitor in this field.

Nestor Cortes, Jr. - Cortes had one of the best individual pitching seasons in team history, highlighted by a 0.79 ERA. Though only appearing in 13 games for the club, Cortes, Jr. put up numbers that rival many single-season RiverDogs pitchers. On the mound, he worked quickly and kept his team in the game every appearance he made, compiling a 6-2 record. His 75/15 strikeout to walk ratio speaks for itself, and his mastery at changing arm slots and pitch speeds induced plenty of weak contact from batters who were guessing at the plate. His time in the South Atlantic League earned him both a Pitcher of the Week award, as well as a mid-season All Star selection.

Jason Pridie - The franchise leader in at bats (1,045), hits (280) and triples (21) had to be on this list. A 2nd round pick of the Devil Rays in 2002, he played in 256 total games with the RiverDogs, 128 each in 2003 and 2004. Only five players wore the RiverDogs jersey in more games than Pridie. His best season came in 2004 when he connected for 17 home runs and racked up 87 RBI. He spent time in the Majors with the Twins, Mets, Phillies, Orioles, Rockies, and A's.

Alex Sanchez - In 1997, Sanchez racked up 155 hits, of which only 21 went for extra bases. But extra bases are exactly why Sanchez is on this list. In 131 games, he stole a RiverDogs-record 92 bases. Sanchez would go on to spend 15 years in professional baseball, including five seasons in the Majors. Without question, his 92 stolen base season with the RiverDogs was something to behold.

Jonathan Ortiz – This right-hander spent both the 2008 and 2009 seasons as the RiverDogs closer. He is the franchise career leader in saves (42) and tied for second in appearances (81). In 2008, he appeared in 57 games, locking down 33 saves in 38 chances. Ortiz struck out 87 hitters in 62.0 innings while allowing a .206 batting average. He returned for 24 appearances in the following campaign, posting a 1.26 ERA and recording 9 more saves. The native of the Dominican Republic played seven Minor League seasons reaching as high as Triple-A.

Greg Bird - This 27-year old slugger is currently in camp with the Texas Rangers as a non-roster invitee. The Yankees fifth round selection in 2011, was the proverbial straw that stirred the drink for the 2013 edition of the RiverDogs. Bird led the squad with 20 home runs and 84 runs batted in that season, compiling a .288 average along the way. He added 36 doubles and 2 triples to finish the season with 59 total extra-base hits. Bird has hit 32 home runs in 186 MLB games so far.

Jason Standridge - The RiverDogs benefitted from having Standridge on the mound every time he toed the rubber. His 9-1 record paired with a 2.02 ERA put him among the RiverDogs greats. This baseball lifer would go on to play just about any place with a team, spending a combined 21 seasons in pro ball between the Minors, Majors, Independent and Foreign Leagues. He is a two-time Japan League champion.

Canaan Smith - The 2019 Top Dog award winner did it all for the RiverDogs. His .307 average is among the team leaders all-time. His 11 homers and 74 RBI have him on the watch list for all Yankees fans heading into the 2020 season. This 2019 SAL All-Star has a bright future.

Ryan Rupe - Rupe went 6-1 with a 2.40 ERA in 1998. In his 56.0 innings, he put up a 62/9 strikeout-to-walk ratio, one of the best marks in team history. His career in the majors would last five seasons with both the Devil Rays and Red Sox.

Mike Ford - On May 25, 2014, Ford did something no RiverDogs player had ever done, and hasn't since. In fact, he did something very few professional baseball players have ever done—he hit four home runs in one game. He hit six home runs in every other game combined that season and finished with a solid .283 average. Ford made his MLB debut last season with the Yankees.

Brian Bulger- Bulger played two of his four total professional seasons with the RiverDogs and is the franchise's all-time wins leader with 21. He reached double-digit win totals in both the 2003 and 2004 season, tying for the team lead each time. The right-hander also paced the 2004 pitching staff with 120 strikeouts. A 25th round pick of the Devil Rays, he is also second in career strikeouts and third in innings pitched for the RiverDogs.
Luis Gil – Last season, Gil was a problem for many opposing hitters in the South Atlantic League when his turn in the rotation came around. In 17 starts, Gil went 4-5 with a 2.39 earned run average. He struck out 112 batters in just 83.0 innings, holding the opposition to a meager .200 batting average. The 21-year old was promoted to Advanced-A Tampa late in the season and is currently rated as the Yankees #5 prospect by MLB Pipeline.
Estevan Florial - Florial is a familiar name to many Yankees fans. His 2017 season patrolling the outfield as a 19-year old was full of highlights. At the plate, his slash lines of .297/.373/.483 had both fans and scouts excited about his potential. His speed on the base paths as well as in the field made him easy to pencil into the top of the lineup almost every night.
Jorge Mateo - Water is wet and Jorge Mateo is fast. In 2015, Mateo stole 71 bases for the RiverDogs. He added 18 doubles and 8 triples and an inside-the-park homer on May 25 vs. Rome. Mateo's speed earned a spot in the trade that landed Sonny Gray with the Yankees.