Knights Beat the Jumbo Shrimp 5-1 on Friday 
Kade McClure Earned His Second Consecutive Win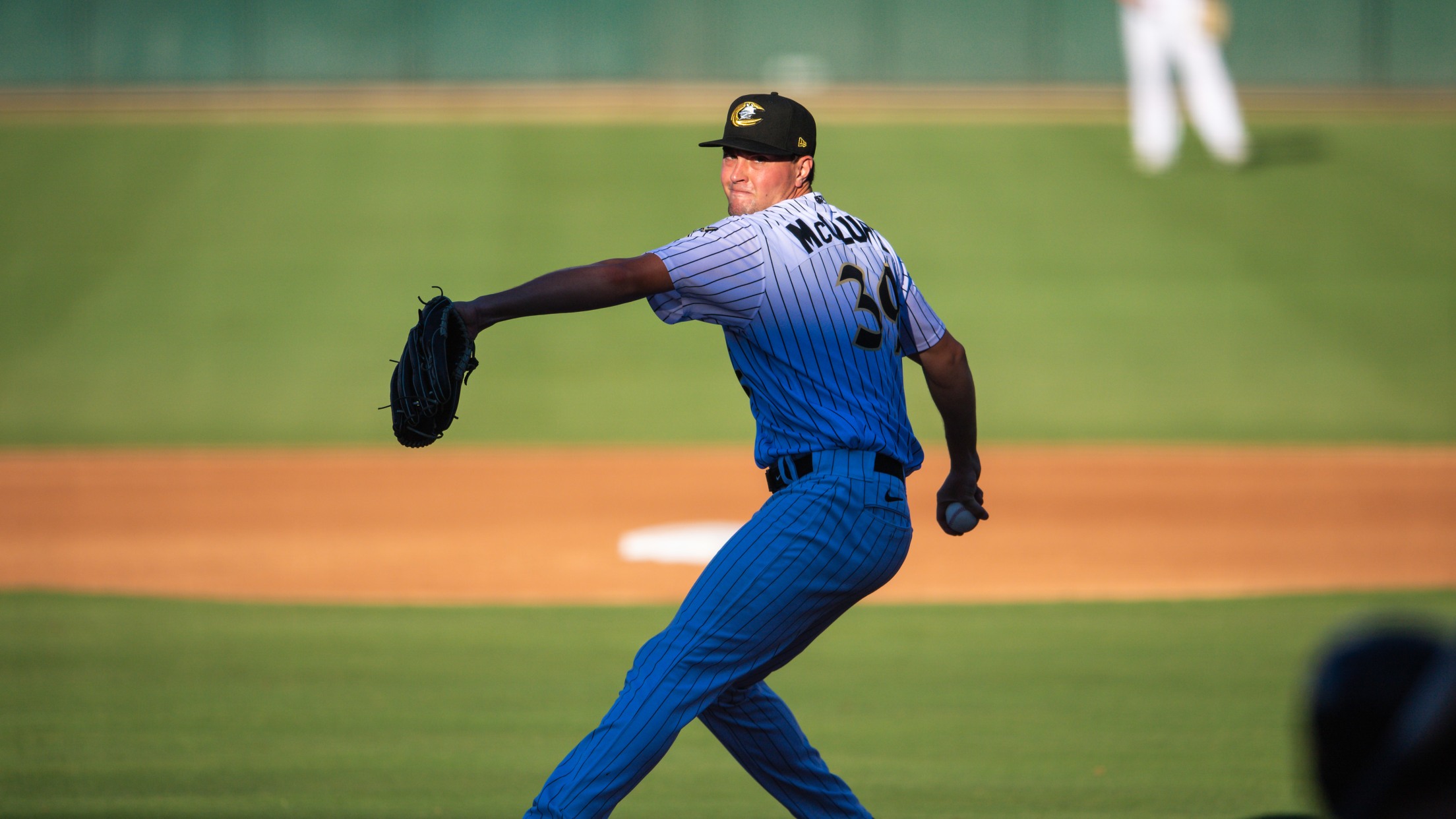 Kade McClure allowed just one run over five innings for the win. (Laura Wolff/Charlotte Knights)
(JACKSONVILLE, FL) -- RHP Kade McClure (2-1, 6.00) tossed five solid innings to help lead the Charlotte Knights to a 5-1 win over the Jacksonville Jumbo Shrimp in game four of the six-game series from 121 Financial Ballpark in Jacksonville, FL on Friday night. The win was Charlotte's first of
(JACKSONVILLE, FL) -- RHP Kade McClure (2-1, 6.00) tossed five solid innings to help lead the Charlotte Knights to a 5-1 win over the Jacksonville Jumbo Shrimp in game four of the six-game series from 121 Financial Ballpark in Jacksonville, FL on Friday night. The win was Charlotte's first of the series.
McClure won his second consecutive start on Friday and was sharp against the Jumbo Shrimp. The 25-year-old right-handed pitcher gave up just one run on five hits over five innings for the win. He walked just one batter and struck-out five. In relief, the Knights received four shutout innings combined from four pitchers – RHP Kevin McCarthy, LHP Kodi Medeiros, LHP Nik Turley and RHP Matt Foster.
The Knights jumped out to a 2-0 lead in the top of the second inning thanks to shortstop Rubén Tejada, who singled home two runs in the inning. Tejada led the Knights with three hits and two RBIs on the evening.
Jacksonville cut the lead in half in the bottom of the fourth inning on a solo home run by Nick Fortes, the only blemish allowed by McClure.
In the top of the fifth inning, the Knights added three more runs against the Jumbo Shrimp thanks to a two-run triple by third baseman Jake Burger and an RBI single by center fielder Mikie Mahtook.
TRIPLE BURGER 🍔🍔🍔

Jake Burger hustling for a two-run triple! 🏃‍♂️ pic.twitter.com/rIa7L27KMD

— Charlotte Knights (@KnightsBaseball) September 11, 2021
The Knights will conclude the six-game series against the Jumbo Shrimp from Jacksonville, FL with a doubleheader on Saturday. The game will be broadcast live on www.CharlotteKnights.com. First pitch of game one of the twin bill is set for 4:30 p.m.