Knights Fall to Indians 7-5 in 10 Innings 
Charlotte Battled Back but Fell Short in the End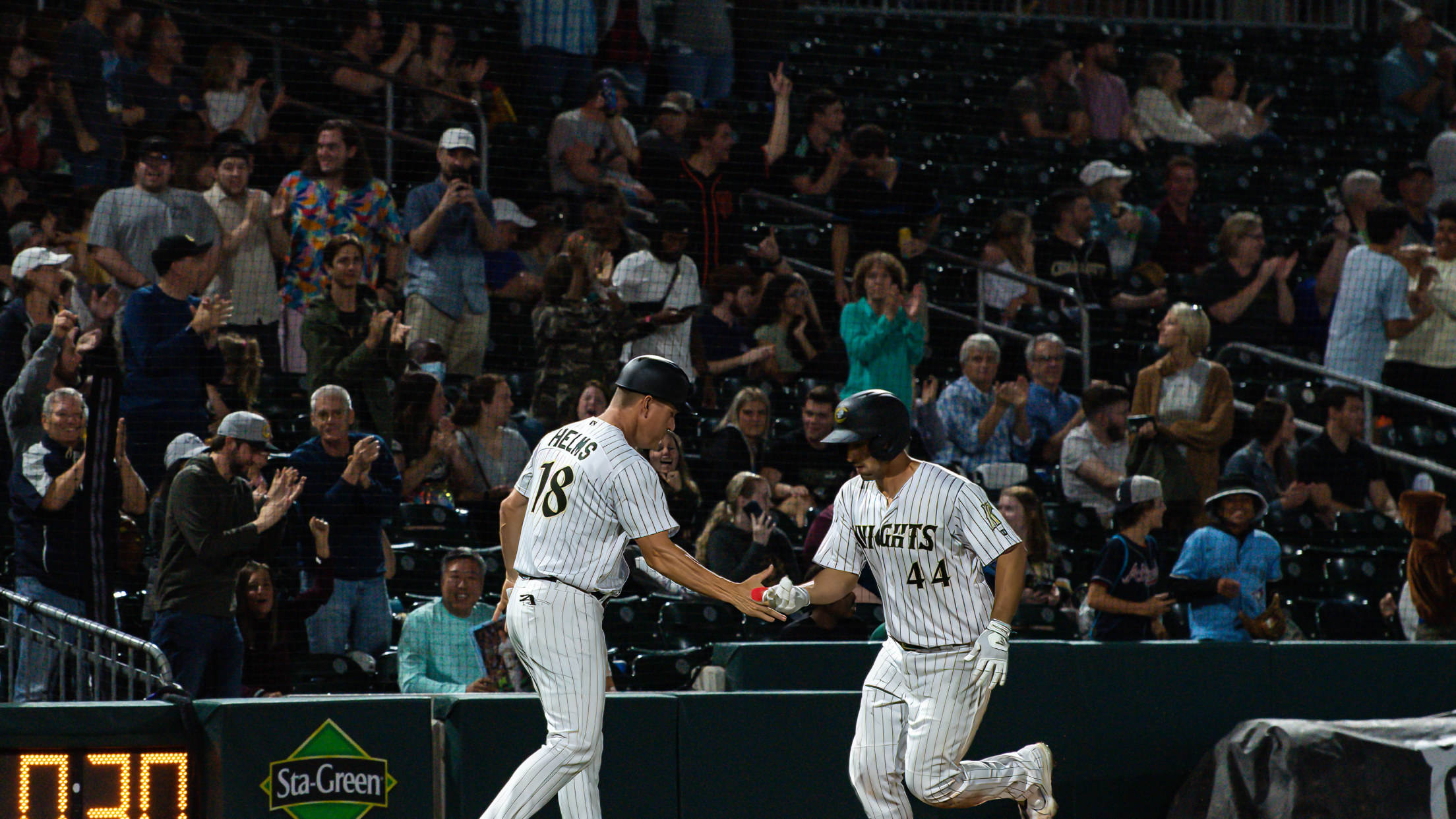 Seby Zavala launched a game-tying home run in the bottom of the ninth inning. (Laura Wolff/Charlotte Knights)
(UPTOWN CHARLOTTE, NC) – The Charlotte Knights battled back in the ninth inning on Friday night, but the team fell just short in the end to the Indianapolis Indians by a score of 7-5 in 10 innings from Truist Field in Uptown Charlotte. Charlotte RHP Brody Koerner (0-1, 9.00) was
(UPTOWN CHARLOTTE, NC) – The Charlotte Knights battled back in the ninth inning on Friday night, but the team fell just short in the end to the Indianapolis Indians by a score of 7-5 in 10 innings from Truist Field in Uptown Charlotte. Charlotte RHP Brody Koerner (0-1, 9.00) was saddled with the loss after he allowed a two-run home run to Indianapolis left fielder Cal Mitchell in the top of the 10th inning.
The Indians got off to a solid start in the game, scoring four runs over the first three innings to take an early 4-0 lead. The Knights slowly battled back, scoring two runs in the bottom of the third inning and later added a run in the fifth inning on a solo home run from designated hitter Yermín Mercedes, his first home run of the season.
"Hasta la vista, baby"

The Yermínator (@ymercedes73) goes YARD! 💪 pic.twitter.com/ScBmfAjNVO

— Charlotte Knights (@KnightsBaseball) May 14, 2022
Charlotte first baseman Seby Zavala launched the game-tying home run in the bottom of the ninth inning to tie the game at 5-5. The Knights went into extra innings with a chance for a third consecutive victory – Indianapolis had other plans, however.
Seby says SEE YA!

We're tied at 5-5 in the 9th! #LetsGoKnights pic.twitter.com/R2qvfTEiFN

— Charlotte Knights (@KnightsBaseball) May 14, 2022
LHP Wes Benjamin started the game for the Knights and allowed five runs (two earned) on four hits over three innings of work. He did not factor in the decision.
The Knights will continue the series on Saturday evening with first pitch of game five set for 7:04 p.m. from Truist Field. The "Voice of the Charlotte Knights" Matt Swierad and long-time Knights broadcaster Mike Pacheco will have the call for all of the action on 730 The Game ESPN Charlotte and www.CharlotteKnights.com. The game will also be broadcast live on My12 WMYT starting at 7:00 p.m.